When it comes to "budget ultrabooks", there isn't a wide variety of choices. Most of the ultrabooks that you can score under the price tag of $700 focus on better specs packed in a substandard plastic body. Fortunately, that's not the case with the 2020 Acer Swift 3 laptop. The Swift series of laptops are renowned for its premium design and ultra-lightweight form-factor, and the new Swift 3 laptop follows all the prerequisites of Acer's Swift series and comes in a svelte looking ultraportable chassis.
So you might think that it would have sub-standard performing specs to match its price tag? Well, there are no compromises on the inside, either. In fact, performance is the strongest point of Acer Swift 3, and it outperforms even the premium Intel-powered ultrabooks like MacBook Pro 13 and XPS 13 that cost more than double. How is it possible? Well, all thanks to the newest AMD Ryzen 7 4700U octa-core processor inside, which has more cores, more clock speed and consumes less power than its Intel counterparts. Hence, the Acer Swift 3 offers exceptional performance for a thin and light notebook and lasts a full day while doing that! Apart from that, it also has all the bells and whistles like a backlit keyboard and a fingerprint scanner. And it retails at an aggressive price tag of just $649, which is why it's selling like a hot cake right now.
Advertisement
So is Acer Swift 3 an all-around win? Well, not exactly. When you're offering an ultrabook at such a competitive price point with top-of-the-line construction and specs, there have to be a few downsides. With Swift 3, it's the display, which is simply not great to look at, and there are few small misses. Read the full review to find out if this is the right laptop for you.
Acer Swift 3 (SF314-42-R9YN) Thin & Light Laptop
11 new from $627.75
3 used from $490.00
Free shipping
as of October 1, 2023 1:24 am
Features
Aspect Ratio:16:9
AMD Ryzen 7 4700U Octa-Core Mobile Processor (Up to 4.1 GHz) with Radeon Graphics; 8GB LPDDR4 Memory; 512GB PCIe NVMe SSD
14" Full HD Widescreen IPS LED-backlit display (1920 x 1080 resolution; 16:9 aspect ratio)
Intel wireless Wi-Fi 6 AX200 802.11ax; HD webcam (1280 x 720); Backlit keyboard; Fingerprint reader
1 - USB Type-C port USB 3. 2 Gen 2 (up to 10 Gbps) DisplayPort over USB Type-C and USB Charging, 1- USB 3. 2 Gen 1 port (featuring power-off charging), 1 - USB 2. 0 port and 1 - HDMI port
Design
With Swift series, Acer has aimed to create thin and light laptops with premium-grade components since its debut in 2016. The 2020 Acer Swift 3 carries that proud lineage forward with its ultra-portable magnesium-aluminum chassis. It's available in three different colors, silver, dark blue and a light red (almost pink), silver being my personal favorite, also seems to be the most popular choice among the buyers.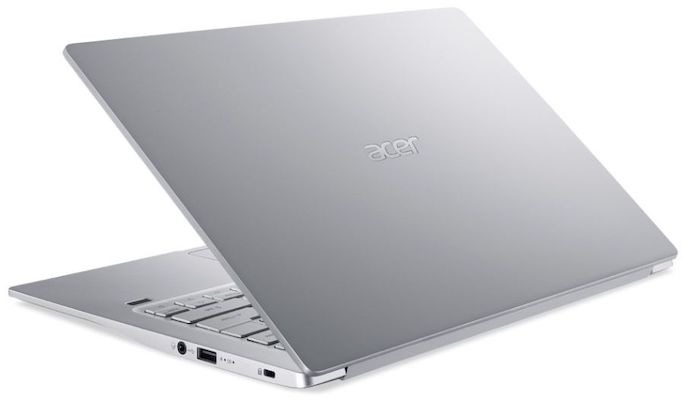 The design of Acer Swift 3 is quite similar to premium ultrabooks such as the MacBook Air or the Dell XPS. Its all-metal chassis has a matte-finish, which is contrasted by black plastic bezels around the display. The lid features a smooth finish with a reflective 'Acer' logo in the center. Unlike Acer's more budget-friendly options like the Aspire 5, the gaps on the case are precise, and there isn't any flex on the deck or display. Unfortunately, getting inside the laptop is a bit of a hassle since there is no maintenance hatch.
The Swift 3 measures in precisely 12.6 x 8.5 x 0.6 inches and weighs 2.65 pounds. The entire device is just 0.63 inches thick at its thickest end, making it one of the lightest and most portable laptops out there.
Opening the lid, a colorful display with minimal edges greets you. The matte-finished aluminum chassis continues to the deck as well. The laptop is held in place by a smooth to operate hinge, with a 'SWIFT' engraving in the middle. When you're resting your hand on the deck and working on the laptop, you wouldn't be able to tell it apart from a premium ultrabook. If it weren't for that black plastic bezels around the screen, the Swift 3 would truly be a premium ultrabook.
Despite the budget-friendly price tag, Acer has not cut any corners with the built and design of Swift 3.
MORE: The Best Laptops for College Students – Powerful performance, Lightweight chassis & Full day battery life
Ports & Slots
Unlike its premium rivals, the Acer Swift 3 offers a hearty selection of ports. On the right-hand side, you'll find a 3.5mm audio jack, a USB 2.0 Type-A port, and a Kensington lock slot. On the left, you get an HDMI port, a USB 3.1 Type-A port, the charging port, and a Type-C port with fast charging support. With the addition of charging support on the Type-C port, the DC-in charging port is redundant, a missed opportunity for Acer. Fortunately, you'll also be able to enjoy super-fast data transfer and 4K output with the USB Type-C port.
On the wireless end of communications, the Swift 3 is equipped with the latest Intel Wi-Fi 6 card supporting Bluetooth 5.0, which is rather impressive for a budget ultrabook like this.
Display
The Acer Swift 3 features a 14 inch Full HD IPS panel with a native resolution of 1920 x 1080 pixels. The screen on the Swift 3 is surrounded by narrow "plastic" bezels, which houses a 720p webcam on the top. It boasts a fabulous 82.73% screen to body ratio, which looks beautiful and on par with the 2020 standards.
However, it's not the most colorful screen on laptop, being 'okay' at best. Acer has added a few software optimizations, namely Acer Color Intelligence™ and ExaColor™, to increase the color contrast and overall performance of the screen. Unfortunately, that doesn't make the screen any better.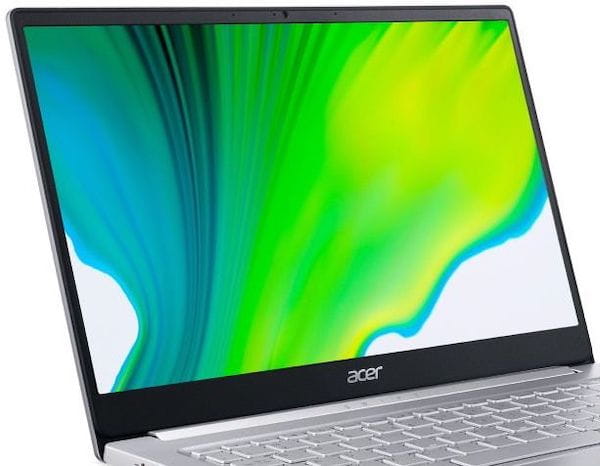 The screen covers 62% of the sRGB gamut and just 38% of the Adobe RGB color gamut. The brightness maxes out at 251 nits, making the display lean on the dimmer end. You can't work on it under the sun or in brightly lit environments. Thankfully, the IPS panel allows decent viewing angles. The display is fine for daily use and moderate content consumption. Professional color-sensitive work on the Swift 3 is still a pipe dream.
If you're in the market for a budget thin and light content creation laptop, then Swift 3 is not the right option. You can look at the Lenovo IdeaPad 5 15, which offers almost similar hardware for a little more money, and it has a bigger, more colorful and brighter panel with a peak brightness of 300 nits.
MORE: The Best Mid-size 14-inch Laptops – Our Top Picks
Performance
The Acer Swift 3 SF314-42-R9YN can push out serious performance with the AMD Ryzen 7 4700U Processor and the integrated Radeon graphics. Multi-thread processing, as compared to the 10th Intel i7, is off the charts. In fact, the Ryzen 7 proved to be 67% faster than its Intel counterpart in the Cinebench R20 benchmark.
Apart from the processor, it has an 8GB of RAM and 512GB NVMe SSD as the primary storage drive. Thanks to its fast 3200MHz LPDDR4 RAM, the Chrome, that's notorious for hogging RAM, ran smoothly without any trace of lag with almost two dozen tabs open and working simultaneously. The SSD unexpectedly also has phenomenal read and write speeds, being 2100 MB/s and 1200 MB/s, respectively. In our tests, we managed to duplicate a 5GB file in just 15 seconds.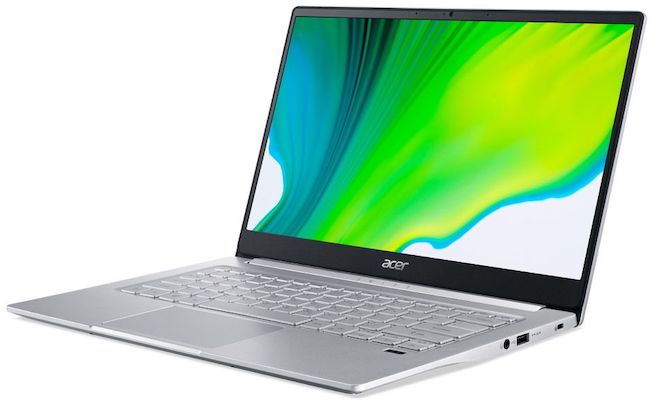 The system does not have a dedicated graphics unit, but the AMD Radeon graphics are far better than Intel's integrated graphics. Swift 3 can easily handle 4K video editing and even run all the new games. During our performance tests, it rendered 15 mins of 4K footage in just 10 minutes, which is very impressive for a $650 machine! It also impressed us with its gaming capabilities. It touched upwards of a 100FPS on the latest Valorant and the evergreen Overwatch with low settings. It can even manage Doom Eternal, a demanding game, at low settings with 60 FPS. Such performance has never been seen before with the integrated graphics. Even single-player games such as The Witcher 3, Red Dead Redemption 2, and GTA V maintained a playable frame rate above 30 FPS with medium to low settings. Despite the fabulous performance, the fans never get too loud, peaking at 42-45 Dbs. And since there is no dedicated graphics, the battery performance is also up a notch than the competition.
Speaking of the battery, Acer claims a battery back-up of 11.5 hours. However, the PCMark 10 Battery Life measured Swift 3's battery at 7 hours and 25 minutes, almost an entire day of work without charging. If you were to use this laptop more conservatively, not watching videos or playing games, you could easily squeeze a day's performance on a single charge.
Overall, Swift 3 can manage heavy loads of work, including gaming and media editing, without a sweat.
MORE: The Best Gaming Laptops Under $800 – Our Top 10 Recommendations Right Now
Audio
The Swift 3 comes with bottom-firing stereo speakers. They are loud enough to deliver decent sound but fail to 'surround' you. The audio also leans on the thinner end with minimal bass.
Speakers happen to be one of the areas that suffered the consequences of the low price tag. You'd be better off with an external speaker or a set of headphones.
You may like to check out: The Best Laptops for Music Production – Our Top Picks for Musicians & DJs
Keyboard & Trackpad
Since Acer Swift 3 is quite a thin laptop, it is served by a chiclet-style keyboard with low key travel. The keys are flat and have clear actuation points. Despite being shallow, it provides a clicky and springy feedback which makes typing on the Swift 3 a delight. The keyboard also happens to be surprisingly quiet, so you won't disturb your co-workers even when you are gashing out a hundred words a minute. The keyboard is also equipped with a single-stage back lightning. The latest model comes with silver keys that look fantastic with the white backlight flashing below them.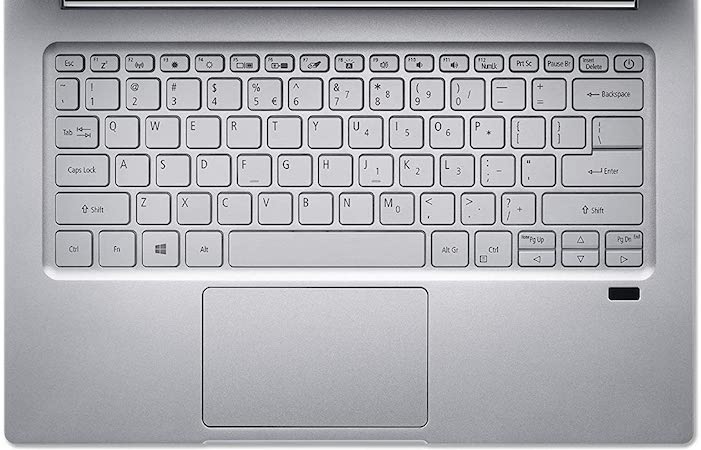 The only slight problem that we can point out is the arrow keys. The right and left arrow keys are not full-size keys; they're half-sized keys like the up and down arrow keys. The real estate acquired by shrinking the arrow keys is used to add a page up and down keys, both of which are also quite small. This problem will affect quite a small niche, but it's a big problem for that niche.
Right below the keyboard on the right-hand side, you'll also find a Windows Hello enabled fingerprint scanner that allows you to quickly log-in to your computer.
The touchpad is placed right under the spacebar. It's a regular-sized plastic touchpad, unlike the ginormous glass ones on the likes of MacBooks or Dell XPS lineup. The touchpad has a smooth finish in line with the rest of the laptop and responds well to gestures.
READ: The Best Laptops For Programming – A Complete Buyer's Guide
Software
The Acer Swift 3 ships with Windows 10 Home and a ton of bloatware like Norton Security and LinkedIn's Desktop app, to mention a few. If bloatware bugs you, you'll need to spend some time uninstalling the long list of apps while setting up the laptop.
Fortunately, Swift 3 also has a pleasant surprise for content creators. CyberLink's PowerDirector 14, for video editing and PhotoDirector 8 for photo editing are preinstalled on the system. Both the software cost $100 each in the aftermarket.
Upgradability
One of the downsides of buying a thin and light laptop like Acer Swift 3 is there are no additional slots under the hood to upgrade the laptop. The glued-on back and the lack of maintenance hatch are clear indications that Acer doesn't want you to get inside the laptop. However, if you decide to get inside, you'll quickly find out that the RAM is sodded on the motherboard to save space, but 8 GB of RAM should suffice for any day-to-day tasks and light gaming.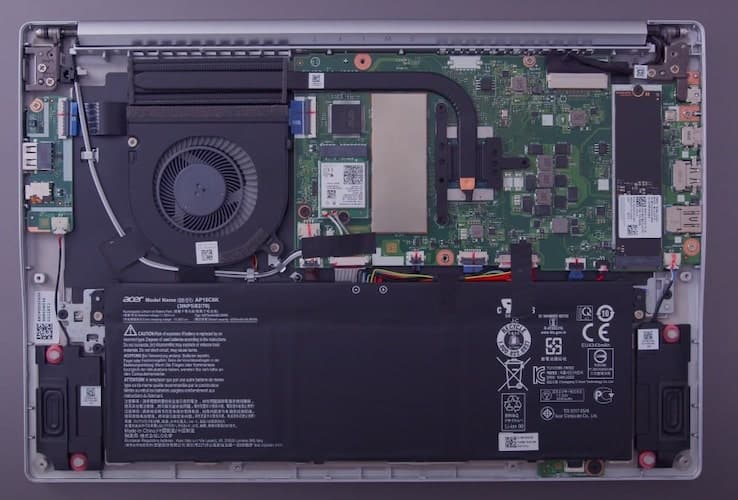 The SSD, on the other hand, is upgradeable. There isn't any extra slot for expansion, but it's not sodded either, so you can swap it out for a bigger SSD when you run out of space on the provided 512GB SSD.
Check out: Best Desktop Replacement Laptops – Upgradable just like PCs!
Conclusion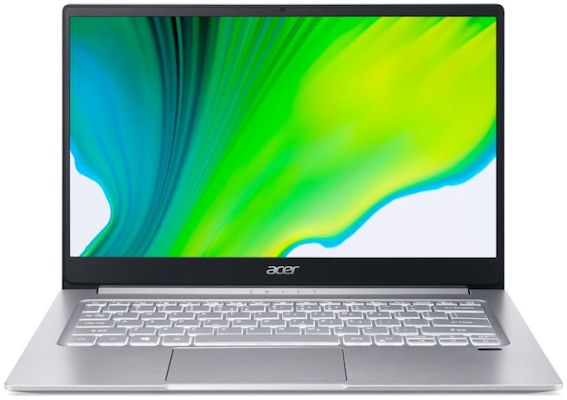 The Acer Swift 3 is an excellent ultraportable laptop that will not dent your bank account. The chassis is built out of premium aluminum, something that's found on premium ultrabooks. The menial construction and 2.65 pounds weight make it the perfect laptop for those who're always on the go. Despite the minimal design, the performance is off the charts for the specs and price. The backlit keyboard is comfortable to type on, and the Windows Hello enabled fingerprint reader is a neat touch.
However, there were a few compromises to achieve attractive pricing. The display on the Swift 3 is underwhelming and leaves a room for improvement. The colors are off, and the whole thing looks dim, but that's not to say that this display is 'unusable' for day to day tasks as long as you are indoors. It will perform just as well for writing, web browsing and emails as any premium ultrabook.
Overall, we highly recommend this notebook. The performance from the Ryzen 7 4700U and Radeon graphics is awe-inspiring. Playing the demanding games was deemed impossible on the ultrabooks with integrated graphics, but Acer Swift 3 has bridged that gap. Its performance is on par with ultrabooks that cost twice as much, and that makes it one of the best budget ultrabooks you can buy right now.
Acer Swift 3 w/ AMD Ryzen 7 4700U
$649.99
Advertisement