Alienware laptops are considered to be the pinnacle of the gaming laptops industry. They are known to pack high-performance internals into a svelte chassis that arguably has the best feel of any gaming laptop, and their RGB implementation is also awesome.
But one thing that we all can agree on is Alienware laptops were never portable. They always had larger footprints than a standard size gaming laptop. While that aided in cooling the beefy specs inside more efficiently and delivering better performance, the thin and light laptop buyers were never truly impressed by Alienware.
Advertisement
With the demand for thin and light gaming laptops increasing lately and more and more brands launching thin and light gaming laptops, Alienware also felt the need to serve their fans with a portable gaming machine.
And last year, they launched all-new X-series gaming laptops aimed at buyers who want the same Alienware prowess in a thin and light 15 or 17-inch form factor.
The laptop we are reviewing today, the Alienware x15 R2, is from the 2nd generation of that newly launched X-series gaming laptops lineup by Alienware.
While this year's model is more of a spec bump as we do not see any significant cosmetic changes being made to its design, were the heating issues of the last year's model addressed by Alienware this year?
Also, while x15 is a pretty thin gaming laptop, its overall footprint and weight are still pretty identical to standard non-thin and light gaming laptops, so how much of a compromise do you have to make on performance for that extra thinness?
Short answer: A lot!
Keep reading as we uncover what kind of user the Alienware x15 R2 is the right choice.
Price And Configurations
The new Alienware x15 R2 comes in multiple configurations, and we are testing its mid-tier variant with the Intel Core i7-12700H CPU and RTX 3070 Ti laptop GPU paired to the 32GB DDR5 RAM and 1TB of PCIe Gen4 SSD storage.
The display on our model is the 15.6-inch FHD display with a 360Hz refresh rate and 1ms of response time, which is the highest refresh rate display Dell offers for x15. Other display options include QHD 240Hz and FHD 165Hz panels.
Our model is currently retailing for $2,749 on Dell's website, which is on the expensive side compared to similarly specced laptops from other brands.
There are also less and more expensive variants of x15 available than ours with the Core i7-12700H and RTX 3060 for budget-conscious buyers and a maxed-out config with the Core i9-12900H paired to RTX 3080 or 3080 Ti.
The RAM and storage options for x15 R2 include up to 32GB LPDDR5 RAM and 4TB of SSD storage running in RAID or standard configuration.
It's worth noting that for the keyboard, x15 R2 only offers an option of a standard Alienware RGB keyboard. In contrast, its bigger sibling, the x17 R2, has another keyboard option with the cherry MX ultra-low profile mechanical switches.
Though configurations are enough for people to choose the suitable model for their needs, pricing is still pretty premium. And we will find if it's justified further in the review.
Detailed specs of the model we reviewed:
Model Number
AWX15R2
Processor
12th Gen Intel Core i7-12700H 14 Cores – 6P + 8E (24MB Cache, 3.5 GHz – 4.7 GHz)
RAM
32GB LPDDR5 5200MHz (soldered)
Storage
1TB PCIe Gen4 NVMe SSD
Graphics
Nvidia GeForce RTX 3070 Ti GPU with 8GB DDR6 Memory (120 – 140W TGP)
Display
15.6-inch FHD 360Hz Refresh Rate 1ms Display w/ Nvidia G-Sync and Advanced Optimus
Ports
1 x Thunderbolt 4 (w/ DisplayPort & Power delivery support)
1 x USB 3.2 Type-C (w/ DisplayPort and Power delivery support)
1 x USB 3.2 Gen 1 Type-A (w/ Power share support)
1 x HDMI 2.1
1 x 3.5mm Headphone/Microphone Jack
Operating System
Windows 11 Home
Battery life
Up to 4 hours and 27 minutes (tested)
Weight & Dimensions
5.1 Pound
14.1 x 10.9 x 0.6-inches
Design
Of course, Alienware laptops are known for their performance, but if there's anything else they are known for is their uniquely beautiful designs, and the x15 R2 is the perfect testament to that. It's thin and elegant yet a very well-built device and feels rock solid in the hands.
At the same time, I also loved the panda color scheme on our model, and also the amount of RGB lights, and its implementation—a customizable RGB ring surrounding the air vents and ports on the back, a lighting logo on the lid, and an RGB keyboard. That's it. No flashy rainbow lightbars on the front or sides.
On that note, Alienware has removed the RGB lighting from the trackpad in this year's model and switched to the standard trackpad. I personally don't mind it, but RGB fanatics would be sad because that was one of the signature stylings of the Alienware laptops.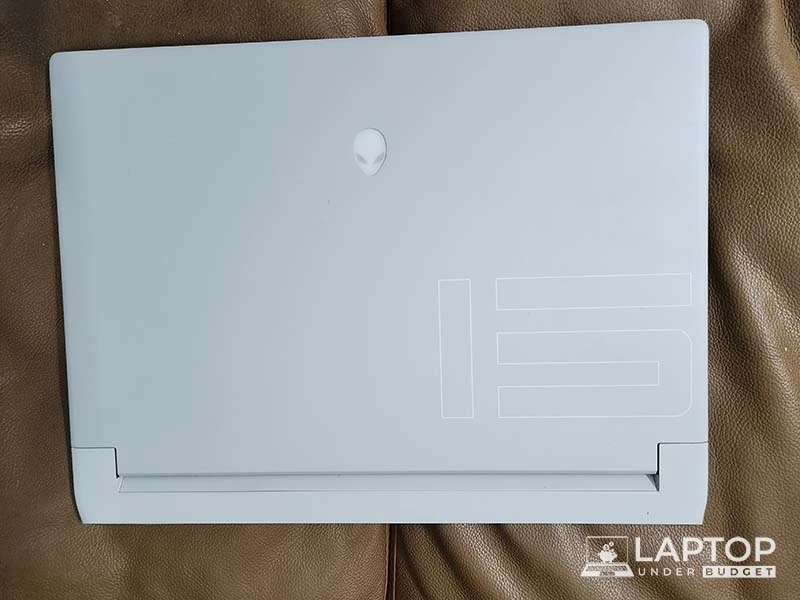 If we talk about the feel of the materials, then the whole machine has a soft rubberized finish, which does make it feel premium in hands and also helps with the grip, but it gets dirty pretty quickly. And if you decide to buy it in white color, you'll have to keep a cleaning cloth handy to keep the laptop looking pristine.
Coming to the dimensions and form factor, the Alienware x15 R2 is a very thin machine at 0.6-inches. However, its footprint is still very similar to a standard 15-inch gaming laptop, measuring at 14.1″ x 10.1″. Also, it's quite large in comparison to the Razer Blade 15 (13.9 x 9.2 x 0.6), a similarly capable and priced thin and light gaming laptop.
That's probably because the Alienware x15 R2 has a hunch on the back that houses the ports and air vents. While this design does make it larger and also heavier at 5.1 pounds, it gives it a space to house a quad fan cooling system inside! How much of a difference does that make in performance? Well, we'll find that out later in this review.
Overall, the Alienware x15 R2 is a great-looking machine with a thin profile and build quality that'd last for years. But it's not particularly lightweight or portable for on-the-go usage. Also, its surface gets dirty and greasy pretty quickly, but once you wipe it out clean, you'll be left mesmerized by its beautiful design.
Ports and Slots
One of the major advantages of getting a gaming laptop over a regular notebook is the fact that you get more ports. Though such a thin profile of the Alienware x15 R2 signs that there'll be some compromises.
And the Alienware x15 R2 does not have an RJ45 ethernet port. However, the box does include a USB Type-C to ethernet dongle. While this actually solves the problem, it also means you will have one less USB Type-C port.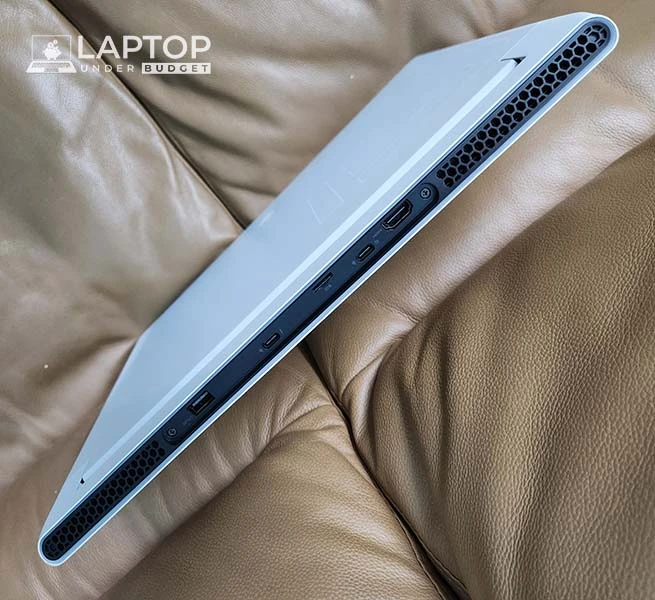 Though the laptop includes a pretty generous amount of ports for connectivity—an HDMI port, a USB Type-A port with power sharing capabilities, a 3.5mm headphone jack, a microSD card slot, and a total of two USB Type-C ports—one supporting Thunderbolt 4 and another with a DisplayPort and PD support. Also not to mention it also has a proprietary charging port with a LED ring indicating charging status. Neat.
However, if we talk about the placement of these ports now, then all the ports other than a headphone jack and charging port are located on the back. That's great if you want to use your laptop docked, but why is the charging port also not on the back? Also, placing all the USB ports on the back is not ideal. It gets hard to plug in the devices, even if that means keeping the desk not completely clutter-free.
Overall, the x15 R2 offers a pretty good selection of ports. However, I think port placements could have been better. Also, for someone who prefers playing online games using wired internet (just to reduce that millisecond latency), I wouldn't say I like the direction that Alienware has taken. I would any day prefer a laptop with a dedicated RJ45 ethernet jack and more rather than having a slightly thinner machine that might need more dongles.
Display
The Alienware x15 R2 has an above-average 15.6-inch FHD (1920×1080) display with a 360Hz refresh rate and 1ms response time. The display has a matte finish, which helps cut the light reflections to an extent, and the thin bezels across the display also give it a premium look.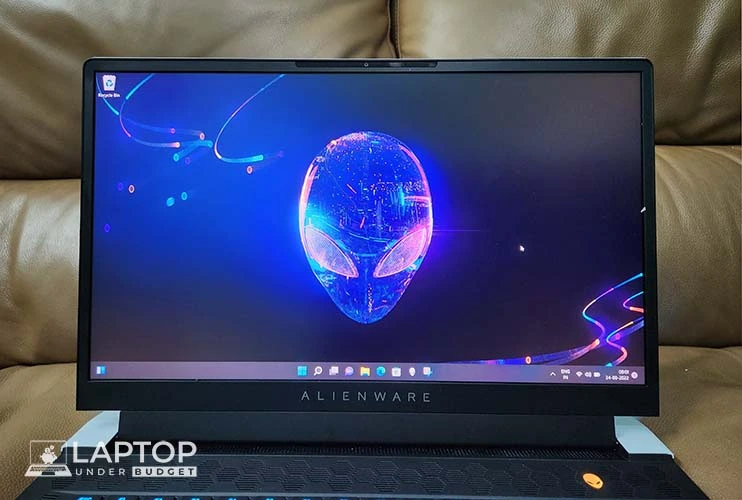 Do note that the Alienware x15 R2 is also available with a 1440p resolution display with a 240Hz refresh rate. While avid gamers will prefer the higher refresh rate panel, the 2K panel will be the choice of an average user who wants the right blend of resolution and refresh rate.
Though the display isn't sharp to my liking, the color accuracy of this FHD panel is on-par with the bests, with 100% sRGB coverage. That will allow you to do even color-sensitive photo and video editing jobs confidently on this laptop.
However, the dynamic range of this display is not that great. The Alienware x15 R2's 15.6-inch FHD display is fairly bright and goes up to 400 nits. And it's also Dolby Vision certified, but the limited peak brightness of 400 nits does restrict the overall HDR content consumption experience. It looks like Alienware is clearly going for the gaming-centric display that offers lower response time. And it also has NVIDIA G-SYNC anti-screen tearing certification to enhance the gaming experience further.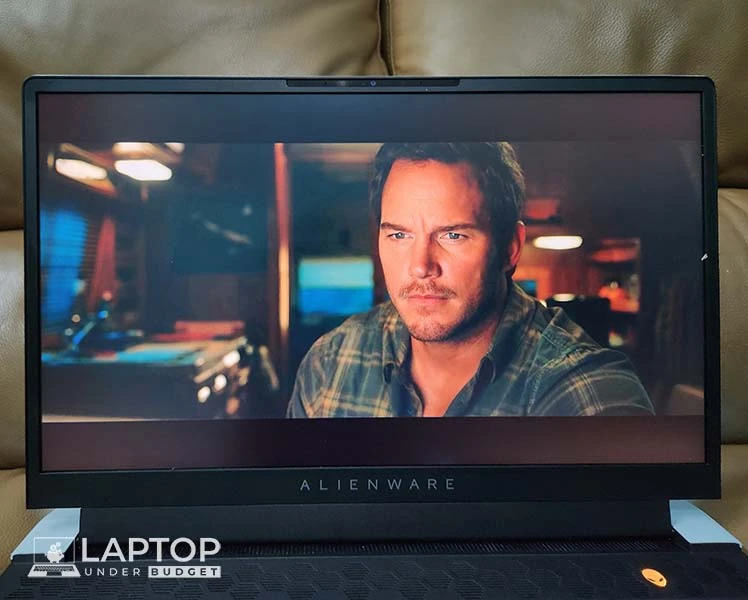 While the movie-watching experience on the Alienware x15 R2 is not as good as 2022 Asus ROG Strix Scar 15 (a similarly specced QHD gaming laptop we reviewed recently), the gaming experience was definitely better, and you'll enjoy playing FPS games on this laptop.
Keyboard and Trackpad
The Alienware x15 R2 has a good chiclet-style keyboard with complete RGB lighting and three variable brightness levels. The keys also offer a good 1.5mm of key travel and satisfying feedback.
But I don't prefer the placement of media control keys on the right side of the keyboard as they are prone to accidental presses. Though, I like that it has dedicated keys for muting the mic and speakers. It will be helpful while gaming.
Other than that, I also felt the arrow keys are crammed and hard to differentiate without looking at them. Besides that, other keys on the keyboard are well laid out, with a good amount of space between them, and I actually enjoyed typing this review using the Alienware x15 R2's keyboard.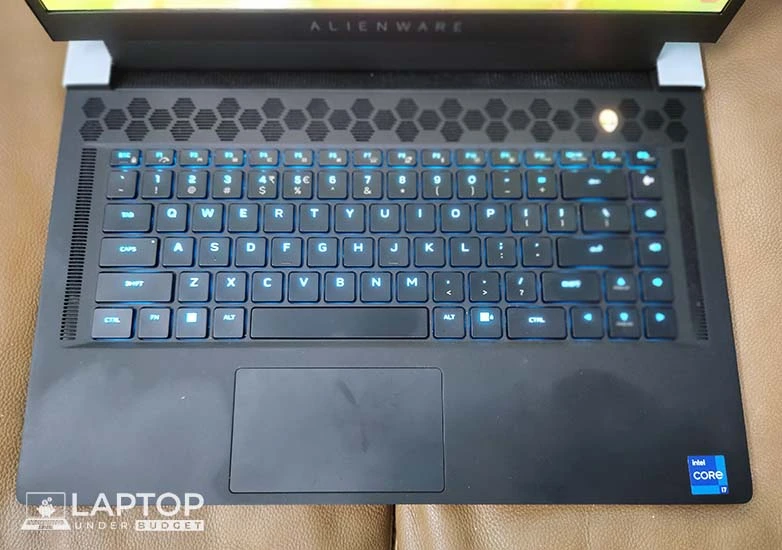 But it's with gaming where this keyboard truly shines. As you would expect from any professional gaming device, the keyboard on the Alienware x15 R2 also supports N-Key rollover and anti-ghost technology. It registers each keypress with utmost accuracy and helps you take the most critical shots while playing CS:GO or even the more modern games like Valorant or Fortnite with less margin of error.
However, we cannot tell the same about its trackpad. Alienware has actually downgraded the trackpad on this laptop. It not only misses out on the RGB lighting but is also one of the smallest trackpads we have seen on a premium gaming laptop in the last two years.
Though the actual tracking experience was alright, the small size made it less intuitive and uncomfortable at times to use.
Audio
The Alienware x15 R2 has a stereo speaker setup with two 2W speakers and two tweeters. While the speakers aren't as loud and clear as the ones found on the MacBook Pro or even the Dell's own XPS 15, they are on par with gaming laptop speakers from other brands and better than the last year's Alienware x15.
They are Dolby Atmos certified, so audio separation while watching movies and playing games is excellent, and it also has a good bass and clarity. You can do casual gaming on the audio output from these speakers, but for competitive gaming, you'll need a pair of headphones.
As far as loudness goes, they can fill a small room, but for bigger than average rooms like lecture halls and conference rooms, the speakers will sound tiny, and you will need an external speaker to get the best possible audio experience with the Alienware x15 R2.
Performance – Day to Day Usage & Gaming
On paper, the Alienware x15 R2 looks like one of the most impressive 15-inch gaming laptops of 2022—powered by an Intel Core i7-12700H processor and Nvidia RTX 3070 Ti GPU with 32GB of LPDDR5 RAM and 1TB Gen4 SSD storage—all top-notch specs.
The Intel Core i7-12700H comes with a total of 14 cores along with 20 threads with a peak CPU clock speed of 4.7GHz. This CPU comes with Intel's new hybrid architecture consisting of P (performance) and E (efficiency) cores.
The CPU also enables features like Thunderbolt 4, allowing users to connect high speed/bandwidth requiring peripherals via the USB Type-C port. Similarly, the laptop is also equipped with a top-of-the-line Wi-Fi 6E modem, offering peak download and upload speeds over Wi-Fi with lower network latency.
Coming to the GPU, the laptop is equipped with the NVIDIA GeForce RTX 3070 Ti laptop GPU with 8GB GDDR6 video memory, and it's tuned at 120W of TGP.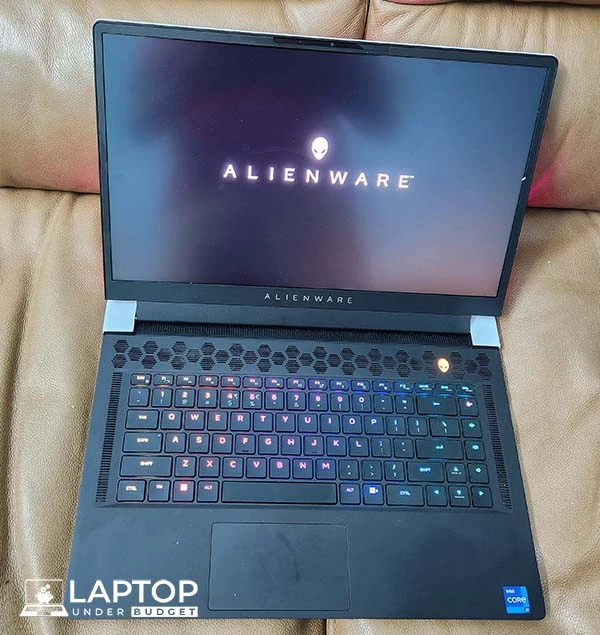 The performance that you can expect from these components is nothing short of the best, and accordingly, this Alienware x15 R2 should be able to handle modern games at 1080p and 1440p resolution with ease.
Also, since it has a quad fan cooling system and uses a gallium-silicone based thermal compound, the heat dissipation should also be well managed.
Well, let's find out if that's the case.
CPU Performance
The Intel Core i7-12700H on the Alienware x15 R2 offers competitive performance and is on par with other gaming laptops with the same processor. On Geekbench 5, it posted 1656 points and 12980 points on the single-core and multi-core CPU tests, respectively.
Similarly, on the CPU-Z benchmark, the laptop posted 721 points and 7935 points, respectively. Lastly, on the Cinebench R23 benchmark, the laptop posted 1785 and 14845 points, respectively.
While these scores are similar to other laptops with the Intel Core i7-12700H CPU, it's worth noting that most of those laptops are priced around $1800, which is over $700 cheaper than the Alienware x15 R2 laptop. Enough to buy another laptop.
GPU Performance
The Nvidia GeForce RTX 3070 Ti laptop GPU on the Alienware x15 R2 is one of the best laptop GPUs of 2022. This GPU has a lot of video memory and a higher clock speed. Cooling it also shouldn't be a problem, as the laptop features a pretty hefty cooling system. Well, that's what we thought!
We ran the 3D Mark Time Spy Extreme test on the Alienware x15 R2 laptop and got an average score of 10,150. The benchmark also confirmed that the laptop can easily handle games like Battlefield V at 1080p and 1440p resolution and offer over 110 and 90fps, respectively.
But when we looked at the actual stats of the benchmark, we noted that the CPU got as hot as 99°C within 2 minutes, and the GPU also got toasty in just two minutes and reached the peak temperature of 79°C.
Not just did the laptop gets hot, but we also noticed a bit of thermal throttling within five minutes of our test.
Gaming Performance
We tested the Alienware x15 R2 with a lot of games like GTA V, Far Cry 6, and The Shadow of the Tomb Raider, all at 1080p, its display's native resolution. On GTA V, the laptop offered an average FPS of 139, and on The Shadow of the Tomb Raider, it reported an average FPS of 130 without ray tracing, and with ray tracing set to ultra, we got an average FPS of 105.
Similarly, on Far Cry 6, we noted an average FPS of over 115 at the highest graphics settings, and the laptop was able to handle the game pretty well for the most part.
Overall, it was a good experience playing games on the Alienware x15 R2, but there's one thing about it that concerns us –
Cooling
As per on-paper specifications, the Alienware x15 R2 is a very well-designed and engineered gaming laptop with a liquid metal thermal component and four fans pumping air. However, in the real world, the laptop gets hot very quickly due to its compact chassis. Not just that, even the fans get very loud, blocking the speaker's audio, and forcing you to use headphones while gaming.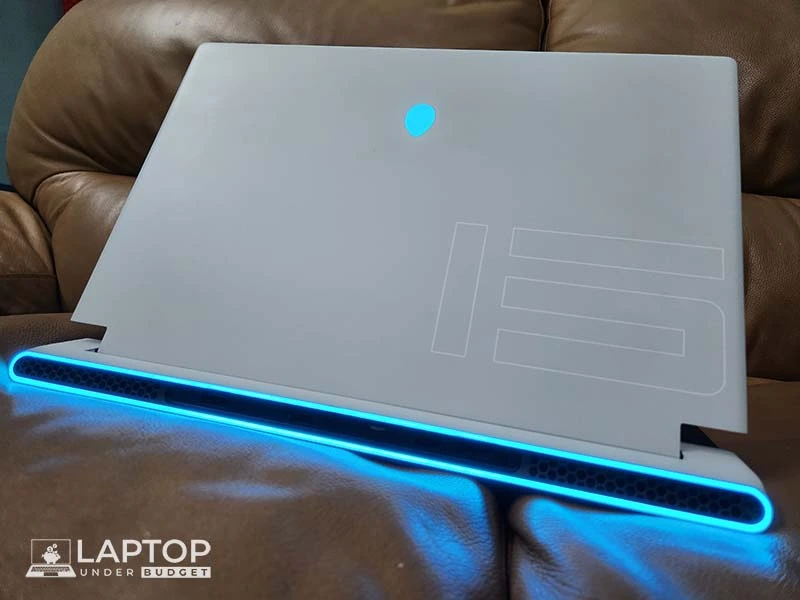 Also, while gaming, we noticed that the laptop maintains peak performance for about 10 to 15 minutes. But with the continuous load, you'll see a gradual decrease in the performance, and it usually throttles down to 70 to 75 percent of its peak performance, crippling the powerful hardware of this laptop.
Upgradability
Opening up the laptop was not a complex process, but we were shocked to find out that the RAM on the Alienware x15 R2 is soldered to the motherboard and is non-user upgradable.
That's a bummer considering a similarly capable and priced thin and light gaming laptop, the Razer Blade 15, while being a much smaller device than this Alienware x15 R2, has two user-upgradeable RAM slots!
On a lighter note, it does have an empty M.2 SSD slot, allowing users to upgrade the storage.
Overall if upgradability is your main concern (which should be), you might not like the Alienware x15 R2.
While most gaming laptops try to be more modular, the Dell is taking a different route with Alienware x15 R2, and it's not a good one for both users and environmental perspectives.
Battery Life
The Alienware x15 R2 comes with a large 87Whr battery, which offers over 4 to 4.5 hours of battery life under non-gaming usage.
If you game on battery, the laptop usually lasts slightly over 60 minutes. While there are gaming laptops with a bigger 99Whr battery capacity available for much less, considering the size of the Alienware x15 R2, it has a decent-sized battery.
However, what's worth appreciating is the charging brick of the Alienware x15 R2 is much more compact and lightweight than other gaming laptops. Also, it features a cool charging port with a led-ring indicating charging status—a subtle convenience feature.
Conclusion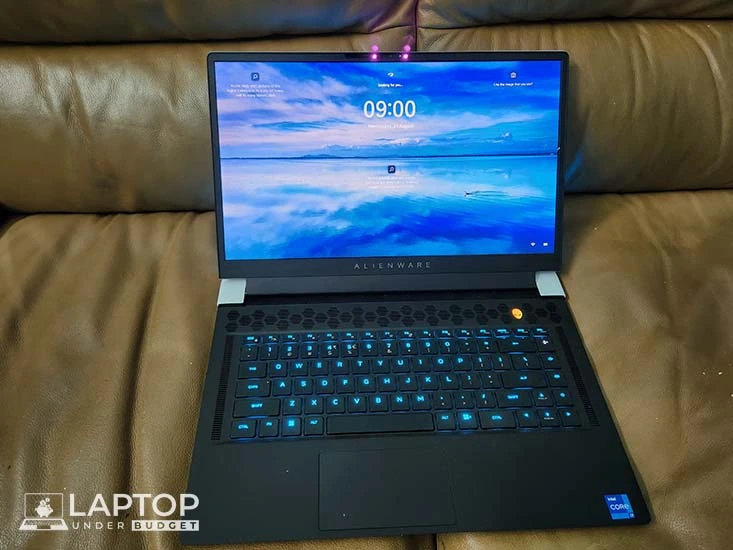 The key highlight of the Alienware x15 R2 is its thin, beautiful design and excellent build quality, which you would expect when spending a premium.
But when it comes to performance, especially considering the price, there are definitely better options available.
Check out: The Best Gaming Laptops Under $2000
But, for whom the Alienware x15 R2 is the right choice then?
Well, we wouldn't mind recommending it to the people who prioritize the fit and finish of the laptop over performance and cooling.
Alienware x15 R2 15" Gaming Laptop
$2,599
Design & Build Quality
4.5/5
Keyboard & Touchpad
3.8/5
Pros
Beautiful sleek design & superb build quality
Perfect amount of RGB lighting
Bright, smooth and color-accurate display
Powerful enough to run AAA games at high settings
Comfortable keyboard for regular usage and professional gaming
Crisp sounding speakers with good audio separation
Good number of ports and slots
Cons
Thin but still large and heavy
Dirt magnet - surface requires continuous cleaning
Suffers from hardware throttling and gets very hot despite quad fans cooling system
Loud fans
Tiny trackpad
No ethernet port
Soldered non-upgradable RAM!
Expensive
Advertisement