AMD, one of the leading CPU and GPU companies in the world, has shaken things up with its upcoming 7000 mobile processors line-up. They're now implementing a new naming scheme to their laptop CPUs, categorized by performance.
This change is a new standard that will apply to their laptop processors starting in 2023, and it will continue for at least 5 years, continuing "for years to come," as mentioned in a blog post by Robert Hallock, director of technical marketing at AMD.
Advertisement
A major reason for this change is the boom in shipments of laptop featuring AMD Ryzen Processors. AMD claims shipments have increased by "49% in just two years". This led to reinvestment in various categories to reach a wider market.
But with the new naming scheme, you might be a bit lost on what they actually mean. It's a departure from their standard, straightforward naming system. Today, we'll take a look to decipher the new naming system to make it easier to understand.
That said, let's check out AMD's brand-new naming system.
The New AMD CPU Naming Scheme For Ryzen 7000 Mobile & Going Forward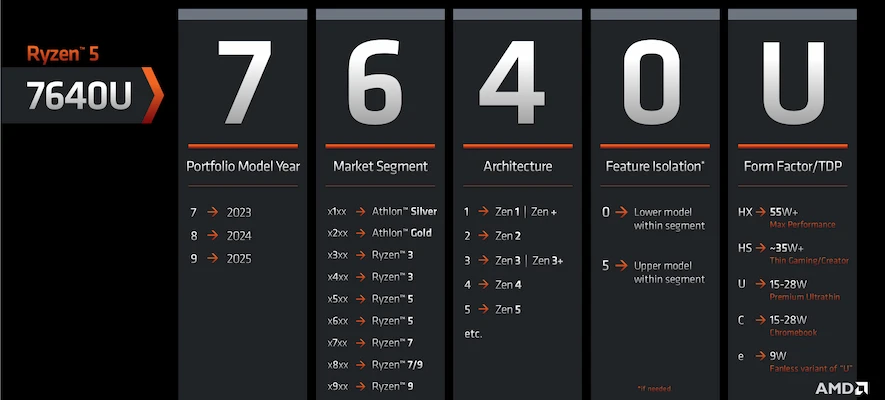 AMD has provided a simple way to understand its upcoming mobile processor line-up. Previously, AMD's processors featured names like "AMD Ryzen 7 6800U" or "AMD Ryzen 5 6600H".
The new implementation of model numbers will follow a four-digit numerical system ending with a letter.
Each number represented in the model number co-relates to a different meaning:
The first digit represents the model year. 7 represents 2023, 8 represents 2024, and so on.
The second digit represents the market segment—for example, Ryzen 3, Ryzen 5, or Ryzen 7.
The third digit represents the architecture of the processor—for example, Zen 2, Zen 3, or Zen 4.
The fourth digit represents the architecture's feature set. This is denoted by either a 0 or a 5. 0 stands for a lower-end model, while a 5 indicates a higher-end model.
The fifth digit represents the form factor or TDP, which helps differentiate between laptops with different feature sets and designs. HX Represents high-end, "max performance" laptops, while C represents a Chromebook.
The naming system can be a little complex at first glance. The easiest way to find the "best" performer is; that higher numbers mean better performance.
For example, an AMD Ryzen 9 7955HX is the absolute best performance you could find.
It features an AMD Ryzen 9 with Zen 5 architecture, built for 55W+ TDP. Theoretically, this is a top-of-the-line mobile processor built for high-performance gaming laptops or content creator laptops.
The Breakdown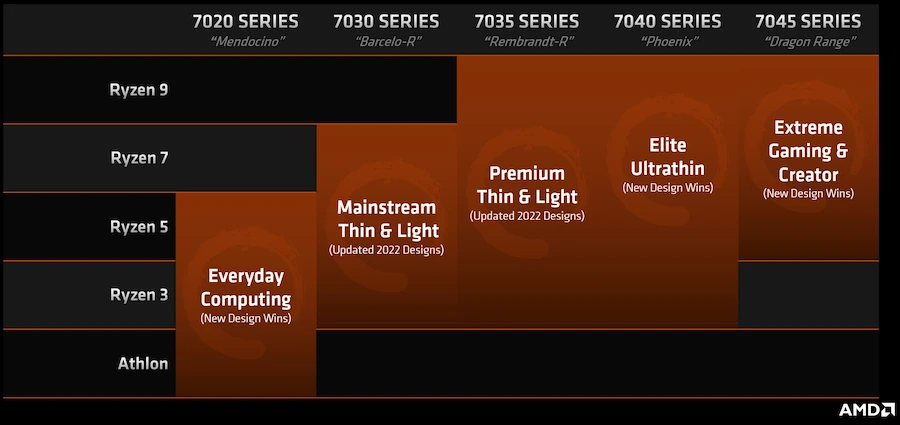 AMD has further segmented its processors into 5 distinct market categories. Namely, the 7020 Series, 7030 Series, 7035 Series, 7040 Series, and 7045 Series. These series are also named by different codes to make it easier to differentiate.
The important thing to note is that "each CPU architecture exists only within one series."
7020 Series – Mendocino
The 7020 Series is referred to as "Mendocino." Laptops featuring Mendocino series processors can consist of Athlon Silver, Athlon Gold, Ryzen 3, or Ryzen 5, depending on the price and specs.
All Mendocino series CPUs are built on the Zen 1 or Zen 2 architecture.
These CPUs will power laptops meant for everyday tasks that don't require as much power. Things like web browsing or using word editors often referred to as "entry-level laptops," will feature this series processor.
7030 Series – Barcelo-R
The 7030 Series is referred to as "Barcelo-R." Laptops featuring Barcelo-R series processors consist of Ryzen 3, Ryzen 5, or Ryzen 7, depending on the specs and price.
All Barcelo-R processors feature Zen 3 architecture.
Laptops featuring the Barcelo-R series processors are mid-range everyday laptops. These are great performers but aren't ideal for extra intensive tasks like high-level graphic design, editing, or Ultra performance gaming.
You can still do these tasks depending on the GPU. It just might not be as powerful as the 7035 or 7040.
7035 Series – Rembrandt-R
The 7035 Series is referred to as "Rembrandt-R." Laptops featuring Rembrandt-R series processors consist of Ryzen 3, Ryzen 5, Ryzen 7, or Ryzen 9. Again, that depends on the specs and price of the laptop. All Rembrandt-R processors feature Zen 3+ architecture.
Laptops that house the Rembrandt-R series processors will be upper-mid level ultra-books or "Premium Thin & Light" laptops. Rembrandt-R series processors will equate to laptops that are capable of handling gaming at higher graphic settings and smooth everyday performance.
This could mean they use a powerful processor but won't be as powerful as dedicated gaming laptops or very high-end ultra-books featuring the Phoenix or Dragon Range series processors mentioned below.
7040 Series – Phoenix
The 7040 Series is referred to as "Phoenix." Laptops featuring the Phoenix series processors consist of Ryzen 3, Ryzen 5, Ryzen 7, or Ryzen 9. All Phoenix processors feature Zen 4 architecture.
Phoenix series laptops will be the premium ultra-books category that prioritizes performance in as thin and sleek form factor as possible. While they share the same market segment as the Rembrandt-R, Zen 4 means the laptop features more cores, threads, and cache counts.
Simply put, Phoenix series processors will most likely perform better than Rembrandt-R.
7045 Series – Dragon Range
The 7045 Series is referred to as the "Dragon Range." Laptops featuring the Dragon Range series processors consist of Ryzen 5, Ryzen 7, or Ryzen 9, depending on the spec sheet. All Dragon Range processors feature Zen 4 architecture.
Dragon Range series laptops are the behemoths of AMD's processor lineup. These are built only for the highest-end gaming laptops or content creator laptops. Typically, laptops with a Dragon Range will be expensive, enthusiast laptops.
People who use intensive programs like Blender and CAD or play high-end games at ultra settings are the target market for the Dragon Range. This is AMD's highest-end processor line and will get you the most CPU cores, threads, and higher max cache counts.
The Important Part
The biggest determiner of performance will be the 3rd digit in the name, depicting whether a laptop has Zen 1, 2, 3, or Zen 4 architecture. Ryzen 7 and Ryzen 9 are the most powerful processors in the lineup, but the Zen version it's based on will determine whether your laptop is as powerful as a Phoenix or a Rembrandt-R.
Keep that in mind, and you should be good to go.
And that's pretty much everything you need to know about AMD's upcoming mobile processors. While we're speaking in a theoretical sense right now, hopefully, you will have a better understanding of the naming scheme going forward.
That said, we want to hear what you guys think of AMD's new naming system. Is it a little too complicated, or does it make it easier to browse through laptops? Leave us a comment with your thoughts!
Read Next
Advertisement