Asus made a big splash with its new OLED offerings at an event titled Create the Uncreated, where it launched a bunch of new laptops, desktops, monitors and accessories, all blessed with the advantages of OLED technologies. Among the many things Asus announced is a brand new VivoBook Pro 14X and 15X that pushes the lineup to more premium grounds, sitting just below the ZenBook lineup.
Let's take a look at the specifications and features of the laptop —
Advertisement
Asus VivoBook Pro 14X/16X OLED
The VivoBook Pro 14X breaks new territory sitting higher than the budget VivoBook lineup and just one step below the premium ZenBook laptops. These two premium laptops sport the latest OLED panels along with high-end hardware under the hood. The 14-inch VivoBook Pro 14X features a 16:10 2.8K OLED display, while the VivoBook Pro 16X gets a 16-inch 4K OLED panel. Both are Pantone Validated and boast of 100% DCI-P3 coverage.
The laptops are offered in multiple color finishes with an anodized metal finish that includes a zero-degree black finish and a weave-textured meteor white finish that looks super unique. Part of the design aesthetics is a Cyberpunk-like keyboard with a bright orange Esc key. From the pictures, it looks like it is indeed the most premium offering in the VivoBook lineup.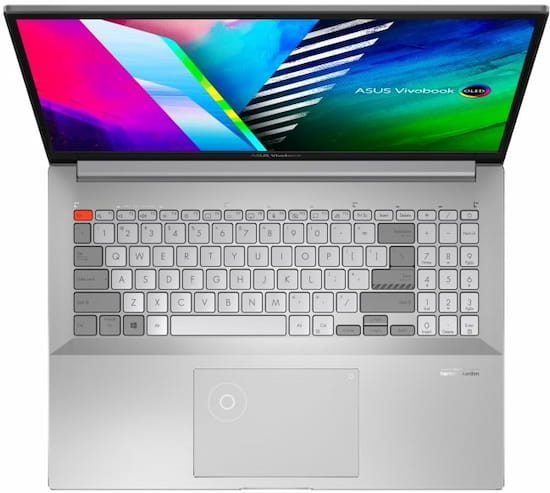 Beyond the unique colorway, the most important thing to note on these machines is the DialPad, placed in the top-left corner of the trackpad. It's basically the virtual counterpart of the physical dial that Asus introduced in the StudioBook 16 OLED laptop and works across the entire suite of Adobe creative apps, giving you more control over the tools.
Under the hood, you can configure the laptop with either AMD or Intel processors. If you're Team Red, you can pick it up with the AMD Ryzen 9 5900HX, while Team Blue can choose up to the Tiger Lake Intel Core i7 11370H. The AMD variant can be paired with an Nvidia RTX 3050 Ti, but for some odd reason, the Intel variant only goes up to the Nvidia RTX 3050.
The Ryzen configurations also boast up to 32GB DDR4 3200MHz memory, while you can configure the Intel variants with up to only 16GB RAM. Asus is clearly pushing users towards AMD. However, the storage capacities are the same, and you can get up to 1TB M.2 NVMe PCIe SSD with Intel Optane.
Ports include ThunderBolt 4 (only in the Intel variant), USB 3.2 Gen-1 Type A, HDMI 1.4, and microSD card reader. It has a backlit keyboard and weighs 3.2 pounds.
Asus ZenBook 14X OLED and ZenBook 14 Flip OLED
The ZenBook 14X, much like its VivoBook sibling, features a 14-inch 16:10 4K OLED display with HDR and touch support and a 100% DCI-P3 color gamut. It's a little less powerful, lacking a full-fledged discrete GPU, and it's meant for casual creative use. You get the virtual ScreenPad embedded into the trackpad that allows you to switch between apps or a virtual number pad. There's also a flip version of the same featuring a 360-degree convertible OLED display.
Both the ZenBook 14X and the ZenBook Flip 14 can be configured with either AMD Ryzen or Intel processors. On the AMD side, you get up to the Ryzen 9 5900HX and the Tiger Lake Intel Core i7-1165G7 on the other one. You get to pair Intel variants with optional discrete Nvidia MX450 GPU with 2GB GDDR6 memory. However, AMD variants, for some reason, do not get a discrete GPU option. You can configure them with up to 16GB LPDDR4X RAM and up to 1TB M.2 NVMe PCIe SSD storage with 32GB Intel Optane memory.
Ports include a ThunderBolt 4/USB 4.0 on the Intel variant and a USB 3.2 Gen 2 Type-C on the AMD variant. Other than that, you get HDMI 2.0b and a microSD card reader.
Asus ZenBook Pro Duo 15 OLED
The wacky dual-screen ZenBook Pro Duo 15 was already being offered with OLED displays, but yesterday's event refreshed the offering with third-generation Samsung OLED panels, which are more accurate and retain the color accuracy even as you dial down the brightness. The 15.6-inch ZenBook Pro Duo features a 15.6-inch 4K HDR OLED display along with a full-width 14-inch secondary touch screen with Asus' ScreenXpert 2 software to make the most of it. The app brings things like a full-fledged Control Panel that works across the Adobe creative suite.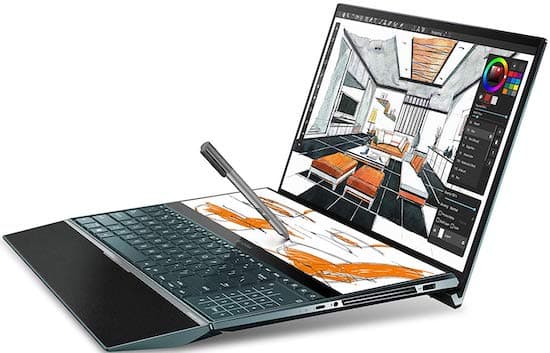 Under the hood, the ZenBook Pro Duo 15 can be configured with up to an Intel Core i9 processor combined with the Nvidia RTX 3070. RAM support goes up to 32GB DDR4, and you can configure it with up to 1TB M.2 NVMe PCIe 3.0 SSD. The laptop also sports two ThunderBolt 4/USB 4.0 ports along with a single USB 3.2 Type-A port and an HDMI 2.1 port.
So these are all the new laptops that Asus launched at their yesterday's virtual launch event. All of them get the OLED displays, which bring in advantages like deeper blacks, higher power efficiency and significantly higher contrasts. OLED panels are revered in smartphones and TVs, particularly for the visual pop they tend to offer, and having an OLED panel amidst a thousand laptops with LCD screens makes them instantly stand out. We think that's exactly the reaction Asus was hoping for.
Advertisement