Taiwanese laptop maker Asus has sweetened the deal for creators and enthusiasts by expanding its creative portfolio with a new lineup of Asus ProArt StudioBooks, VivoBook Pro, and a new VivoBook 14X, all sporting spanking new OLED displays. The new laptops feature the latest Intel or AMD processors and deeper integration with Adobe apps to make lives easier for creators worldwide.
OLED screens are relatively new to the laptop segment. Usually dominated by LCD panels, Asus' move to refresh its existing creator portfolio with OLED displays makes it stand out in an increasingly saturated laptop market. OLED offers considerable advantages over traditional LCDs. They offer more profound blacks, a higher contrast ratio, and more responsiveness. It has that visual flair that even the best LCDs can't replicate.
Advertisement
Asus ProArt StudioBook Pro 16 OLED (W7600, W5600)
Among the many things that Asus launched, the ProArt StudioBook Pro 16 is the most interesting. It features a 16-inch 4K OLED HDR display with a 16:10 aspect ratio and delivers a 100% DCI-P3 color gamut. It's also Pantone validated, and Calman verified, meaning this is tuned in the factory itself for creative workloads. But what will really get your creator juices flowing is a multi-purpose rotary dial on the laptop. It's placed right below the keyboard and works just like the Surface Dial, letting you control Adobe apps, adjust brightness and volume with good tactile feedback. Using proprietary software included in the laptop, you can adjust various aspects of your project in Adobe apps like Photoshop, Premiere Pro and After Effects.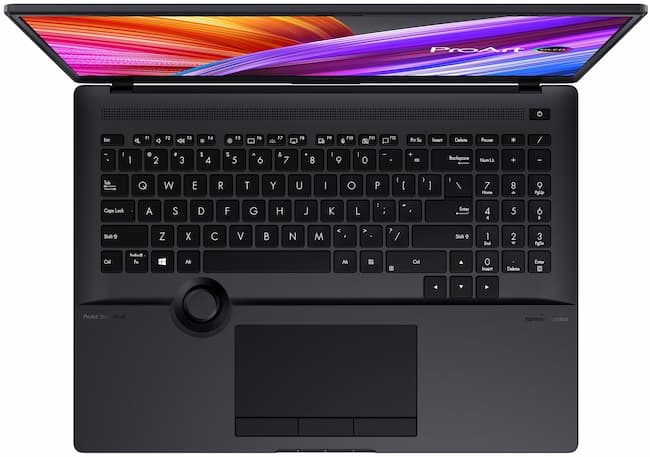 The laptop is offered with a choice of AMD Ryzen 5000 processors (W5600) or 3rd Generation Intel Xeon processor (W7600) and comes with a choice of either the Nvidia RTX A2000 (W5600) or A5000 (W7600) discrete GPUs with Nvidia Studio Drivers, focused totally on creative professionals.
The laptop offers super-fast PCIe 3.0 x4 or PCIe 4.0 x4 SSD slots, supports up to 64GB DDR4 3200MHz RAM and the Thunderbolt 4 on the Intel variant. On the Ryzen variant, you get USB 3.2 Gen 2 Type C ports, HDMI 2.1 and a blazing-fast SD Express 7.0 card reader.
Asus ProArt StudioBook 16 OLED (H7600, H5600)
The non-pro ProArt StudioBook 16 also features the same 16-inch 4K OLED HDR 16:10 display with 100% DCI-P3 color gamut, Pantone Validation and Calman Certification. It also features the same tactile dial on the body and the same number of ports and connectivity options as its Pro sibling. But instead of the workstation hardware, the regular StudioBook 16 OLED features consumer-grade high-end CPUs.
The H5600 variant can be configured up to AMD Ryzen 9 5900HX, while the H7600 is configurable up to Intel Core i9-11900H processor. Both feature discrete Nvidia GPUs. The AMD variants can be configured with up to the Nvidia RTX 3070, while you can pick up the Intel Core i9 variant with the Nvidia RTX 3060. Both variants will be available with up to 64GB DDR4 3200MHz RAM and 4TB of NVMe storage on PCIe 3.0.
Asus VivoBook Pro 14/15 OLED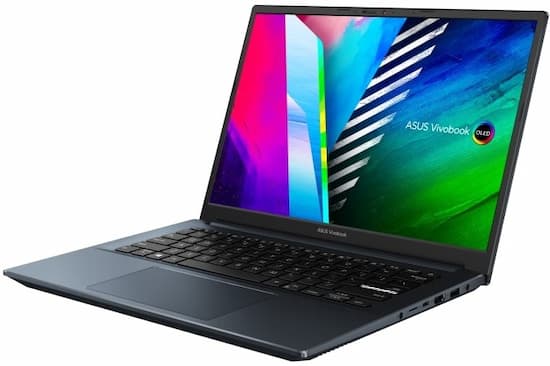 The Asus VivoBook Pro is the top-end for its budget VivoBook lineup, but nothing about these new babies are meant to keep costs down. You can pick up a VivoBook Pro with either a 14-inch or 15-inch 2.8K OLED display with FHD resolution along with audio by Harman Kardon. Both lineups can be configured with the AMD Ryzen 5000 H-series processors or Intel Core i7 H45 processors, along with the Nvidia RTX 3050 discrete GPU. The laptop features dual fan cooling, WiFi 6 and comes in colors — Quiet Blue and Cool Silver.
ExpertBook B5 OLED and ExpertBook B5 Flip OLED
Besides its pro lineup, Asus also refreshed its excellent ExpertBook lineup with the third-generation OLED displays from Samsung. The ExpertBook B5 OLED is a regular clamshell offering meant for business use. It features a 13.3-inch FHD OLED display with 400 nits brightness and 100% DCI-P3 color gamut. You can configure the ExpertBook B5 with up to the Intel Core i7-1165G7 CPU that comes with integrated Intel Iris Xe graphics, along with up to 48GB DDR4 memory and 1TB M.2 NVMe storage.

If you want a little more versatility, you can go for the ExpertBook B5 Flip, which features a 360-degree flippable OLED display. Both laptops promise all-day battery life and feature a number pad integrated into the trackpad.
That's not all. Asus also launched the all-new VivoBook 14X and 16X, along with a bunch of creator components like WiFi routers, OLED monitors and desktop workstations. What did you think of this new OLED push from Asus? Can it stand out in a crowded PC market? Let us know in the comments below.
Advertisement