ASUS needs no introduction in the field of laptops. But we would like to give you an intro of the ZenBook series of laptops from ASUS. ZenBook series of laptops has taken the market by a storm and have earned a very powerful spot in the ultrabooks segment.
Following the same maxim, ASUS ZenBook UX305UA is the latest ultrabook in the ASUS's lineup, which is promised to provide a punchy performance along with a really long-lasting battery backup. The laptop also resembles the legendary MacBook Air's design aspects, with minute changes. The laptop is released with a lot of expectations, and we put the laptop to test, to find out how it excels in the real-time usage.
Advertisement
ASUS ZenBook UX305UA 13.3-Inch Laptop
1 used from $399.99

as of December 3, 2023 12:15 am
Features
13.3-Inch Full-HD IPS Anti-Glare Matte Display with an Ultra-wide 170° Viewing Angle
Powerful 6th-generation Intel Core i5 6200U 2.3GHz (Turbo up to 2.8GHz) Skylake Processor
Networking : Integrated 802.11 ac (WiFi), Bluetooth 4.0 support
Interface : 1 x COMBO audio jack, 2 x USB 3.0 port(s), 1 x USB 2.0 port(s), 1 x micro HDMI, 1X AC adapter plug
8 GB RAM/ 256 GB SSD Solid State Drive; 10-Hours Battery Life. 1.2 MP High Definition Webcam, Designed to be ultra-slim with an all-aluminum body
Design
At our first glance at this beautifully crafted ZenBook, we noticed that it looks a lot like the Apple's MacBook Air. It largely has the same overall, premium looking, stylish design and is largely built with metal chassis, complimented together with some plastics components.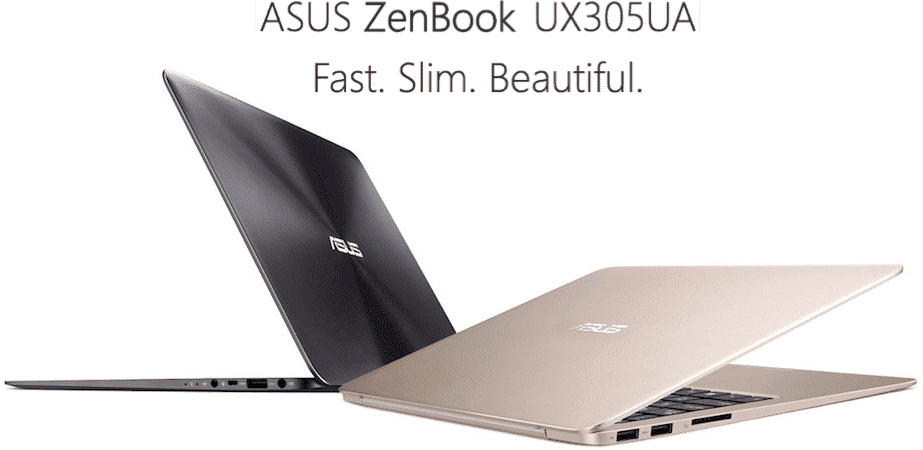 The laptop weighs slightly under 3 pounds making it one of the lightest laptops in its class. Moreover, the overall chassis of the laptop is made up of metal and is very well-polished to it all the premium touch you'd expect from a laptop this cost. The laptop is an absolute eye-catcher, and often people can mistake it to be the MacBook Air (except for the colour and primary logo at the centre). To the left of the laptop, you see a set of ports including an SD card slot and two USB ports. To the right, the laptop has a couple of LED indicators to display network connectivity, and charging. It also has a charging port, a USB port and a 3.5mm audio jack.
When you open the lid, you see a beautifully and neatly recessed keyboard which looks very identical to that of the previous ZenBooks. However, the keys this time are very neatly curved giving a great tactile feedback. Thankfully, that's a perfect add-on for all the typing enthusiasts or for the people involving a lot of typing jobs. After using the laptop for a couple of weeks, all we can say is, the keyboard is excellent for a 13-inch ultrabook, with a very neat and spacious layout and full-sized curved keys.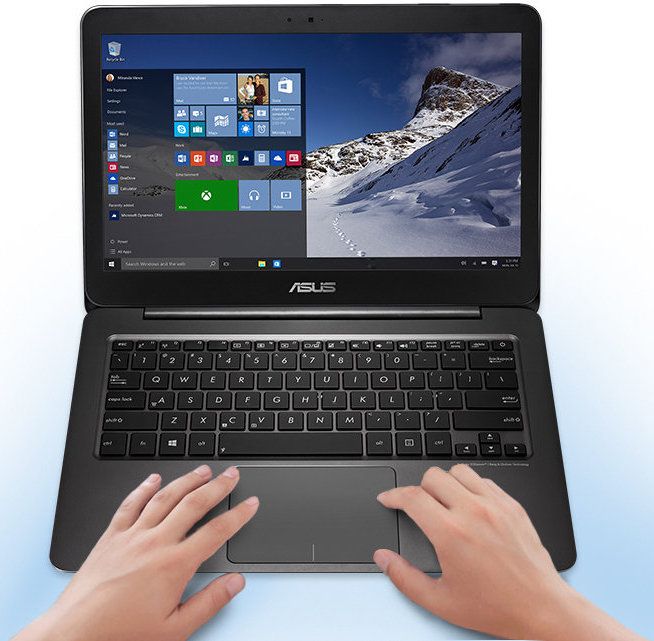 As soon as you press a key, you can feel that sweet cinch that the keys are touching to the dead bottom of the keyboard. Sadly, the keys aren't backlit enabled.
Display
ASUS ZenBook UX305UA sports a 13.3-inch Full HD display with a resolution of 1920×1080 pixels, which is quite sufficient for a laptop this size. The display comes with an anti-glare IPS display, which gives crisp and distortion free viewing angles. Moreover, the laptop comes with a 178-degrees side viewing area, meant to provide an uninterrupted viewing experience.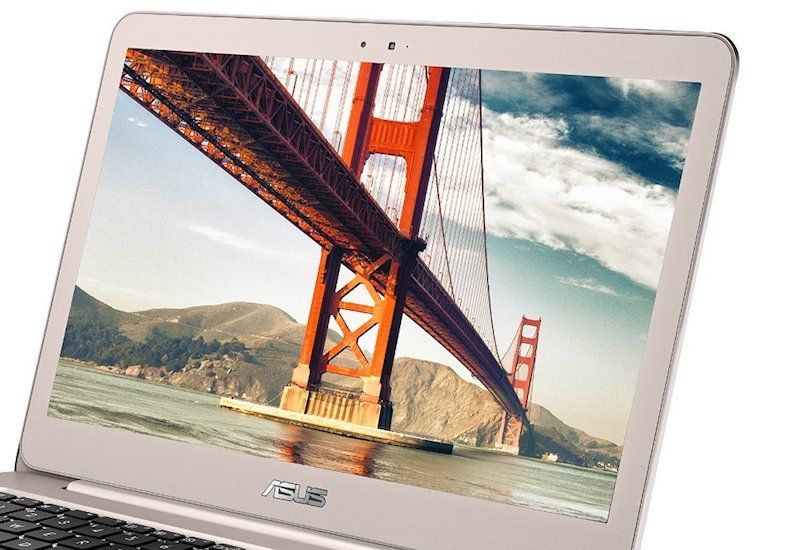 The brightness and contrast levels of the laptop are very good and remarkable gaining it a clear upper hand over other laptops in the same price range.
During our display benchmarking tests, the ZenBook UX305UA managed to produce 95 percent in the sRGB colour gamut, which is phenomenal. Moreover, the blacks on the screen are punchy and can produce a vivid colour reproduction almost everytime. When it came to the brightness of the screen, it managed to score 410 nits of brightness.
Hardware
Enough said about the looks and ergonomics of the laptop, coming to the innards of this ultrabook, the ASUS ZenBook comes with an equally attractive set of configuration. Under the hood, the laptop is powered by the sixth gen Intel core i5 processor paired with a decent 8GB of RAM. Moreover, the processor is clocked at 2.3GHz which makes sure, multiple applications run on the laptop with ease. The processor is although not as powerful as the i7, but is surely capable of handling almost any task you throw at it. Thanks to its 8GB of RAM, the multitasking on the laptop works just well.
MORE: The Best Laptops Powered by Intel i5 Processors
Storage on the laptop is backed by a 256GB of Solid State Drive, which offers faster read/write operations including faster file transfer speeds. If one is expecting to store a lot of files and data on the laptop, then we would recommend you to have an external hard drive as a 256GB of SSD is better than a normal HDD in terms of speeds and reliability. The laptop doesn't provide a CD/DVD writer with respect to its form factor.
Webcam
ASUS ZenBook UX305UA comes with an integrated 1.2-megapixels HD camera. The camera does a pretty decent job, in clicking images(selfies). Moreover, the adjustment time for the image on the frame is pretty quick, which is very vital for video calling. The camera offers a real-time high-quality video chatting and is capable of motion capturing in 30 frames-per-second (fps), which is twice that of most of the other laptops in the segment. Moreover, the laptop comes with a light detecting sensor to deliver an enhanced low-light capturing.
Ports & Slots
The ASUS ZenBook UX305UA sports three USB 3.0 port for blazing fast file and data transfers. Moreover, these USB ports offer a faster charge speeds for the devices connected and assure a faster and reliable data transfers. The laptop also offers a Digital Media Card Reader for accessing data from a digital SD card.

Software
Like all the current laptops in the market are running on the latest version of Windows that is Windows 10, our The ASUS ZenBook UX305UA also comes preloaded with Windows 10 in it. Windows 10 is now the market standard, if you are looking to buy a Windows laptop, and is compatible with almost all the applications available in the market. Moreover, the laptop comes with all the standard line up of Windows applications and includes some additional software such as multimedia supporting applications and backup availability. Thankfully, there isn't much bloatware filled in the laptop.
The laptop also includes a 1- year of accidental damage protection from ASUS. Moreover, it also comes with 30 days Zero Bright Dot Guarantee coverage, which gives you protection against almost all kinds of drops, spills, and electrical surges. Therefore, for all the rough and rogue users out there in the market, ASUS has got you covered.
MORE: Our Top Picks of Laptops for College Students
Performance
The latest sixth-gen Intel core i5 processor, an 8GB of DDR3 RAM, Intel HD 520 integrated graphics are surely a set of powerful configuration. And no wonder, the ASUS ZenBook UX305UA is incredible at the performance. The processor can provide a sufficient power to run almost all the applications you throw at it. Moreover, multitasking on the laptop is pretty smooth, thanks to its 8GB of RAM with powerful RAM management. The 256GB of SSD drive didn't disappoint us in any manner and was very fast in both internal and external file transfers. In addition to that, the laptop remains very quiet even under heavy usage, which is very admirable. The laptop does tend to get slightly warm but is near to negligible warmth. All in all, you won't notice any performance issues on this laptop.
MORE: Top Picks of Laptops for Computer Programming
Gaming
As mentioned earlier, Asus ZenBook UX305UA comes with Intel HD 520 integrated graphics and therefore, it is not a gaming or graphics stationed laptop. However, during our usage, we felt that the laptop is although not ideal for high-end games, it still can manage a long list of games with ease. During our benchmarking, it managed to score a good 56,582 on 3DMark Ice Storm Unlimited test. We tried playing games such as Counterstrike and Heroes of the Storm at full HD resolution and the games were pretty much playable at the graphics set to low.
MORE: Top 10 Best Gaming Laptops Under $800
On a conclusive note, this laptop is not for you if gaming is your primary concern, for all others, it can satisfy almost all your requirements with ease. Plus, you are getting all of this in a beautifully crafted aluminium chassis, which adds on to its premium factor.
Audio & Video
ASUS doesn't normally provide a strong set of multimedia functionalities in its laptops. That said, the laptops are rather productive than being entertainment stationed. Fortunately, the ASUS ZenBook UX305UA not only comes with a very bright and wide-angle enabled screen, it also comes with powerful stereo speakers made in collaboration with Bang & Olufsen ICEpower. As a result, the ZenBook UX305 allows you to experience an amazing depths and acoustics in almost all forms of music, games, and media.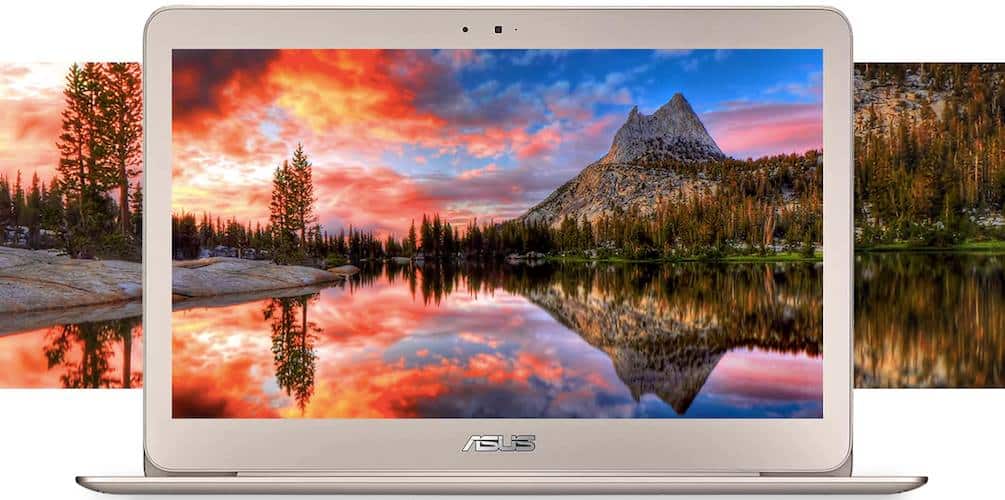 In addition to that, the ASUS AudioWizard allows you to effortlessly monitor and set your equaliser to get an optimised and detailed sound according to the user. It also has a set of pre-tuned settings which suits various environments. We played some 4K content on this laptop, and the outcome was a very beautiful, sharp, and striking video along with thumping sound.
Battery Life
Battery life is another unique selling point of this laptop, apart from the lightweight and slim chassis. The company touts that the laptop can provide up to 12 hours of continuous usage, but in our real time usage we managed to get over 9 hours of continuous usage, which is still very remarkable. Therefore, irrespective of what your primary use is, this laptop is sure to last you for an entire day under moderate usage. The laptop takes just about 2 hours and 30 minutes for it to charge fully from 0 to 100.
Bottom Line – "Pretty decent laptop, with some minor issues".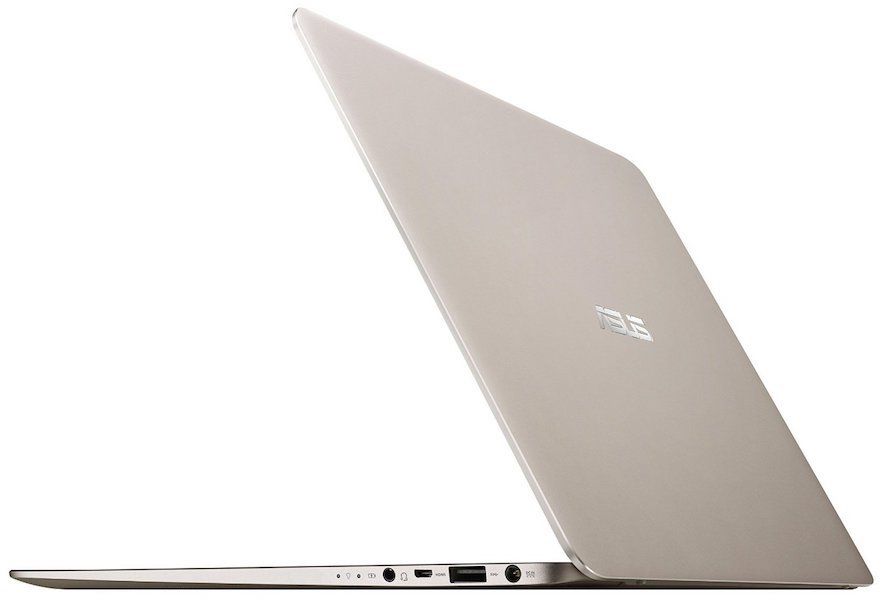 The ASUS ZenBook UX305UA Ultrabook is undoubted, one of the better looking and lightweight laptops in the market. The laptop has got more hits than misses. If one is ready to overlook gaming capabilities and a 256GB of storage, then the laptop is surely one of the best available in the market. That said, it is portable, easy to carry around, and is productive as well. Moreover, if you're looking for a powerful Windows replacement for a MacBook, this has got you covered.
There's a newer model of this laptop: Asus ZenBook UX330UA-AH54 13.3-inch Ultra-Slim Laptop
Advertisement