The ASUS ZenBooks have always managed to attract us. We're not just saying in terms of the looks and design aesthetics, but in terms of overall performance as well. These laptops offer a lot of powerful hardware paired with futuristic features at a budget.
Accordingly, our current contender, the ASUS ZenBook UX330UA-AH54, is also launched with the similar expectations and is promised to deliver sturdy performance with an impressive list of specifications. On top of all this, the laptop comes in an all-metal finished shiny chassis, which also adds on the premium aspects of the laptop. All these priced at around $700 makes this a worthy contender in the current laptop's market and thus, we've decided to review this for our audience. Drill down till the bottom of our review to know everything about this laptop.
Advertisement
ASUS ZenBook UX330UA-AH54 13.3-inch Ultra-Slim Laptop
2 used from $499.99

as of December 3, 2023 12:15 am
Features
Built-in fingerprint reader with one-touch login via Windows Hello feature
13.3-Inch wide-view Full-HD LCD Display with Windows 10 Pre-installed
Latest 7th generation Intel i5-7200U 2.5 GHz Processor (Turbo to 3.1 GHz)
Fast storage and memory featuring 256GB SSD with 8GB DDR3 RAM
Extensive connectivity with HDMI/D-SUB/USB Type C, 802.11a/c WiFi, and SD Card Reader; Sleek and light weight 2.6 lbs aluminum body for comfortable portability
Design
It is worth mentioning that, almost all the ultrabooks these days looks akin to the Apple's very own MacBooks in terms of the overall form-factor and design. And the ASUS ZenBook UX330UA-AH54 laptop is no exception in this case as well. There are a lot of similarities in the design of the ZenBook UX330UA and an Apple MacBook Air. They are almost identical in size and weight and shares similar design hues, including chunkier bezels around the display, curved panel along the edges, and keyboard's layout.
MORE: The Best Laptops for Writers – Our Top Recommended Laptops with Best Keyboards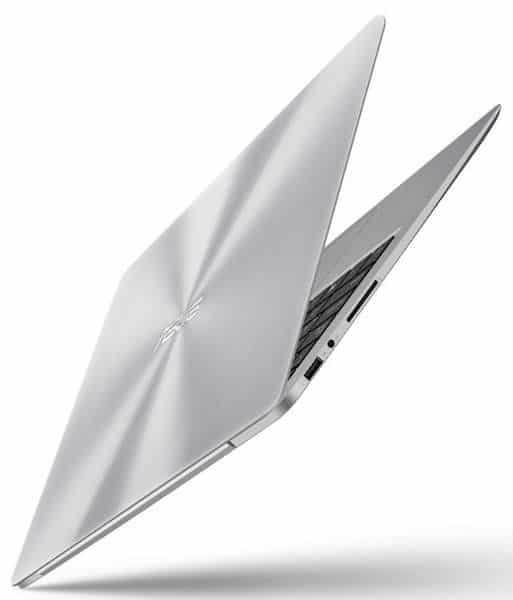 Here come the other design aspects, which are not like the MacBook. The metal borders around the display are chunky and come with a large protective layer, which although looks a little awkward, but adds up to the protection of the device. The overall premium metallic shiny outer bezels on the laptop are through a layer of tiny metallic particles, on top of premium aerospace-grade aluminium, making it quite different from that of an all-metallic chassis of a MacBook.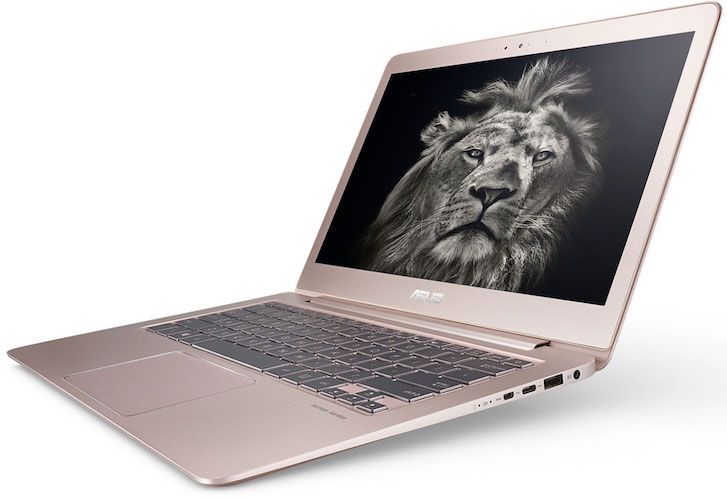 Speaking about the sides of the laptop, there are all types of ports and connectivity slots included on both sides of the laptop. We will discuss on ports and slots in more depth later in this review. On an overall note, the ZenBook UX330UA-AH54 certainly looks a lot better than most of its rivals in the segment and is surely an eye-catcher in terms of the overall design.
MORE: HP Envy 13-ab016nr Notebook Review – A good looking laptop with top-notch performance at $600!
Display
The ASUS ZenBook UX330UA-AH54 ultrabook sports a 13.3-inch wide-view anti-glare display protected with Corning Gorilla Glass 4 protection. The display on the laptop is a LED matte panel which comes with a resolution of 1920 x 1080 pixels. The display on the laptop is also bolstered by the IPS technology, known for providing clear and vivid display quality. The display on the laptop is a wide viewing angle which covers up to 178 degrees, for better viewing. The laptop offers a colour gamut of 72%, which is on par with most of the current display panels in this budget.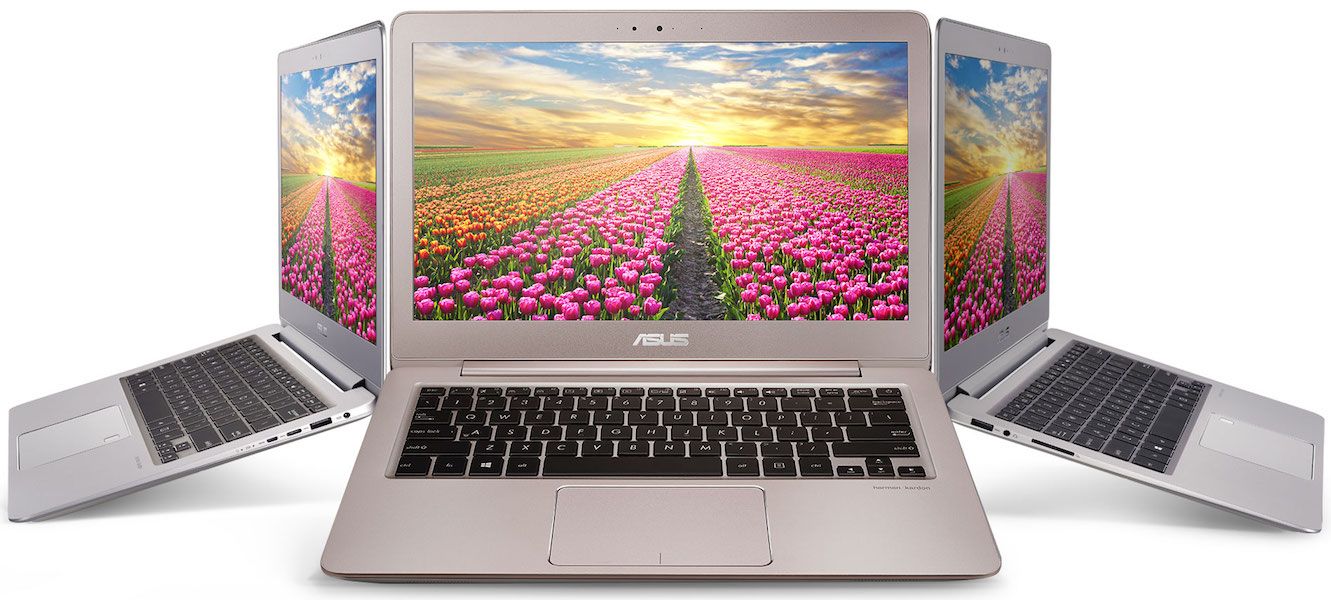 MORE: Top 10 Best Laptops for Photographers with Color Accurate Displays for Photo Editing
Moreover, during our usage, we never felt eye strains even after very prolonged usage, which is a very good aspect of this laptop. We also ran few benchmarks on the ZenBook and were surprised to look at how well the laptop's display fares in real-time usage. In terms of brightness, the laptop offers 420 nits, which is adequate and bright even under direct sunlight. We noticed that blacks on the screen to be very accurate and punchy, which gives it the right depth of colour and image on the display.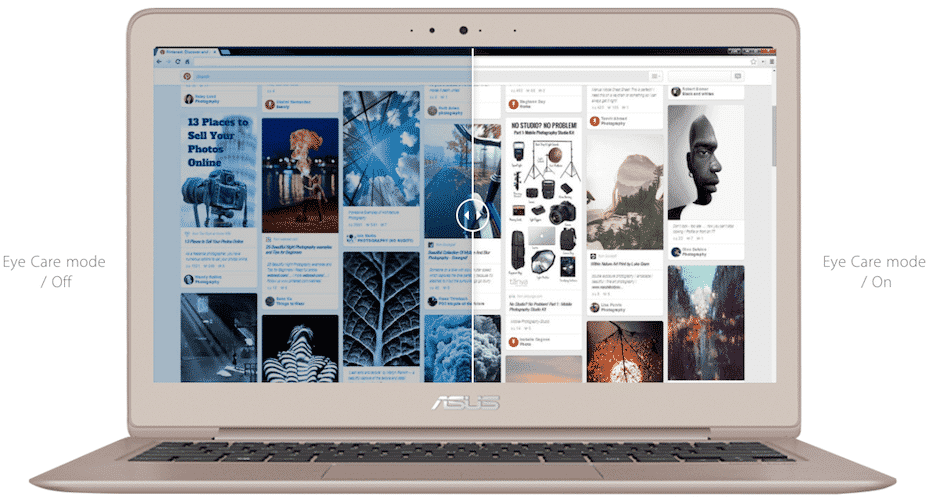 All in all, the display on the Asus ZenBook UX330UA-AH54 is really a strong point for the laptop.
Hardware
Speaking of the hardware and configuration the ASUS ZenBook UX330UA-AH54 offers, under the hood, the laptop is powered by a latest 7th Gen Intel Core i5-7200U processor, which comes with a clock speed of 2.5 GHz. However, the laptop can be rattled under its full potential of up to 3.1GHz in its turbo boost mode. For application handling and multitasking, the laptop is provided with an 8GB of DDR3 RAM, which we felt to be a little outdated, considering its rivals having a DDR4 enabled RAMs. However, it's the perfect blend of processor and RAM on this laptop, which didn't let us down throughout our usage.
MORE: Top 10 Best Laptops Powered by Intel Core i5 Processor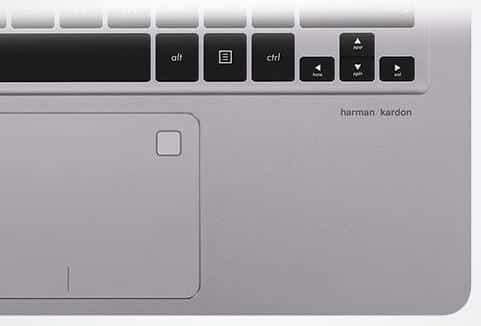 As far as the storage on this laptop concerned, it comes with a 256GB of SSD storage, which should suffice most of your data. The laptop comes with a fingerprint scanner, which is a unique feature in laptops. This not only adds up to the versatility of the laptop but also ensures safety and security of the user's privacy. For the gaming and graphics related niches, the laptop comes with the latest integrated Intel HD 620 Graphics, which although isn't as powerful as Nvidia but is surely capable of handling most of the daily graphic related usage.
Webcam
The ASUS ZenBook UX330UA-AH54 ultrabook comes with an HD webcam and the camera on the laptop is strictly average. Even under bright lighting conditions, we felt the image on the display was blurry and murky. However, the camera is quick at adjusting the image on the display and is, therefore, manageable for occasional video calls.
Ports & Slots
Being an ultrabook, the Asus Zenbook UX330UA doesn't compromise on any connectivity options. Most importantly, it sports a 3.5mm audio jack which many laptop manufacturers are planning to get rid of.

The laptop offers two USB 3.0 ports for faster, efficient, and reliable file transfers and a USB Type-C port to deliver up to 10 times faster data transfers. In addition to them, this laptop also comes with a USB Charger+, a Micro-HDMI port, and a Micro-SD card slot.
MORE: Top 10 Best Affordable Gaming Laptops Under $800
Software
ASUS ZenBook UX330UA-AH54 13.3 Inch Ultra-Slim Laptop runs Windows 10 home out-of-the-box. The software on the laptop works just fine as that of any other laptop running Windows 10. The software on the laptop is productive, efficient, fast, and reliable but has its own drawbacks. The laptop is stuffed with some bloatware, which we felt was quite unnecessary for most of the users.
Performance
As mentioned earlier, the ZenBook comes stuffed with a latest seventh gen intel core i5 processor paired with an 8GB of RAM. This duo is now commonly seen on most of the latest laptops at this budget. Although these specifications are any groundbreaking, they certainly offer very reliable and stable overall performance. The RAM and system memory is very well managed in this ultrabook.
During our usage, we've put the laptop to its full potential. We ran multiple RAM and processing power consuming benchmarking apps to which the laptop responded really well. Switching between apps, multitasking, gesture support, and other essential performance aspects on this laptop are pretty convincing. During our entire usage, we hardly noticed a performance issues. In fact, we loved how the laptop responded to the heavy applications.
MORE: Top High Performance Laptops for Programming and Gaming
Gaming
Speaking about the gaming aspect of the laptop, it comes with an integrated Intel HD 620 graphics, which is one of the most advanced graphics integrated with an Intel chipset. The graphic reproduction and handling of the laptop are pretty neat and tidy. Although one cannot expect a powerful gaming experience on this laptop, almost all the modern games are pretty much playable with the graphics and resolution set to low-medium settings.
Audio & Video
The ASUS ZenBook 3 is unarguably a multimedia-stationed laptop. This aforementioned statement is bolstered by its powerful Harman Kardon audio paired with ASUS's proprietary Golden Ear team to produce an unmatched and unsurpassed distortion-free sound. The laptop comes with the SonicMaster technology for tuning audio and sports a 4-Channel, 5-magnet enabled, Quad-Speakers for a powerful audio experience.
Moreover, the laptop also comes with a smart-Amp audio technology option, which lets you setup the audio as per the user's choice. Speaking about the video playback abilities, the laptop can play 4K content with ease, and thanks to its super wide viewing angles, watching videos on this laptop is a pleasure.
Battery Life
Speaking about battery life of the ASUS ZenBook, the laptop is fuelled with a 57 Wh polymer battery pack. The battery packed in the laptop is pretty much sufficient to provide a backup of around 5-10 hours based on the usage. The laptop can be fully charged in around 2 hours 30 minutes. During our review, the laptop survived for 8 hours in video playback test, where we played 4k content with around 40% of brightness. Do note that, these figures can increase or decrease based on the usage. On a conclusive note, the battery could have been much better for a laptop this calibre as the MacBook Air with the almost similar set of configuration lasts at least 3 hours more than our current contender.
MORE: Expert's Recommended Laptops and Ultrabooks under $1000
Bottom Line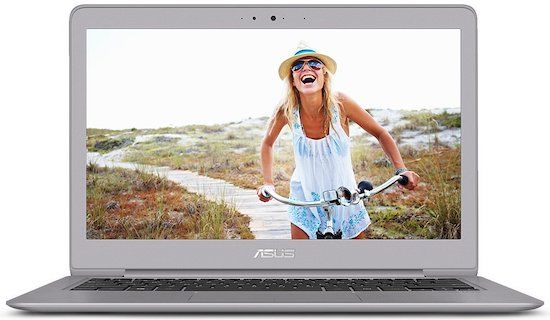 With all that said, we'd like to conclude saying that the ASUS ZenBook is undoubtedly one of the most polished and performance-oriented laptops in the segment. The laptop has few weaker zones, but thankfully, it also has a lot of other aspects which are very well-tuned making it an able contender in around a budget of $700. If you're looking for an eye-catchy premium looking daily performer, then the ASUS ZenBook is surely a worth considering option. Also note that there are hardly any able laptops in this price range and you'll need to spend few hundreds additionally to get a better option such as Dell XPS 13, or the MacBook Air.
Advertisement