Today, almost all the laptop market is shifting towards compact and sleek devices stuffed with powerful configuration. Accordingly, almost all the renowned laptop makers are introducing their range of compact and premium looking laptops. These laptops are not just light on weight but are hefty in terms of the specifications and power they pack in.
HP, a globally renowned laptop maker have also introduced a range of beautifully crafted laptops in various price ranges to meet the current market standards. Our current contender, the HP ENVY 13-ab016nr is a stunning looking laptop, which comes in a metal chassis. The laptop unarguably looks very premium and is surely an eye-catcher. Moreover, the price of the laptop is an icing on the cake, as it is very aggressively priced at under $700. These aspects forced us to review this hot selling laptop, and this is our take on the all new HP ENVY 13-ab016nr notebook.
Advertisement
HP ENVY 13-ab016nr Notebook
2 used from $499.00

as of October 1, 2023 1:23 am
Features
Why buy: A thin and light, all-metal laptop with booming audio and processing power to handle all of your tasks on the go.
Processor: 7th Generation Intel(R) Core(TM) i5-7200U Processor, Dual-Core, 2.5GHz up to 3.1GHz; Fast, responsive performance and more natural, intuitive interactions with your PC.
Display: 13.3-inch diagonal Full HD (1920x1080) IPS eDP BrightView WLED-backlit; 2.07 million pixels for crystal-clear visuals and vibrant images.
Memory: 8GB LPDDR3 SDRAM; Use multiple applications at the same time without slowing down.
Solid-state drive: 256 GB PCIe NVMe M.2; Up to 17x faster performance than a traditional notebook hard drive.
Design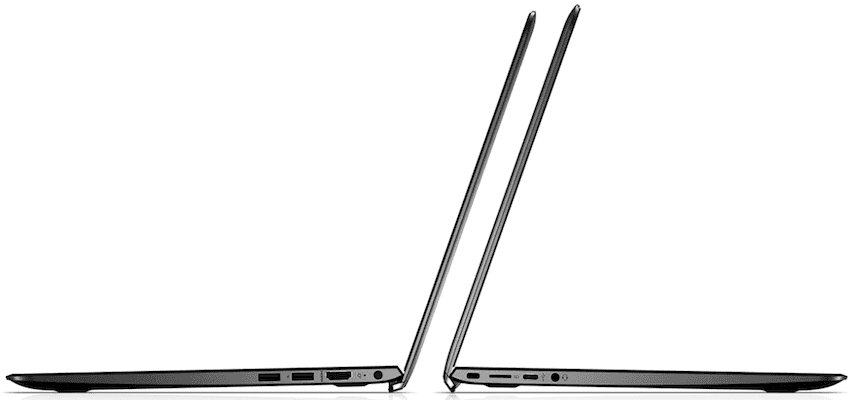 As mentioned earlier, the HP ENVY 13-ab016nr is a premium looking laptop, which is very sleek and ergonomic. The Envy 13 comes with a completely refreshed design aesthetics and looks simply irresistible measuring 8.9 x 12.8 x 0.6 inches. Like the legendary, MacBook Pro, the laptop is completely recessed in an aluminium chassis but is pretty light, and weighs just around 3.3 pounds.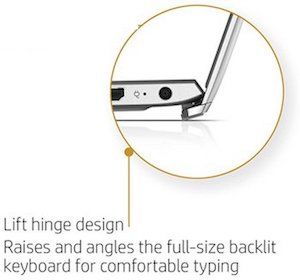 At the first glance itself, we could see a lot of similarities between the Envy 13 and a MacBook. Although there are certainly remarkable differences in the design and built, the similarities are very evident. The laptop's lid comes with black bezels, giving a better highlight to the screen. The laptop maintains a uniform thickness throughout the built, which is very remarkable in the laptop these days. The laptop comes with a lifted hinge, which provides its users with a better and more comfort in typing.
Speaking about other sides of the laptop, to the left there is a charging port, an SD card reader slot, a USB Type-C 3.1 port, and a 3.5mm headphone jack. To the right, there are two more USB ports and an HDMI port. The keyboard and the trackpad are also very neatly and spaciously recessed. You also get speaker grills, on the either sides of the keyboard, which thumps the volume directly without any distortion.
Display
The HP ENVY 13-ab016nr laptop sports a 13.3 inch diagonal full HD UWVA eDP display. The display is powered by a bright view WLED-backlit technology and comes with a resolution of 1920 x 1080 pixels.
The laptop's display offers the company's proprietary Technicolor Color Certification, to deliver true-to-life colors. Although the display offers vivid, bright, and great color gamut, it feels glossy and this affects the viewing angles of the laptop. Due to the glossy coat on the display, the screen is highly reflective, making it tough to use it in bright outdoor conditions. However, we did not face any hiccups with the display during our indoor usage. Moreover, the blacks on the screen are not very punchy, as we'd expect from a laptop this calibre.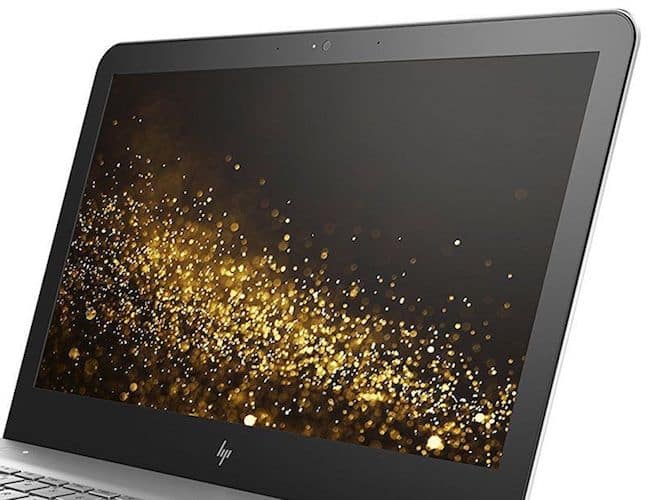 We also ran few benchmarking apps and tools on this laptop, to which the laptop did fare well. It managed to reproduce 94 percent in the sRGB color gamut, which is very good considering the price range. When it comes to the brightness of the screen, it managed to score 410 nits of brightness.
Hardware
The HP Envy 13- ab016nr Notebook, boasts of some really interesting set of specifications under its chassis. The laptop being one of the latest in the market, does come with all the latest lineup of configuration.
Under the hood, the HP Envy 13 is powered by a latest seventh gen Intel Core i5-7200U processor. The processor is by default clocked at 2.5 GHz, but can certainly obtain a full throttle of up to 3.1GHz in its turbo boost mode. This mode can not only provide you with a punchy performance but also lets you get the most out of the laptop. For handling apps and multitasking, it is equipped with an 8GB of DDR3 SDRAM, which although is not the best you can get in the market, but it certainly is good enough to provide a smoother multitasking.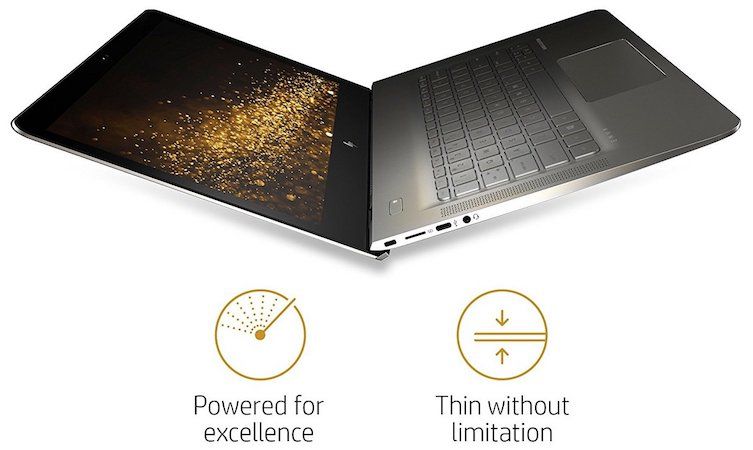 MORE: Checkout Best Laptops with Intel Core i5 Processor
For all the gaming and graphics enthusiasts, the laptop is stuffed with an Intel HD 620 graphics, which is good, if not the great. Graphics on this laptop worked well during our review, provided we have our expectations checked.
And finally, now comes the predominant part of the hardware of any laptop—the storage. The HP envy 13-ab016nr laptop offers a 256GB of PCIe NVMe M.2 Solid State Drive, which we feel is a little less and could have been much better if it was anything beyond 500GB. However, the solid state drive is fast, efficient, and more reliable than hard drive for the cause.
Webcam
The HP Envy 13-ab016nr comes with an HP web camera recessed on top of the screen. The webcam provided with the laptop is bolstered by the HP's proprietary TrueVision HD Webcam. TrueVision, allows you to get vibrant clarity and very good color gamut during the video call sessions, and can also aid in clicking pictures using the laptop. The camera is decent to work with and can also work well in low-lit conditions. All-In-All, the webcam on the Envy 13 does beyond satisfaction being a laptop's camera.
Ports & Slots
The HP Envy 13-ab016nr Notebook sports 3 USB 3.1 Gen 2 ports for reliable, and lightning fast data transfers. They also aid you in connecting peripherals with the laptops easily. It also sports an HDMI port and one DisplayPort to extend the display onto another device.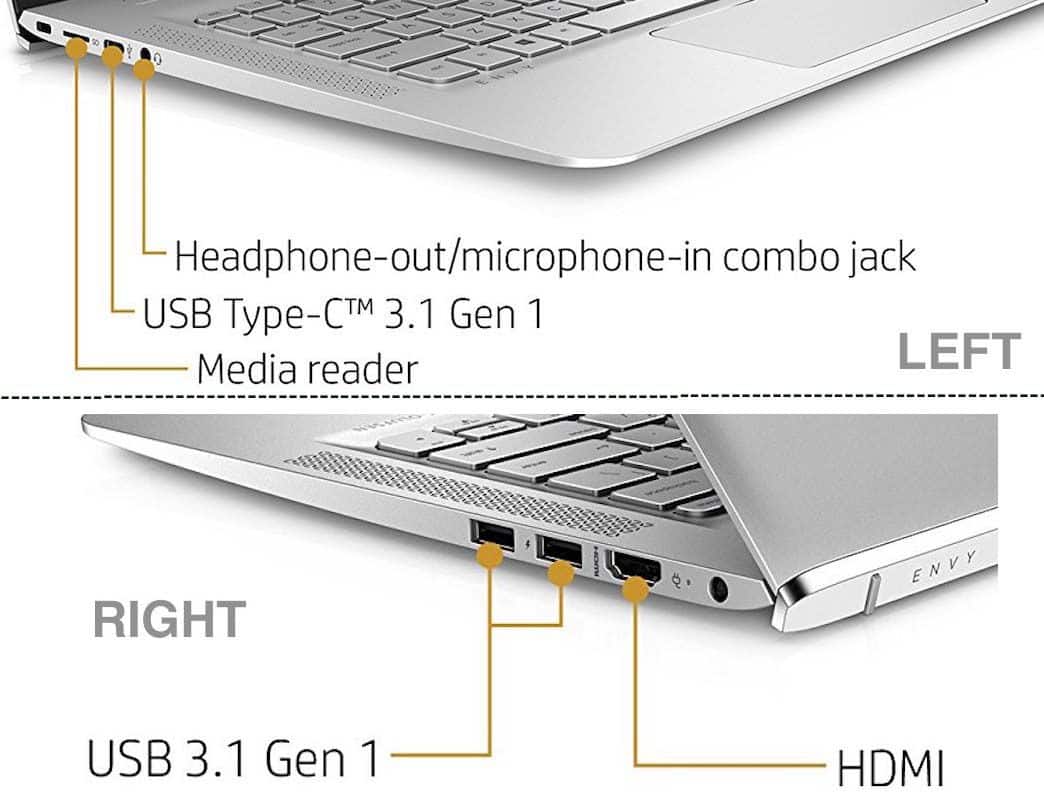 As far as the audio connections are concerned, it comes with a 3.5mm combo audio jack. The Envy 13 also comes with a Micro-SD card reader slot to connect with an SD card.
Software
The HP Envy 13 laptop runs Windows 10 out of the box. Windows needs no introduction in the field of laptops as it is the most common, productive, easy-to-use, and reliable OS for laptops. Accordingly, the HP Envy 13 also offers a great UI, thanks to the latest Windows 10, and it also offers all the interesting features of the Windows 10 including Connect with Cortana. Cortana is your new personal assistant in Windows 10 based machines and this works perfectly well with the HP envy 13 ab016nr notebook.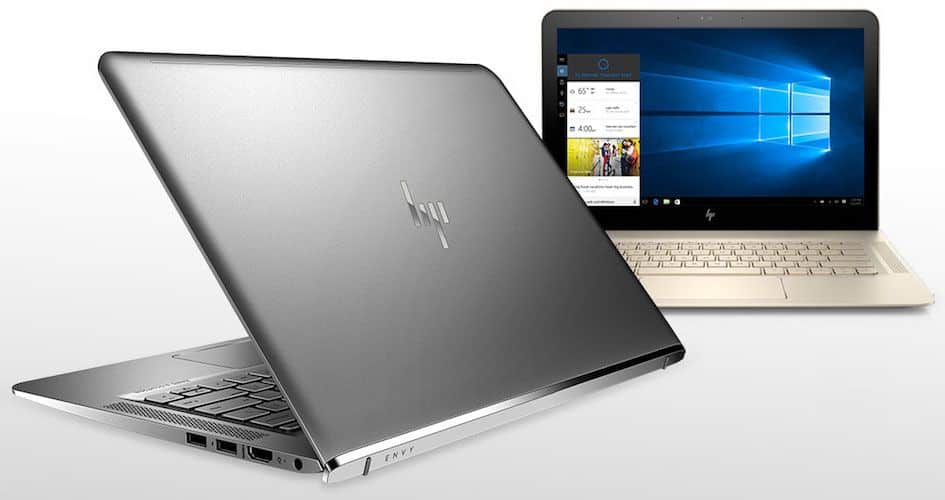 During our review, we faced no issues of hurdles in using Cortana and the laptop was able to identify proper voice commands from us. It also helps in setting reminders, alerts, setting plans, and more, all making it even more productive and fun to use. Some of the additional software which come preloaded are CyberLink PowerDirector, Netflix, and McAfee LiveSafe which can be easily uninstalled if not required.
Performance
Thanks to the 7th Gen Kaby Lake intel core i5 processor, the laptop does provide seamless performance in almost all instances. Although you can get a laptop powered by intel core i7 at this price, it is the generation of processor, which makes a difference here. Kaby Lake series of processors from Intel are undoubted, power-packed processors, and are also very power efficient when compared to its predecessors.
The good 8GB of RAM and the processor runs the show for the Envy 13 and runs really well. During our review and usage, we hardly noticed any issues in the perspective of performance of this laptop. We also throttled the laptop to its limits by running a number of heavy applications such as photoshop, games, and intensive benchmarking applications, and the laptop remained cool and calm, in performing these tasks. Chrome runs absolutely fine even with around 10-15 tabs opened simultaneously, the transition effects, Cortana's usage, app switching, multitasking, background resource utilities, everything is just perfect with the HP Envy 13-ab016nr, and is, therefore, the most stylish and powerful laptop in its segment.
MORE: Top 10 Best Laptops for Photoshop / Photo Editing
As far as gaming on this laptop is concerned, it isn't any groundbreaking in this segment. Most of the common games run fine on this laptop, but it struggles in handling graphic intensive games when the graphics are set to maximum. Modern games are pretty much playable with the graphics and resolution set to low-medium settings.
MORE: Top 10 Best Gaming Laptops Under $800
Audio & Video
As mentioned earlier, the laptop comes with dual stereo speakers on either side of the keyboard. The sound is clear and thanks to the placements of the speakers, the sound is forward stationed and doesn't have any distortions like the laptops having speakers beneath or to the side of the chassis.

The audio on the laptop is tuned by Bang & Olufsen and booming HP Audio Boost, which pretty much pairs up really well to provide a quality sound output. Also, all forms of videos, 4K, UHD, Full HD, and HD played well without stutter.
Battery Life
Battery life is another attractive feature of this laptop, thanks to the slim and sleek built, the laptop offers good battery life than most of its competitors. Although the company claims that the HP Envy 13-ab016nr can provide over 14 hours of continuous usage, in our review we found that it was able to stay alive for around 8-10 hours based on the usage. This is still way better than most of the laptops at its segment. The laptop is powered by HP's Fast Charge technology, which can charge your device for 90% in just around 90 minutes.
Bottom Line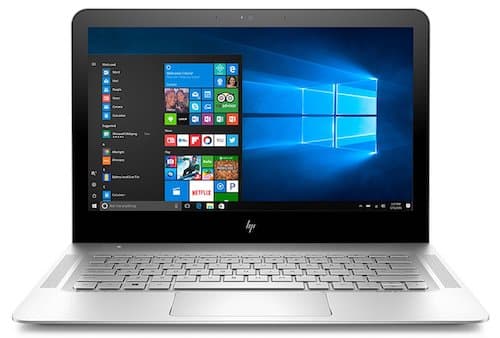 All that said, we'd like to conclude our review saying that- you'll not regret in the near future buying this laptop at this price of around $600. If you want a slim, sleek, sturdy, and a well-built laptop which not only looks premium and good but is also capable of delivering outstanding performance, then look no further, the HP Envy 13-ab016nr Notebook is probably the best you can get. However, if you're ok with carrying the same old chunkier laptops, then you might get some even more powerful laptops at this price range.
Advertisement