If it's one thing that HP has always been able to nail down is its reliability and value for money. HP has constantly made its way in the high ranks whenever the question of reliability is raised. While the premium high-end laptops like the Spectre x360 and Omen gaming laptops may occupy the center stage of media and tech enthusiasts, their mid-range laptops are a bang for the buck. The HP 15-dy1036nr laptop costs just $600 and packs Intel's 10th gen processor accompanied by equally respectable specs. While this laptop may not win any awards for its design, does it offer the bang for the buck? Can it beat the likes of Acer Aspire 5, a laptop that holds numerous awards for the budget champion under its belt?
So while the newly released HP 15-dy1036nr 15-inch laptop sounds great on paper, let's find out how it performs in the real world.
Advertisement
HP 15-dy1036nr 15-inch Laptop
23 new from $439.99
9 used from $366.00

as of October 1, 2023 1:23 am
Features
| | |
| --- | --- |
| Part Number | 2Z289UA#ABA |
| Model | 15-dy1036nr |
| Warranty | One year limited hardware warranty |
| Release Date | 2020-03-22T00:00:01Z |
| Size | 15-15.99 inches |
Design
In terms of design, this HP laptop does not stand out of the bunch. It looks like a rather standard 15-inch laptop, but that is not to say that it looks bad. At first glance, it seems as if the laptop is built out of an aluminum hybrid, but it's actually made out of plastic with a brushed metal finish on the deck.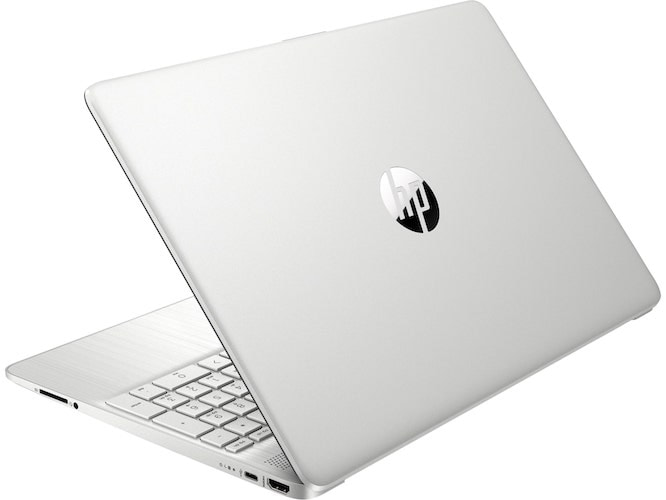 On the back, there's a smooth aluminum finish with a shiny round metallic HP logo in the center. The lid is made out of high-quality materials with a metallic finish as well. It looks great and feels strong and sturdy, ready to face even a bit of rough use. Unfortunately, the bezels around the screen do not carry forward the metallic finish that seems to be the design theme of this laptop. Instead, the bezels are made out of cheap black plastic. If it was not for the black plastic bezels, it won't be hard to mistake this laptop for a premium high-end laptop.
On the contrary, the bezels are thin and small, with a screen to body ratio of 82%. The slim bezels maximize your viewing area and lend an overall modern look to the laptop. There's a metallic HP logo on the bottom bezel and a webcam on the top. The flex on the screen is negligible for its price point.
While it's dimensions are pretty standard for a 15-inch laptop, 14.11 x 9.52 x 0.7 inch, HP flaunts at its lightweight, 3.72 lbs, making it portable and easy to carry around.
One of the best parts of this laptop's design is that the manufacturer is keeping its environmental responsibility in mind. It packs a low halogen, mercury-free display backlights, arsenic-free display glass. Moreover, it is an energy star certified laptop.
Overall, HP 15, has a standard but professional design. The metallic overlays and finish lend it a premium-ish look.
Ports & Slots
Speaking about the port selection on the laptop, there's 1 USB Type-C, 2 USB 3.1 ports, 1 HDMI, 1×3.5mm audio jack, and power input. Sadly, the USB Type-C is a data transfer only port, with a signaling rate of 5 Gb/s, not a thunderbolt port. So, it is impossible to charge the laptop with USB Type-C or hook up an external GPU with this laptop.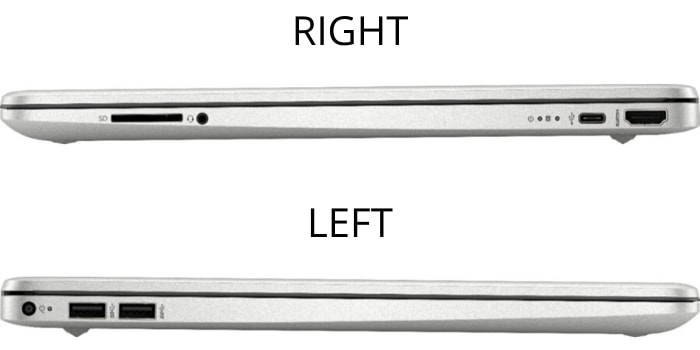 There is an SD card reader as well, which is a blessing if you have to share data between a camera and your laptop constantly. The SD card reader can also be used as an additional memory drive by inserting a memory card. This may come in handy to increase the storage as the overall storage on this unit leans on the lower end of the spectrum with just a 256 GB SSD.
On the subject of wireless connectivity, there's an Intel Wi-Fi 6 card for a faster and more stable connection and Bluetooth 5 Combo to connect with Bluetooth devices.
While it is a reasonably well-connected device with an ample selection of ports, the lack of an ethernet port for wired internet connectivity may be an issue for some.
Display
The HP 15-dy1036nr features a 15.6-inch diagonal Full HD display with a resolution of 1920 x 1080. The thin bezels lend a modern look to the screen with minimum interference. It's a WLED type display with a 220 nits peak brightness, which isn't quite bright. To put it into perspective, Macbook Pro 13 has a peak brightness of 500 nits while Acer Aspire 5, a similarly priced and specced laptop as this HP, has a peak brightness of 334 nits. Thus, it's not the best display for extremely well-lit environments and, it goes without saying, but it won't be much good under direct sunlight. However, on the positive end, there's an anti-glare film on the screen to prevent reflection.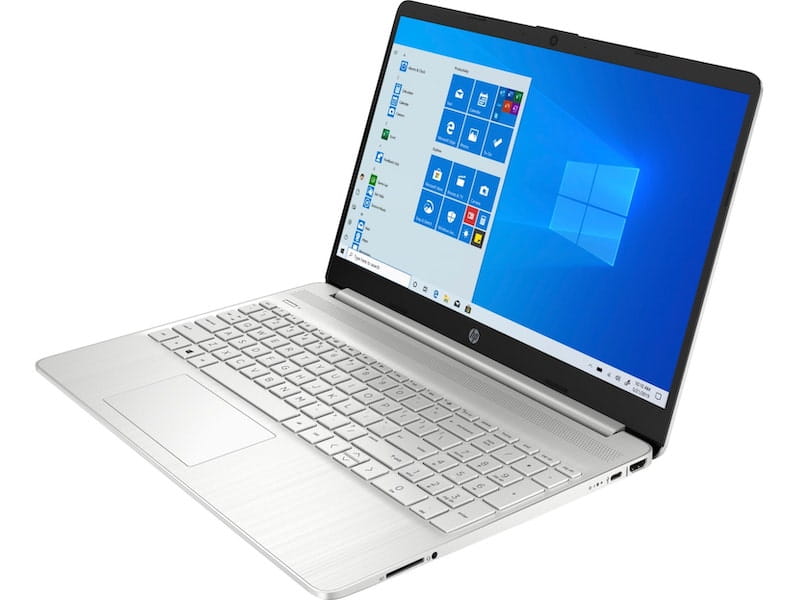 The specs inside can handle a bit of photo editing, but the display isn't well suited for designers, editors, and creative professionals due to its low color accuracy. Its color accuracy is not low per se, it is adequate for watching Netflix and Youtube, but it is not good enough to create and edit professional content.
Keyboard & Trackpad
The HP 15-dy1036nr 15-inch laptop, thanks to its big deck, has a full-size keyboard with a num pad on the right for added productivity. It's a chiclet-style keyboard with ample key travel for satisfying tactile feedback. The keys are big, white in color, with dark grey characters. Moreover, the keys are nicely spaced out, so it won't take you long to get used to it. It's a really good keyboard for taking notes, typing out emails, or writing in general. The only downside is the fact that there is no backlight on the keyboard, so you can't use it in the dark. Acer Aspire 5, a similarly priced laptop with almost identical specs, has a backlit keyboard that allows you to use it in dark environments.
The trackpad is huge and leans a bit on the left end, rather than being dead center. It's made out of plastic but features a glossy finish. It is more or less the standard trackpad that is found at such a price point.
Audio
The HP 15-dy1036nr laptop has a rather decent audio performance for its price, thanks to its dual speakers. Unlike other budget laptops in this range that feature a bottom-firing speaker, the speaker grill on this laptop is right atop of the keyboard. So the audio is clear and loud. The bass is minimal, but not exactly non-existent. If you want to watch a movie or two on the speakers, you won't have any problems. But it's not the best device to listen to music with heavy bass. In fact, it's not the best device to listen to any type of music since the audio is quite flat. So don't expect to use this as an external speaker for your tones. If you want to get the best audio performance out of this laptop, consider buying a pair of headphones.
You may like to read: A Complete Guide to Buy The Best Laptops for Music Production
Performance
Most of the money you spend on a mid-range budget laptop goes to the sheer specs, and the HP 15-dy1036nr laptop is no different. It's got the latest specs that will give you a good run for your money when it comes to day to day productivity. It's powered by a quad-core 10th Gen Intel i5-1035G1 processor with 1.0 GHz base frequency. However, thanks to Intel® Turbo Boost Technology, it can go all the way up to 3.6 GHz. In addition to that, it's got 8 GB DDR4 RAM and a 256 GB SSD. The SSD provides for a fast boot-up as well as efficient and quick file management.
You may like to check out: The Best Laptops Powered by Intel Core i5 Processor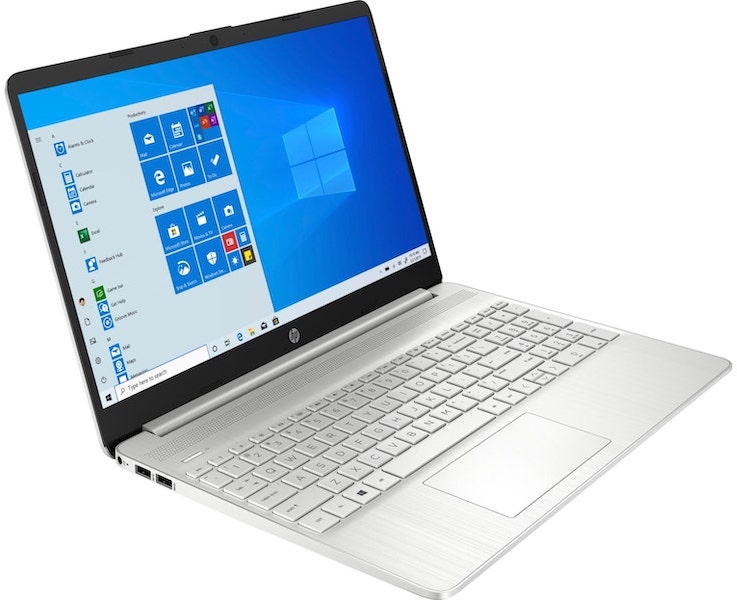 On the subject of graphics, there is no dedicated graphics unit. All it has is an Intel Integrated graphics unit. Hence, you can't expect to game or do any graphics-intensive tasks here. It may be possible to play a few indie games with a few minor tweaks if necessary, but it's not a budget gaming device, to say the least. Check our guide on budget gaming laptops if you're looking for a gaming device on a budget.
It is powered by a 41 Wh Li-ion battery, with a claimed battery life of up to 10 hours and 15 minutes and video playback of up to 8 hours and 30 minutes. The battery is one of the laptop's major selling points, and HP is making sure that fact is delivered via each marketing tactic. Moreover, it comes with an HP fast charge that can charge up to 50% of the battery in 45 minutes. This is a rather solid battery life for a laptop with such specs in this budget range. Of course, it goes without saying that the battery life will depend on the usage. However, it can go on for a full day of productivity on just one charge, so you may not need to carry the bulky charger everywhere you go which makes the HP 15-dy1036nr notebook an excellent option for students and business professionals.
RELATED: The Best Laptops for College Students – Detailed Guide for All College Majors
Upgradability
Upgradability is one of the downsides of this notebook. You're stuck with the configuration that you buy, and since it comes in only one configuration, you're stuck with 8 GB of RAM and 256 GB of storage. In our opinion, the storage on this laptop is quite low, especially for a Windows laptop. Also, don't forget the fact that a lot of that storage will be used for system files, so the usable storage will be much lower than 256 GB. Since you cannot upgrade the SSD or add an HDD, you should consider buying an external hard drive or an SD card. On the other hand, the Acer Aspire 5 also comes with a 256 GB SSD but allows you to add an HDD as well as upgrade the pre-installed SSD.
Software & Warranty
The HP 15-dy1036nr laptop comes preloaded with Microsoft's latest operating system, Windows 10. It is confined to the Home version of the OS and cannot be changed. In terms of bloatware or other unnecessary software, there aren't a lot of programs. However, bloatware is a curse that only a few Windows laptops are free from, and this one is not one of them.
It comes with a McAfee LiveSafe antivirus, a pre-installed Netflix app, and a one month trial for new Microsoft Office 365. Once the month-long trial is over, it will ask you to either buy the program or activate it using a key before you can access it. You shouldn't bother using Microsoft Office 365 in the first place if you don't plan to buy it after a month. You're better off using a free office suite such as Libre Office or Google's suite of office apps.
This HP laptop comes with a 1-year warranty on hardware and parts. Plus, HP is also throwing in a 24×7 web support to the buyers of this laptop on Amazon.
Bottom Line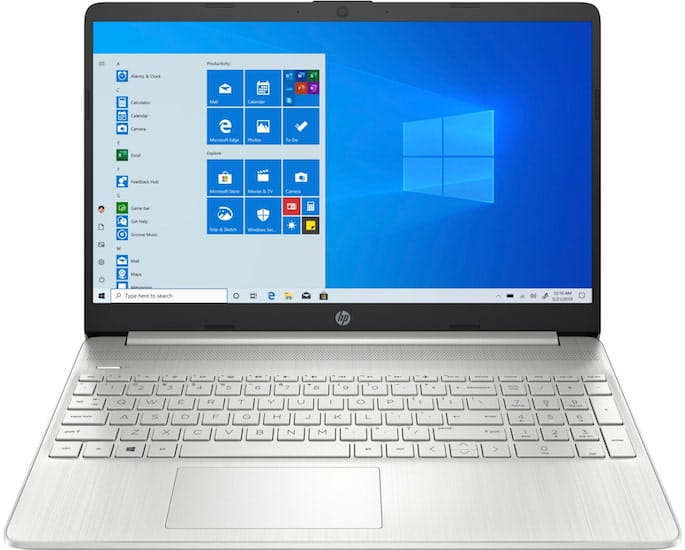 To wrap it up, the HP 15-dy1036nr laptop packs just the optimal specs for day to day productivity. Thanks to its metal finish and thin bezels, it looks a well built modern laptop, unlike its competitors. The keyboard feels nice and clicky but lacks backlit keys. It has a healthy port selection as well, which should suffice for pretty much every need. The battery, one of the main USP of this laptop, is quite big and you can easily go a day without charging it. Unfortunately, there is no scope for upgradability, which is particularly bad since this laptop is pretty low on storage.
So, it has got all the latest specs for a respectable mid-range laptop, and you won't have any trouble using this laptop as your daily driver, but there are a few better choices at this price point. Check out the Acer Aspire 5, the best budget laptop right now, which although isn't as well-built and looking laptop as this HP laptop, but it offers all the latest hardware and doesn't miss out on any features. The Dell Inspiron 5593 is another fantastic option if you need more storage space and more professional looking machine. Both of the laptops mentioned above are priced within the same budget spectrum as this HP.
However, if you don't need a backlit keyboard or don't care about upgrading the hardware of your laptop in the future, then HP 15-dy1036nr is an excellent machine for the price. It looks premium and has sturdier build quality than other competing laptops, and it offers a full-day battery life with fast charging support.
HP 15-dy1036nr 15-inch FHD Laptop
$599.99
Design & Build Quality
4.5/5
Keyboard & Touchpad
4.3/5
Pros
Premium design & good build quality
Excellent performance
Clicky and tactile keyboard
Decent selection of ports
Full day battery life with fast charging
Cons
Slightly dim display
No backlit keys
Lacks ethernet port
No upgradability
Advertisement