I reviewed the Asus ROG Strix Scar 17 SE last year with all the top-of-the-line specs you could get on a laptop in 2022. While it performed phenomenally well, one of the complaints I had with it was its large size. That laptop is so big that I wanted to take it home from my office to test (*play games on it all night) but couldn't because it didn't fit in my laptop backpack, plus its total weight (~9 pounds with charger) was too much to lug during my 45-minute commute.
So, earlier this year, when Asus announced the Asus ROG Strix Scar 16 at CES, I was excited to test it. And finally, it's here, and I have the monstrous Intel Core i9-13980HX and RTX 4090 (G634JY) variant of it, which is the most powerful CPU & GPU you can get on the Scar 16.
Advertisement
Also, guess what? I am writing this review on Scar 16 at home as I could carry this laptop in the same backpack that Scar 17 couldn't fit in last year!
Enough talking! If you are shopping for a high-end gaming laptop and considering Scar 16 as your option, then this is my comprehensive review of the laptop after using it as my daily driver for one week.
From the design and feel of the materials it's built with to its performance while gaming or using professional applications and its cooling efficacy—I have dived deep into the laptop in this review so you can know if it's right for you.
Pricing and Configurations
The 2023 Asus ROG Strix Scar 16 G634JY-XS97—the variant I am reviewing is the higher-end model of the laptop. It costs $3,699 and comes with a flagship Intel Core i9-13980HX 24-core CPU, the most powerful Nvidia GeForce RTX 4090 GPU with 16GB dedicated graphics memory, 32GB of DDR5 RAM and 2TB of SSD storage.
The other variant that Asus offers is G634JZ-XS96, which costs $2,899 and is slightly less powerful as it comes with an Nvidia GeForce RTX 4080 GPU with 12GB of dedicated graphics memory, 16GB of DDR5 RAM and 1TB of SSD storage. You still get the Core i9-13980HX processor on this variant and a fantastic 16-inch QHD 240Hz Mini-LED Nebula HDR display, the same as the higher-end model.
If we talk about the pricing, then Scar 16 isn't the least expensive laptop you can get with these specifications. The Lenovo Legion Pro 7i Gen8 offers similar specs to the variant I am reviewing for $100 less. However, it does not have a Mini LED display. Also, the Core i9-13950HX processor that you get on it has a bit lowered clock frequencies.
The same is the case with Alienware M16. It costs less but has an IPS display and is outfitted with the Core i9-13950HX processor. On the other hand, the Razer Blade 16 costs significantly more and offers the Mini LED display but still misses out on the most powerful Core i9-13980HX processor that the Scar 16 comes with.
So, while the 2023 Scar 16 isn't the cheapest laptop you can buy with the kind of specs it has, its pricing is still good if we consider its Mini LED display, which is significantly better than the competition. And none of its competitors have the most powerful i9-13980HX processor that it has!
That makes the Asus ROG Strix Scar 16 the most powerful 16-inch gaming laptop available in the market right now if I am not missing out on any 16-inch gaming laptops launched this year.
Detailed specs of the model we reviewed:
Model Number
G634JY-XS97
Processor
13th Gen Intel Core i9-13980HX 24 Cores – 8P + 16E (36MB Cache, up to 5.6 GHz)
RAM
32GB DDR5 4800MHz (Upgradeable up to 64GB)
Storage
2TB PCIe Gen4 NVMe SSD (RAID 0)
Graphics
Nvidia GeForce RTX 4090 GPU with 16GB DDR6 Memory 175W (150W + 25W Dynamic boost)
Display
16-inch QHD+ Mini LED Nebula HDR display with 240Hz Refresh Rate, Nvidia G-Sync, Advanced Optimus, and Dolby Vision HDR (100% DCI-P3)
Ports
1 x Thunderbolt 4 (w/ DisplayPort / GSYNC)
1 x USB 3.2 Gen 2 Type-C w/ DisplayPort and Power delivery support (w/ GSYNC)
2 x USB 3.2 Gen 2 Type-A
1 x HDMI 2.1 FRL
1 x Ethernet 2.5G
1 x 3.5mm Headphone/Microphone Jack
Operating System
Windows 11 Pro
Battery life
Up to 5 hours and 19 minutes (as tested)
Weight & Dimensions
5.7 Pound
13.9 x 10.3 x 1.2-inches
Design
Asus updated the design of its ROG Strix lineup this year. It's not a complete overhaul compared to last year's models, but some major changes have been made in terms of ports placement and thermal design.
Last year's Scar 17 SE that I reviewed and also the Scar 15 that my colleague reviewed had most of its ports on the back. However, in this Scar 16, the back part of the laptop is now a large air vent. How much of an improvement does that make in temps? We will talk about that later in the review. But ports moved from the back to the sides certainly make the desk look cluttered when you have your peripherals connected. On the bright side, it's now easier to reach the ports than before.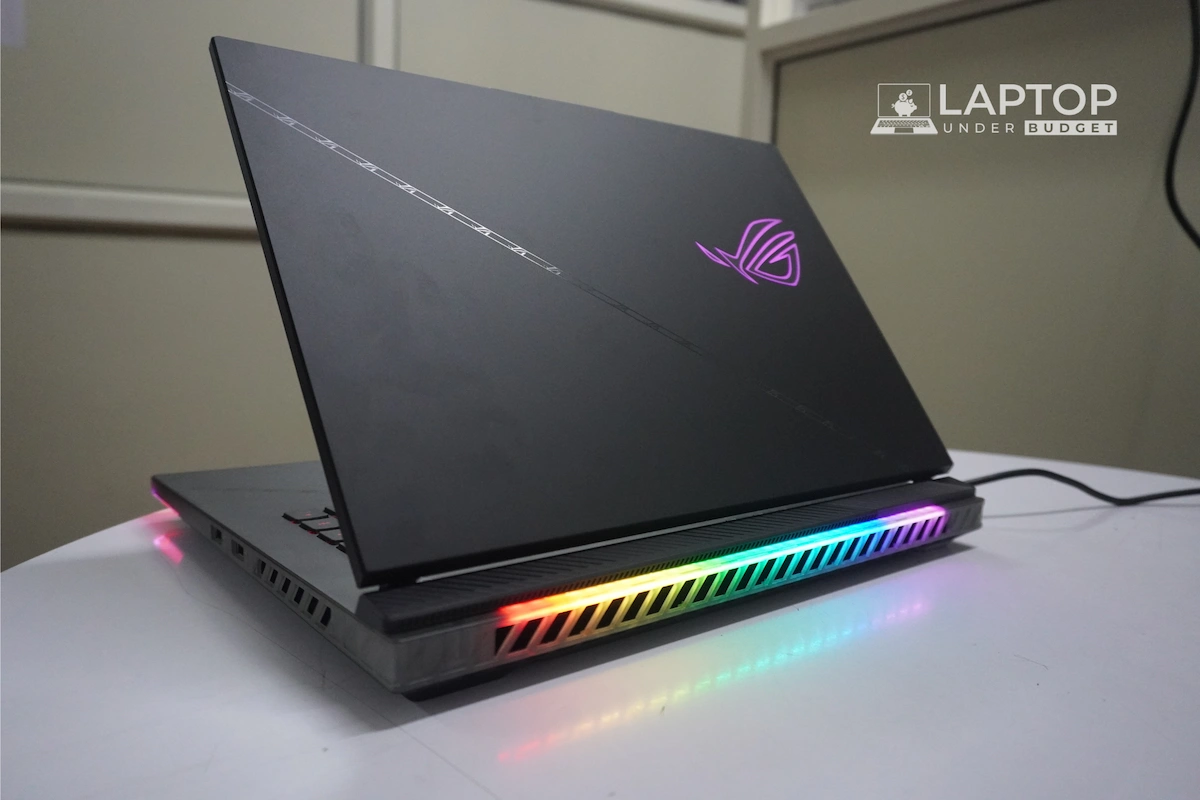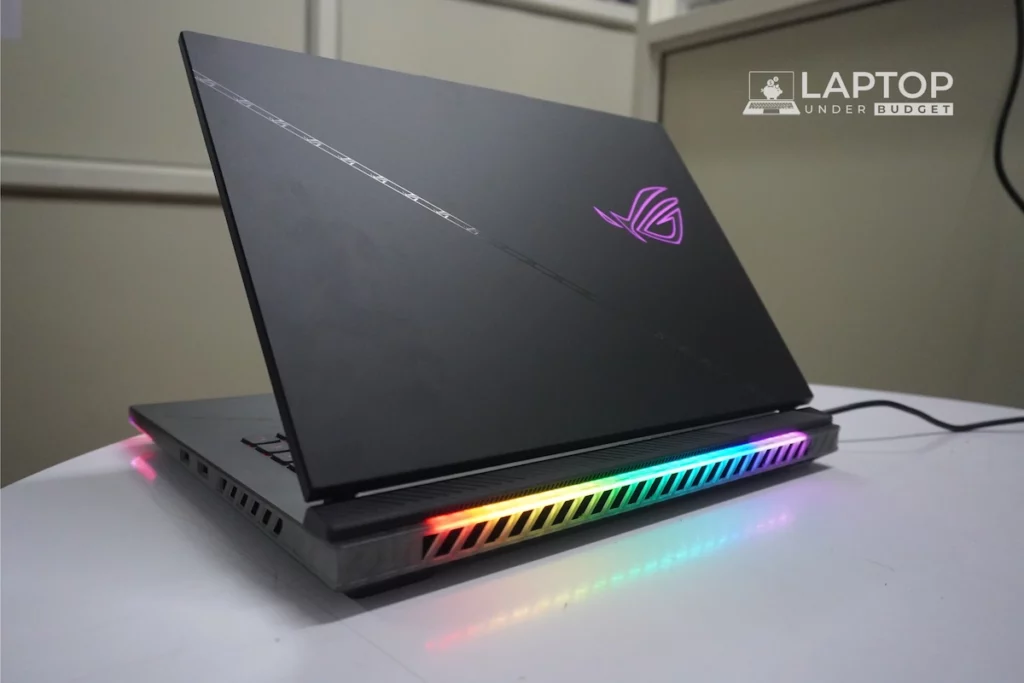 Apart from that, there are no major changes in its design, just a few cosmetic changes here and there. For instance, the bottom display bezel is now a lot slimmer as its 16-inch display has a taller aspect ratio. The semi-transparent keyboard deck is also retained in this year's model, giving you a sneak peek into its internals. However, there's no line dividing the transparent part from the opaque in this year's model. The upper right part starts transparent and gradually converts into full opaque, adding a bit of subtleness to the design than last year's model.
But the overall design is still unapologetically gaming laptop like. For instance, it has RGB lights all around it—on the keyboard with per-key customizing options, a light bar in the front, the ROG logo on the lid and also on the back across the updated cooling vent design.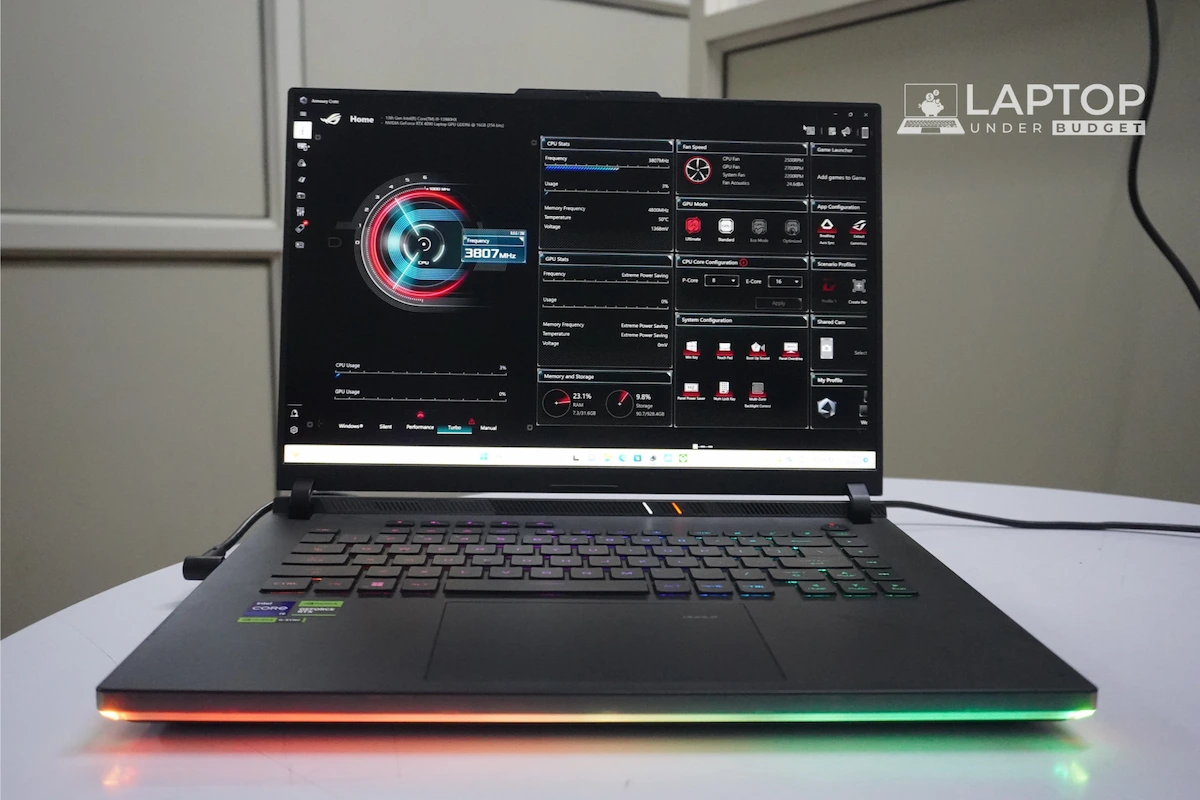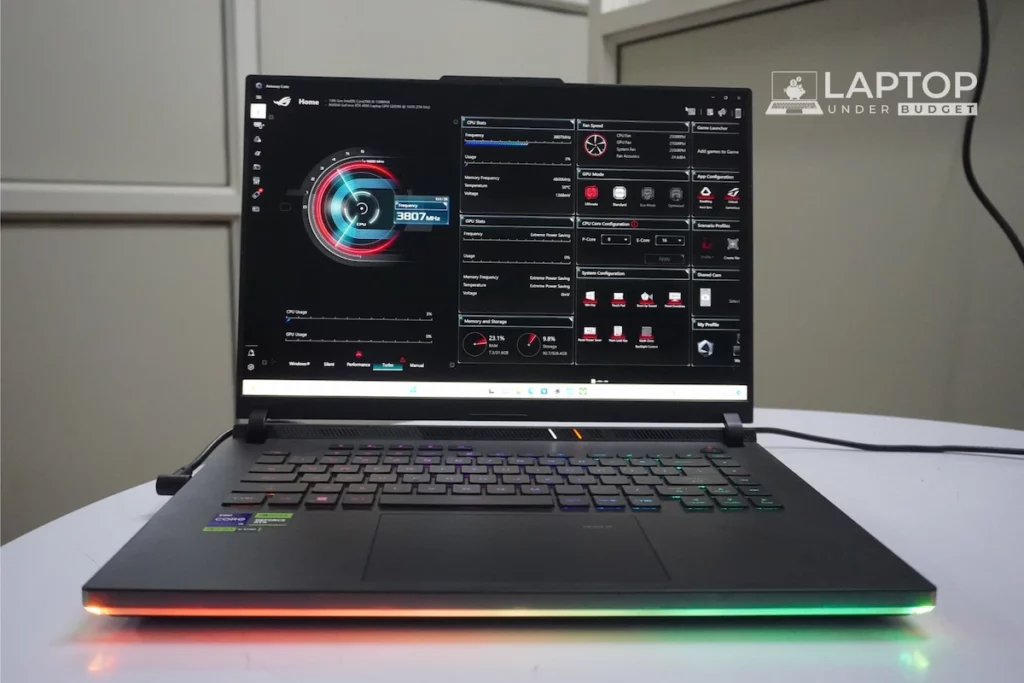 There are also lines running across the lid and on the keyboard deck with the tiny ROG logos, reminding you that you are using a gaming laptop.
If we talk about the build quality, then the laptop's lid is metal, and so are the hinges holding it. However, the keyboard deck is still polycarbonate, and that definitely feels cheap for the amount of money you pay for the laptop. The competitors like Lenovo Legion Pro 7i Gen8 and Razer Blade 16 boast all-metal construction.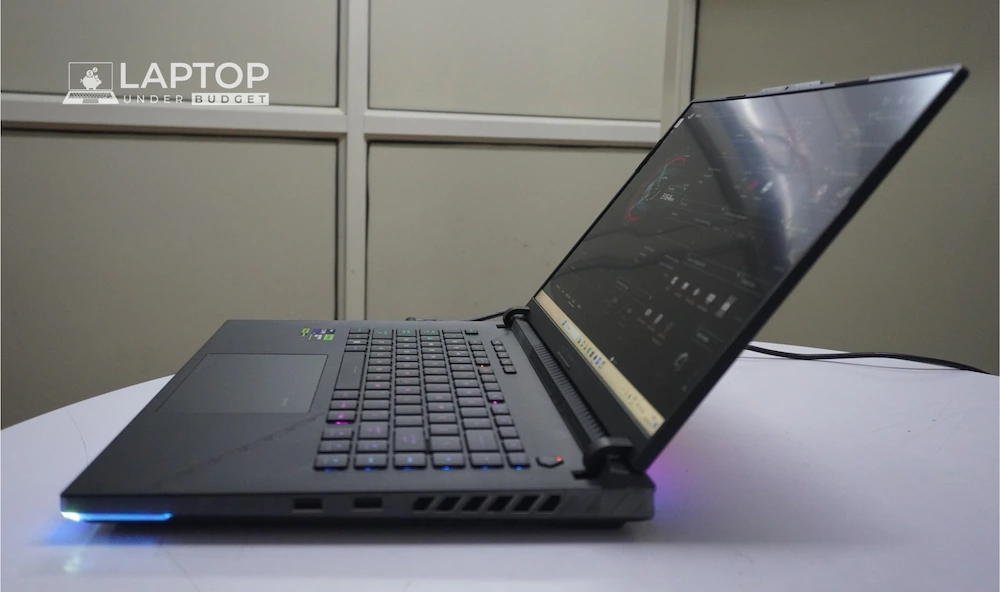 But the Scar 16 still feels solid, and there's only minor flex on its lid and keyboard deck. The laptop also does not creek from anywhere when holding it with one hand, which tells the device is well put together. Its display hinges also have the perfect tightness for its large 16-inch display, although they don't offer the full 180° range of motion seen in the Legion Pro 7i Gen8.
As far as the size of the laptop goes, it has a length of 13.9″, a breadth of 10.3″ and a height of 1.2 inches. To give you a context, it is only a tiny bit bigger than a 15-inch gaming notebook. It fits snugly in my backpack, which has a compartment that can house 15-inch size laptops. However, its weight of 5.7 pounds plus the 2.5 pounds charger means it is still not a portable laptop you would love to travel with daily. If you are looking for such a device, a 14-inch gaming laptop, like the Asus ROG Zephyrus G14, will be a better choice for you.
Overall, I think the Scar 16 is a very well-designed and built laptop. Despite it having a semi-plastic build, I don't have any issues with it, as the laptop feels like it's made to last. I also particularly loved the eye for detail in its design, especially on the bottom, where there's a two-tone black and gray finish, giving retro vibes. Also, if you look closely, the three fan grills make up the letters R, O, and G—again, a very nice touch!
Ports and Slots
As mentioned earlier, Asus moved ports from the back to the sides of the laptop on this year's ROG Strix notebooks. Luckily, that does not affect the number of ports you get on the Scar 16, just the non-sensible placement of some ports.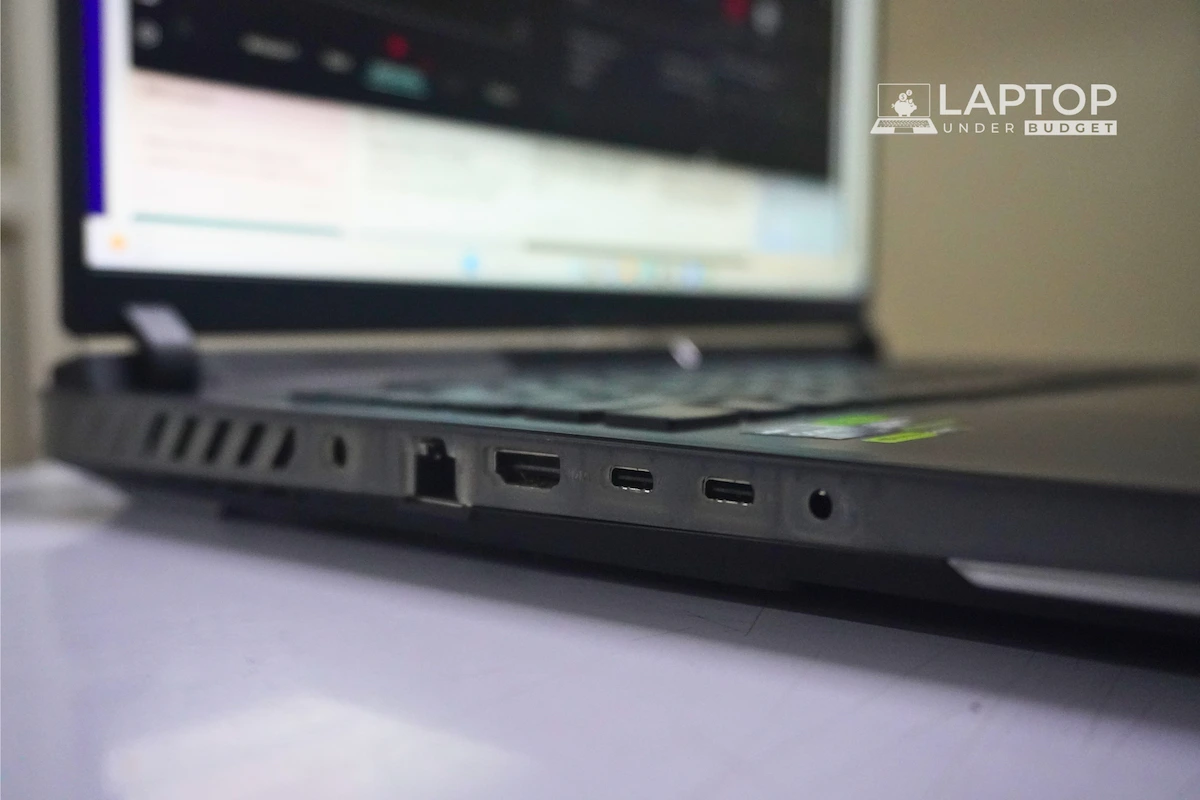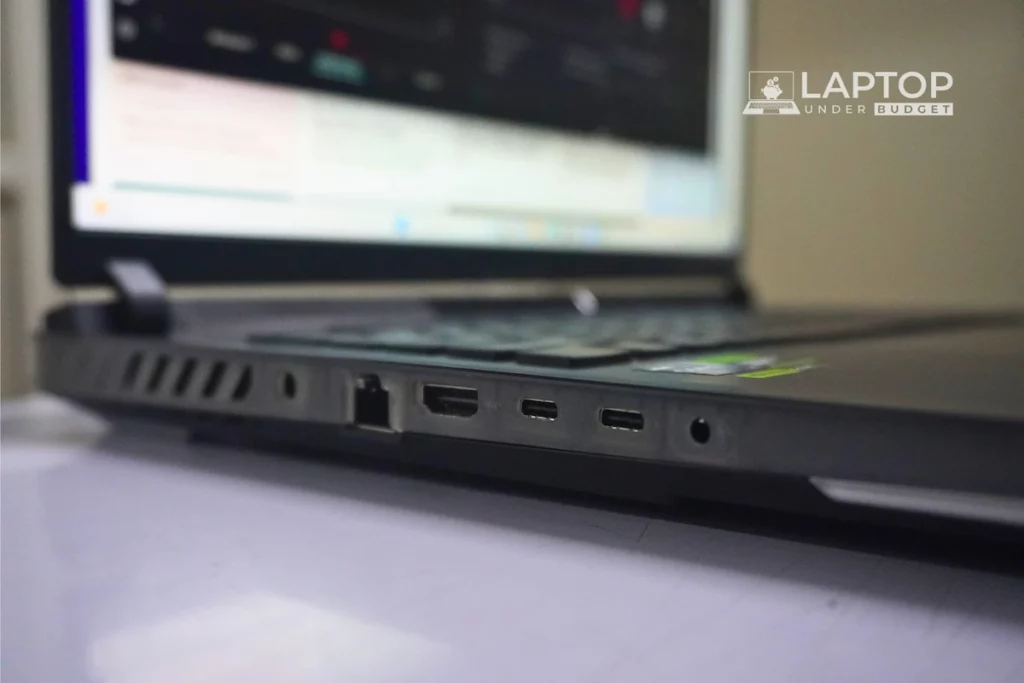 On the left, the laptop has one USB Type-C port with DisplayPort and power delivery support, a Thunderbolt 4 Type-C port, an HDMI 2.1 port, an Ethernet port that supports speeds up to 2.5Gbps, a 3.5mm audio/microphone combo port and a barrel type charging port.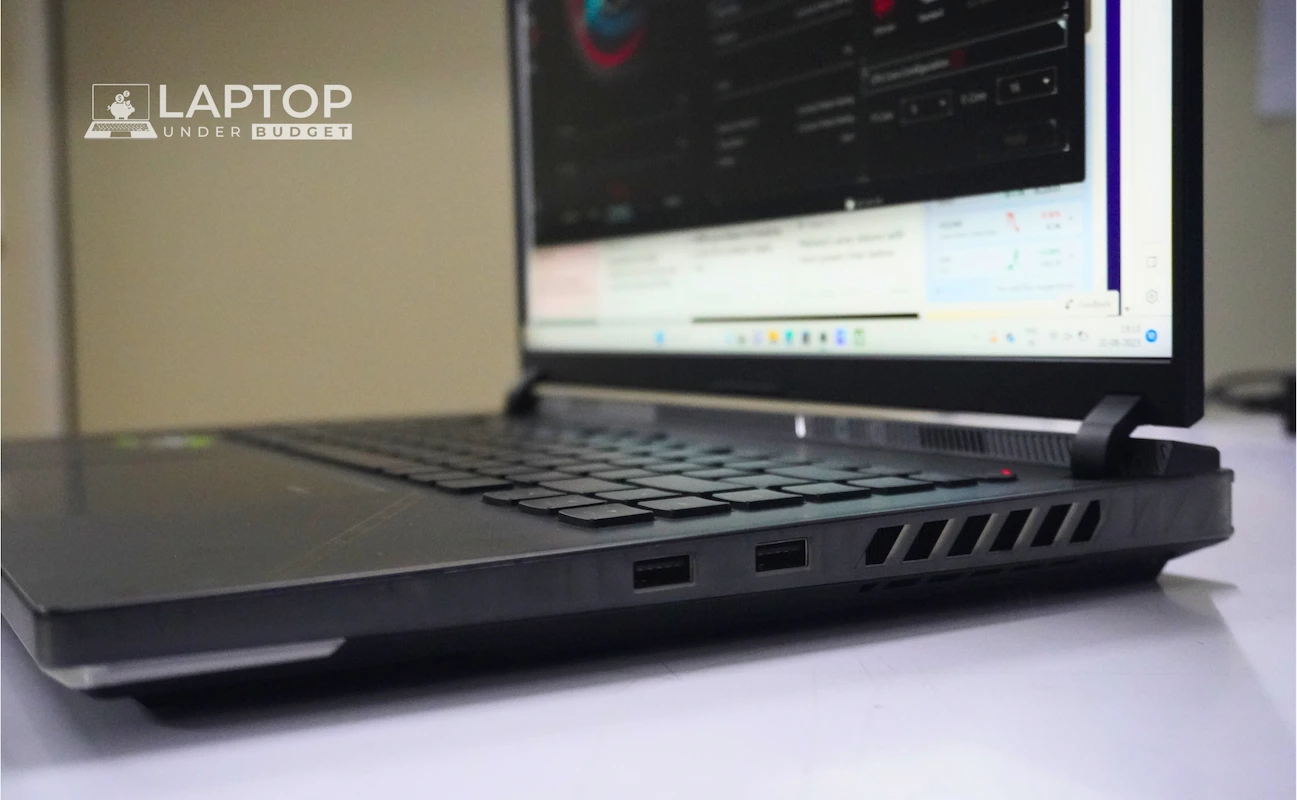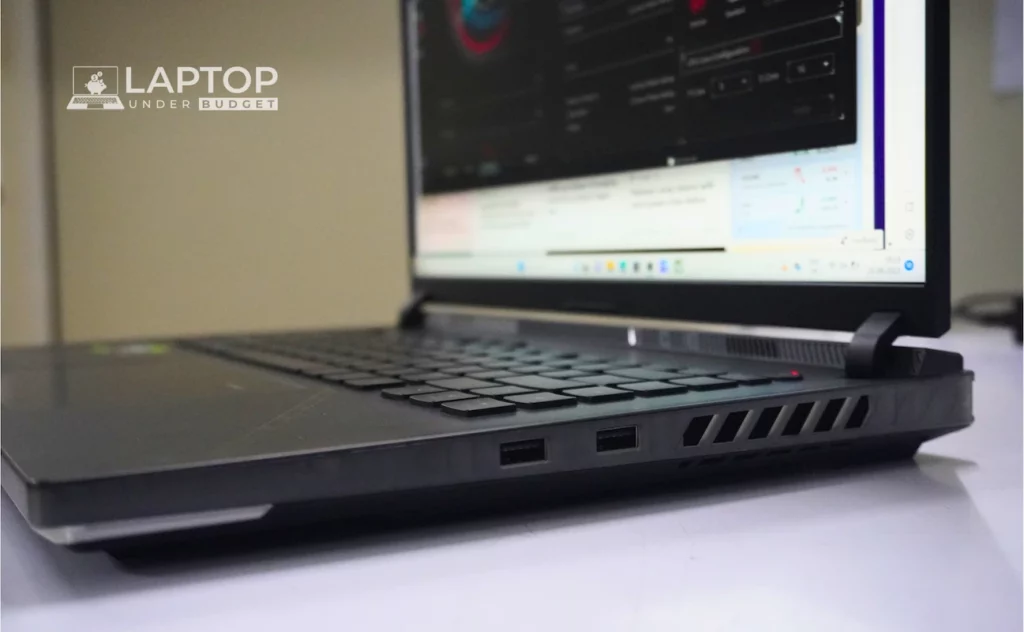 On the right side, the laptop has two USB 3.2 Gen2 Type-A ports. Now, I would be lying if I said that I liked the placement of the USB Type-A ports on this laptop. Most people would connect their gaming mouse by using one of those two ports on the right, and if you are right-handed like me, you'll definitely feel the need for at least one USB Type-A port on the left of the laptop. It's just counterintuitive.
Nonetheless, the ports selection on the Scar 16 is great overall and could have been even better if Asus offered an SD card reader.
In terms of wireless connectivity, the Scar 16 is outfitted with the latest Wi-Fi 6E and Bluetooth 5.3 supported wireless card, leaving no room for complaints.
Display
As discussed earlier, Asus offers only one display option for the Scar 16, and it is spectacular! It comes with a 16-inch Mini LED display with QHD+ (2560 by 1600) resolution and 240Hz refresh rate. The laptop also covers 100% of the DCI-P3 color gamut, making it suitable for color-sensitive jobs as well.
I tested the display by doing both playing games and consuming content. I played everything from first-person shooters to racing games on it and have no complaints about it. Its 240Hz refresh rate is perfect for the kind of powerful hardware it packs inside. Moreover, the display's G-Sync compatibility ensures no screen tearing or input lag.
The display also has a staggering 1100 nits of peak brightness. That, plus the Mini LED panel's local dimming zones, means the display has an excellent contrast ratio.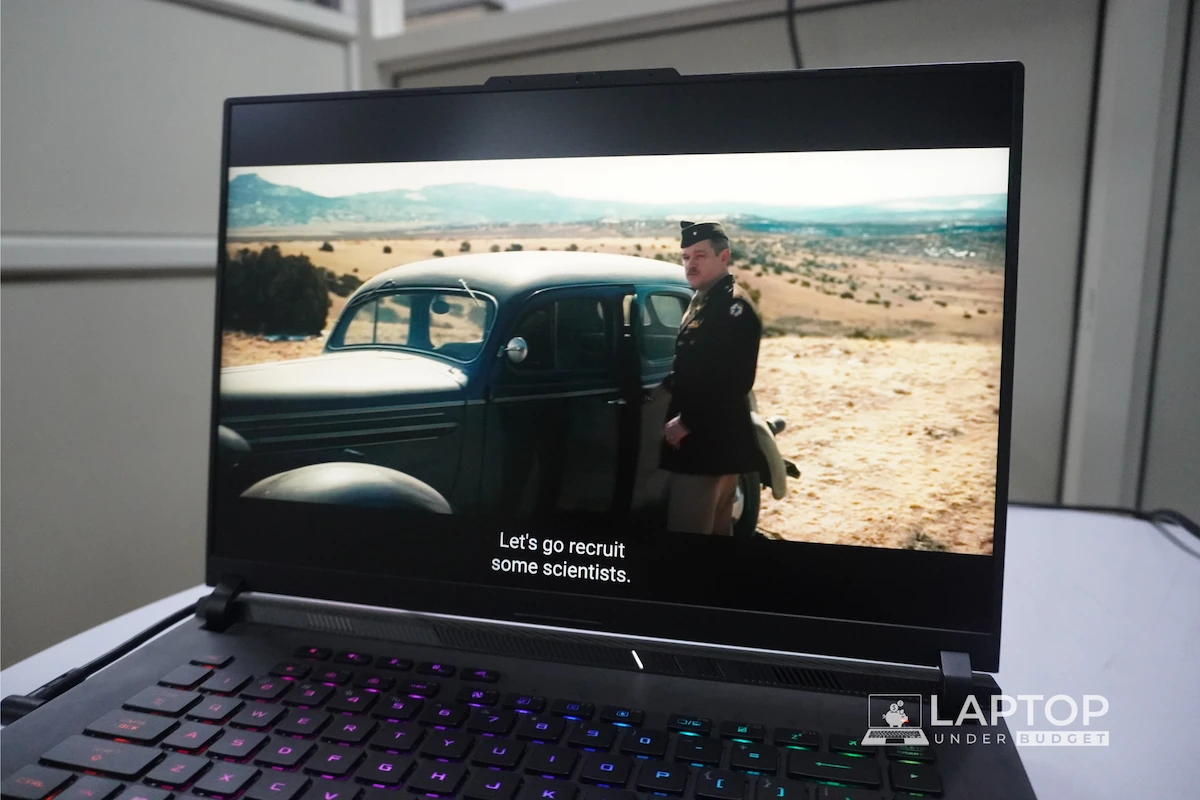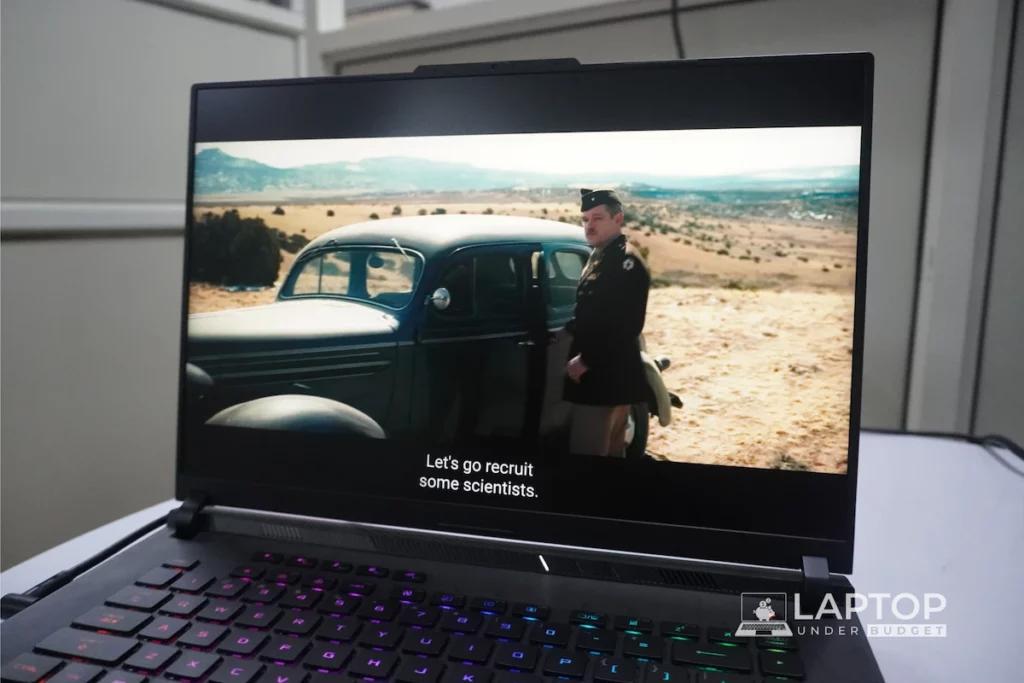 The display is also Dolby Vision HDR compatible to watch the supported content. I watched Oppenheimer making a video available on YouTube on it, and the scene when the bomb blasts perfectly showcase this display's true capability.
The display's bezels, especially the bottom one, have also gone much tinier than before, thanks to the taller 16:10 aspect ratio. Also, on the top bezel, now there's a reverse notch housing a webcam—which was missing in last year's model.
It's a great welcome feature, but its 720p resolution leaves much to be desired. Plus, its picture quality isn't that great, either. It's a shame to see a $3000 laptop fitted with a poor-quality webcam. Competitors like Alienware M16, Razer Blade 16 and Lenovo Legion Pro 7i—all come with better 1080p webcams.
But I must mention that the addition of a reverse notch makes opening the display lid much more convenient.
Keyboard and Trackpad
The 2023 Asus ROG Strix Scar 16 features a per-key customizable RGB keyboard without a numpad but has a trackpad that doubles up as a numpad, which I will come to in a bit.
The keyboard has a good layout overall, but its smaller right-shift key could bother some users. There is a column of media keys on the right side, and there's also a row of dedicated volume up and down, mic mute/unmute, fan control and a key to launch armoury crate software on the top.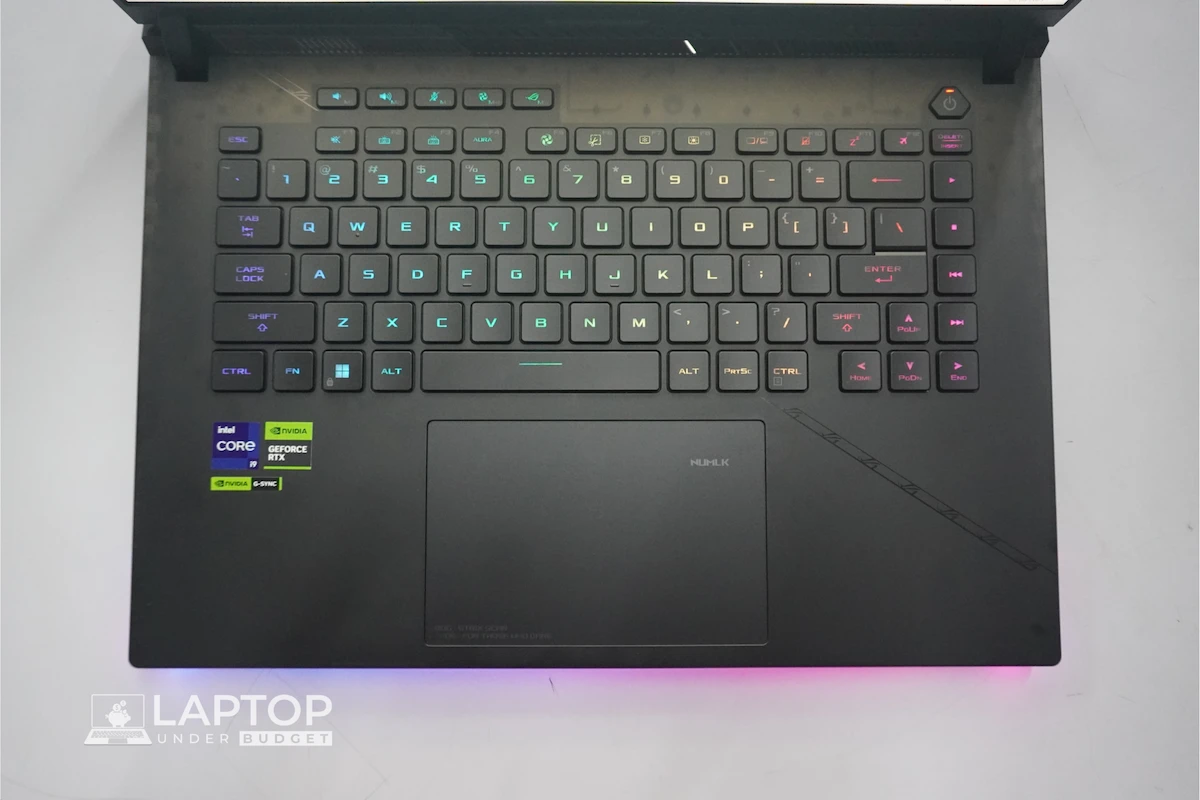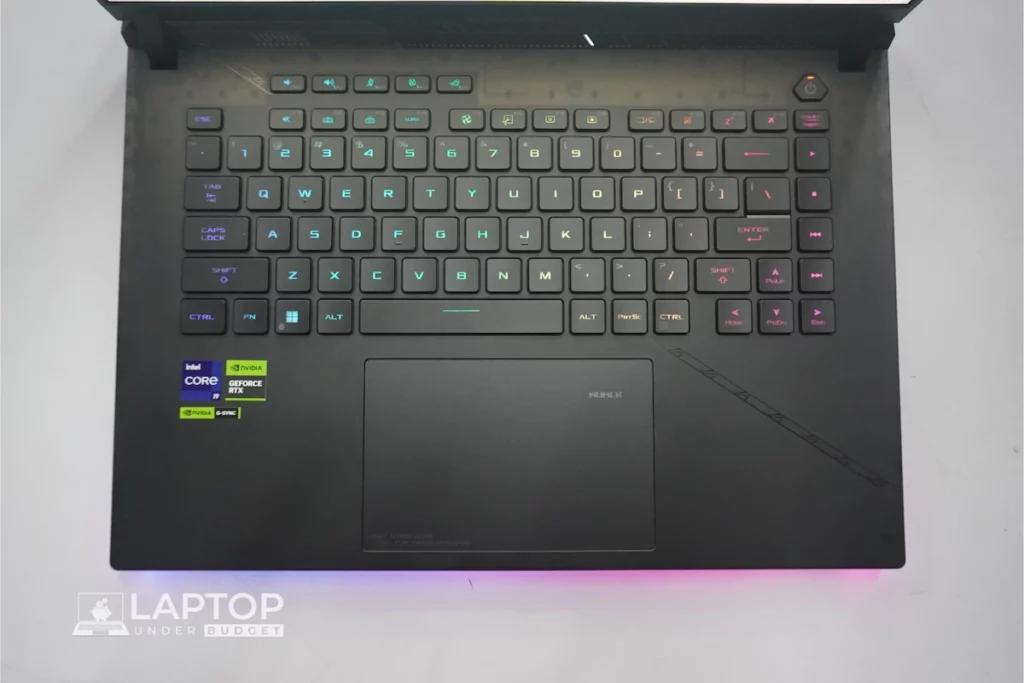 That row of keys on the top also doubles up as five macro keys, which you can customize as per your needs from the Armoury Crate app.
If we talk about the typing feel, then it's a very comfortable keyboard. It has chiclet-style keys that feel nice to touch and require just the right amount of actuation force. They also travel decently deep to provide a satisfying feel.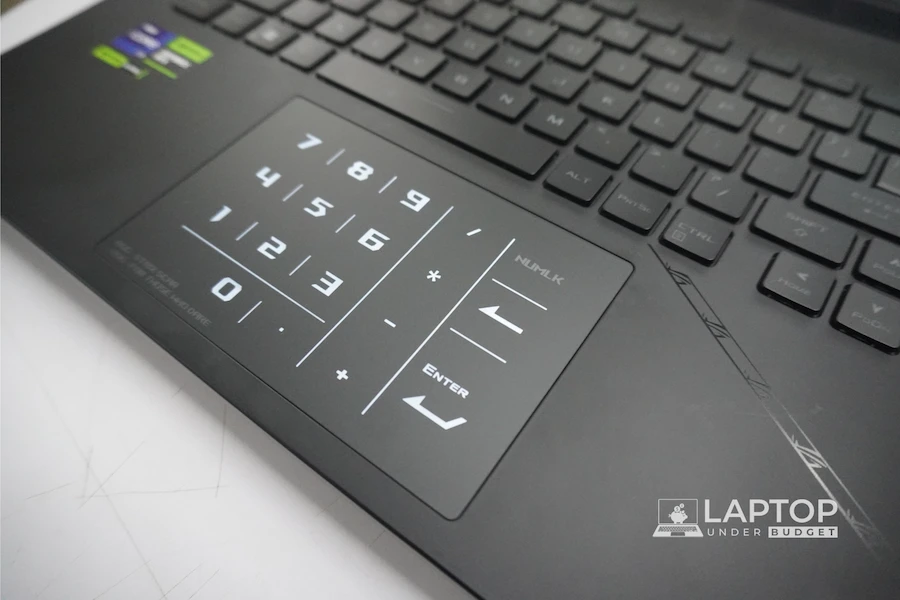 Below the keyboard in the center, there's a smooth glass trackpad. It's of a decent size, not small nor too big for a laptop of this size. It uses Windows precision drivers, so it feels responsive and supports all the native Windows multi-finger gestures.
But the main party trick is it can double up as a Numpad. On the top right corner of the trackpad, there is a 'NUMLK' capacitive button. On touching it, the Numpad lights up to input the numbers conveniently.
Asus ROG Strix Scar 16 (i9-13980HX & RTX 4090): Performance
Powered by all the latest and top of the line specs, which include the most powerful Intel chip and Nvidia GPU for laptops, there's no question the Scar 16 is a capable gaming laptop.
Diving deep into the specs, the laptop is powered by an Intel Core i9-13980HX processor, which has 24 cores (8 performance & 16 efficient), 32 threads and 5.6 GHz of max clock frequency. Accompanying the processor is the newest and mightiest Nvidia RTX 4090 GPU with 16GB of dedicated graphics memory, running at a maximum of 175W TGP.
The Scar 16 also has 16GB of DDR5 RAM with 4800 MHz speed and 2TB (1+1) of Gen4 SSD.
As the specs suggest, the laptop is meant to handle demanding workloads, and I tested it by doing everything from playing the latest AAA games to video editing and also everyday work. As expected, the laptop didn't break a sweat, no matter what I threw at it.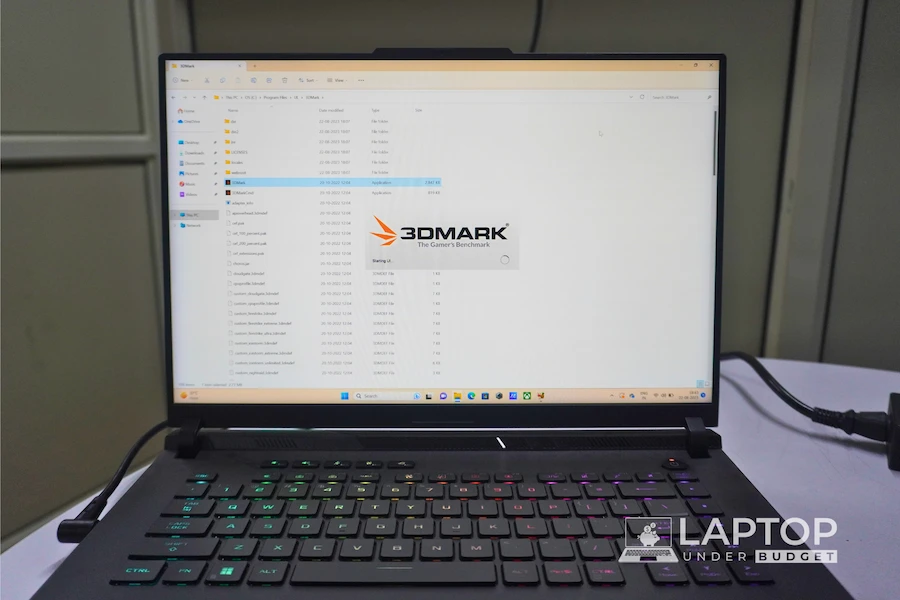 I played Valorant on it at its display's native resolution at the highest settings, and the Scar 16 delivered 530 FPS! Considering Valorant is a CPU-intensive title, I installed GTA 5 on it and ran it at ultra settings in QHD resolution, and I got 138 FPS on average, which is excellent. GTA 5 is an intensive title.
Then I decided to test some Ray Tracing supporting titles, and the first game I tested was Spiderman Remastered. The laptop gave around 150 FPS in very high preset with Ray Tracing on and set to high and frame generation turned on and set to quality. I also tested Cyberpunk 2077 on it and running at the display's native resolution in ultra preset and with Ray Tracing on in ultra and DLSS frame generation on and set to quality, the Scar 16 delivered an impressive 90 FPS.
So, the Scar 16 is a mind-blowing laptop for gaming. It just thrashes the AAA titles, even with Ray Tracing turned on.
After gaming, I also tested the laptop by editing a 4K video on Premiere Pro. As expected, the laptop didn't even get bothered with it. No matter how many layers I added or what effects I applied, the laptop felt smooth throughout I finished the editing. It also rendered my highly edited 13-minute 4K video in an impressive 1 minute and 43 seconds.
As far as regular use is concerned, I used the Scar 16 extensively for all the research work that I usually do before writing guides on LUB. That means more than 30 tabs running in Chrome, Spotify playing music to my headphones, multiple Word documents open, and Slack, Trello, Microsoft To Do and Discord running in the background. Despite all that, the laptop didn't show a single sign of stutter and felt ready to take on more load. Its 32GB DDR5 RAM does wonders in delivering a smooth multitasking performance on it.
However, its 2TB Gen4 SSD isn't the fastest I have seen on gaming laptops this year. Its read and write speeds are significantly slower than the competing laptops like the Razer Blade 16 and Lenovo Legion Pro 7i Gen8.
Nonetheless, the overall performance of the 2023 Asus ROG Strix Scar 16 is still excellent, and we were impressed by how well it ran the latest games.
Benchmark Scores
Apart from real life tests, I also did several benchmarks on it and below are the scores the laptop was able to achieve.
| Benchmarks | Score |
| --- | --- |
| Cinebench R23 (Multi Core) | 28948 |
| Cinebench R23 (Single Core) | 2119 |
| Geekbench 6 (Multi Core) | 16865 |
| Geekbench 6 (Single Core) | 2793 |
| 3DMARK Time Spy | 15980 |
| PCMark 10 | 8087 |
| Blender | 6402 |
Cooling
With the kind of hardware the Scar 16 packs inside, it would need an effective cooling system to sustain its powerful performance. Accordingly, the Scar 16 packs an all-new thermal design with three fans and 7 heat pipes. Asus has also used a liquid metal thermal compound and, as mentioned earlier, replaced the ports on the back with large cooling vents.
All this translates into a gaming laptop that delivers a very stable performance. No matter how hard I pushed it, the laptop's surface always remained cool to touch. I also checked the CPU and GPU temps while benchmarking and gaming in the armoury crate, and they both remained below 90°C most of the time. While its fans get pretty loud sometimes, you can adjust the performance and fan speed in manual mode.
All in all, the Scar 16 not just packs powerful hardware but also an effective cooling system to handle it well.
Audio
The Scar 16's audio output is rich with decent bass and clear highs, mids and lows. The laptop features a quad-speaker setup, where two are down-firing subwoofers on the front and two user-facing tweeters on the backside. The audio is also further optimized by Dolby Atmos, which improvises the sound staging. Whether it's gaming or watching movies, the speakers do a great job at delivering rich and clear audio with no distortion, even at higher volume levels.
Upgradability
The laptop's back panel is held by 11 screws. Unscrewing them is nothing big of a deal, but you will need a prying tool to open the panel. Once inside, you will notice its distinct cooling system with three fans. Looking past that, the laptop has two RAM slots and two SSD slots inside.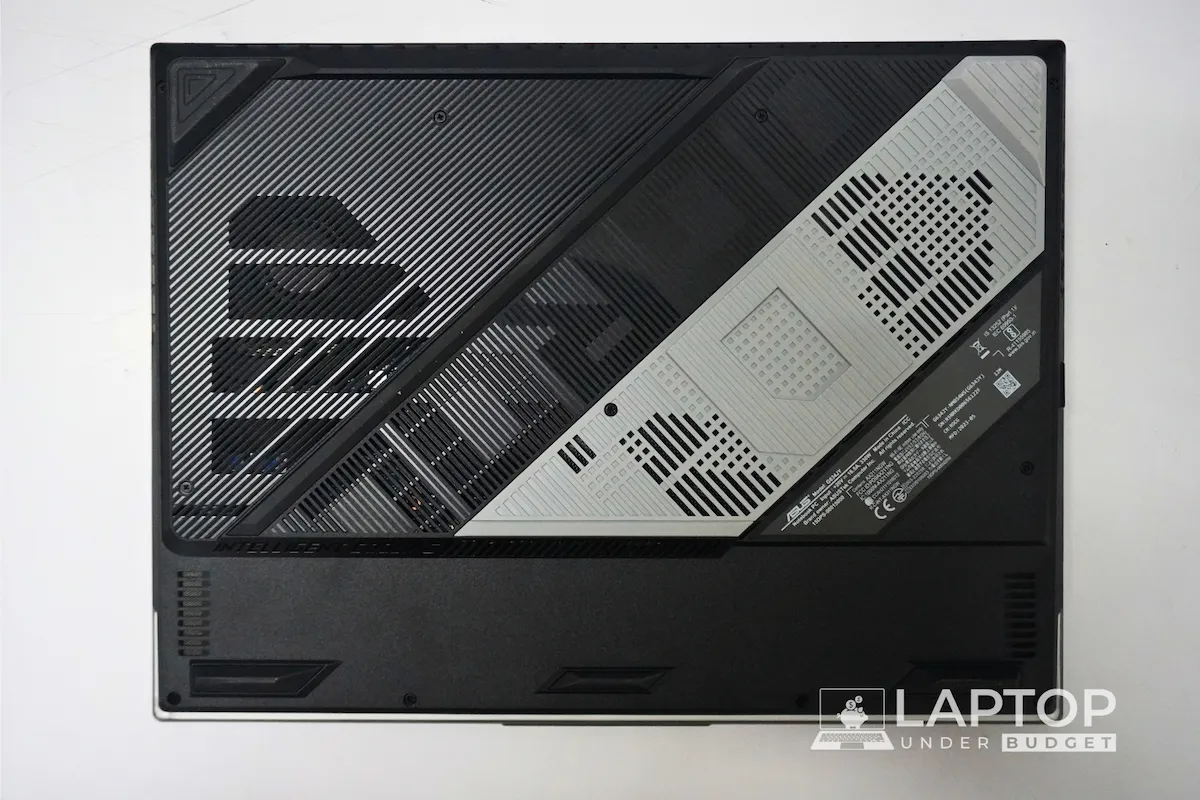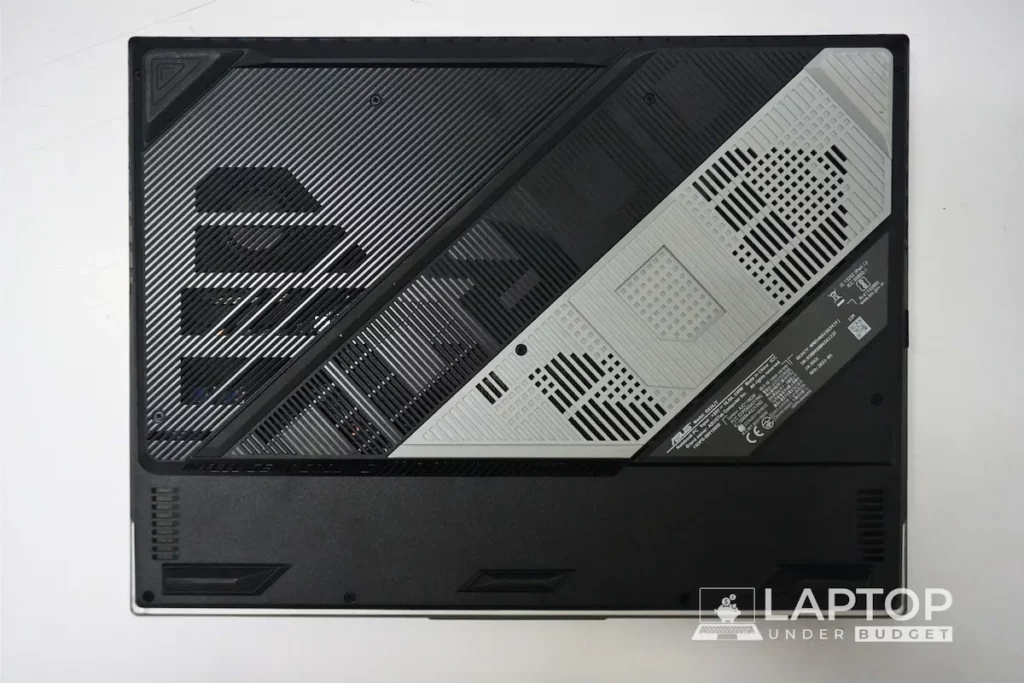 On the variant that I have, all the RAM and SSD slots are populated. However, the Scar 16 can support up to a maximum of 64GB of RAM and 4TB of storage, so you can replace them if you want more performance out of your machine.
Battery Life
The 2023 Asus ROG Strix Scar 16 comes with a 90Wh battery pack, which is a little bit smaller than the 99Wh battery on the Lenovo Legion Pro 7i Gen8 and 95Wh on the Razer Blade 16. But Scar 16 still exceeded my expectations when it comes to endurance on battery power. The laptop's battery life will, of course, be less while gaming and I measured it to be slightly over 2 hours.
However, the laptop delivered an impressive 5 hours and 19 minutes of backup when doing normal tasks. It is slightly over the average time the gaming laptops last, and considering the kind of hardware the Scar 16 packs inside, these numbers are rather impressive.
The laptop's battery can be charged in two ways: via the 330W charger that comes inside the box, and it also supports USB-C charging (100W). Of course, to use the laptop's hardware to the fullest, you will need the 330W charger, but you can purchase the USB-C charger to travel light with it.
Conclusion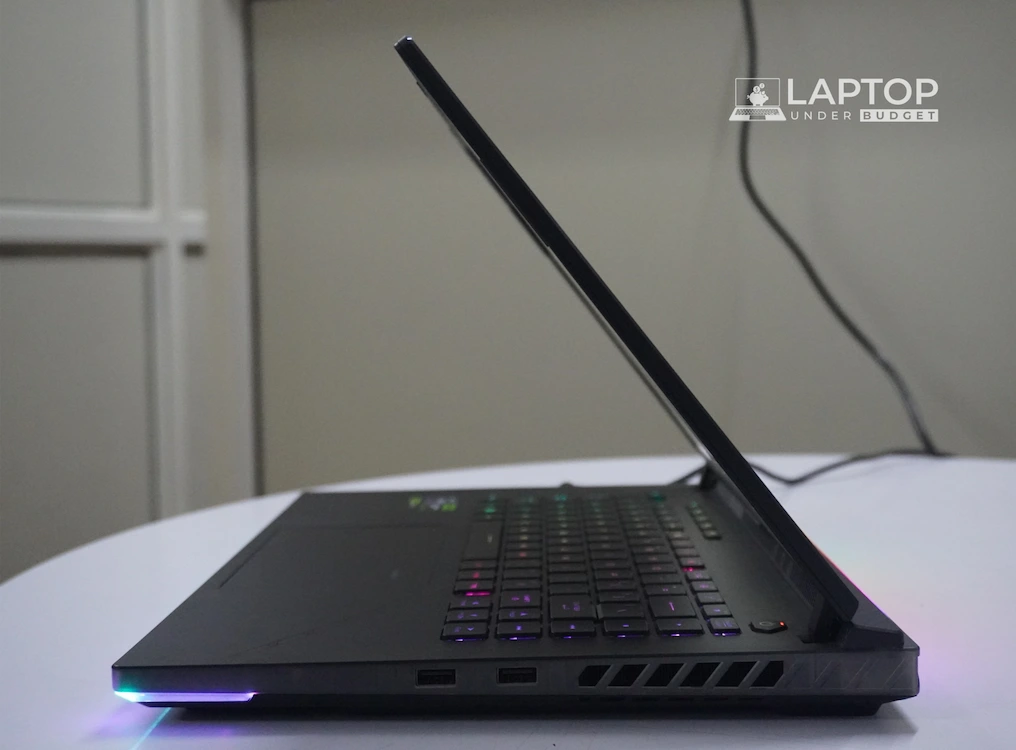 After testing the Asus ROG Strix Scar 16 extensively, I'm thoroughly impressed with its performance and features. The powerful hardware comprising Intel's top-of-the-line i9 processor and Nvidia's flagship RTX 4090 GPU deliver unmatched frame rates even in the most demanding games.
The laptop also handles intensive tasks like 4K video editing without breaking a sweat thanks to the excellent cooling system that keeps temperatures in check. Battery life is surprisingly good for a gaming laptop, lasting over 5 hours for productivity work.
The 16-inch QHD Mini LED display also looks stunning with its high refresh rate, brightness and contrast. Gaming and watching movies on it is an absolute delight.
There are a few small downsides like the average webcam and lack of SD card reader. But overall, the Scar 16 hits the sweet spot of power, display quality, performance, and portability.
Overall, if you want a feature-packed high-end gaming laptop in a 16-inch form factor, the Scar 16 is easy to recommend.
Asus ROG Strix Scar 16 (2023)
$3,499
Design & Build Quality
4.3/5
Keyboard & Touchpad
4.5/5
Pros
Excellent performance with latest Intel i9 and Nvidia RTX 4090 GPU
Beautiful QHD Mini LED display with buttery smooth 240Hz refresh rate
Effective cooling system keeps temps in check
Over 5 hours of battery life for productivity work
Thunderbolt 4, HDMI 2.1, Wi-Fi 6E and ample ports
Per-key RGB customizable keyboard
Solid overall build quality despite plastic deck
Cons
Webcam could be better
Some ports inconveniently placed (All USB-A on right side)
Advertisement