The Asus ROG Strix Scar series of laptops are known for their high-end hardware and efficient cooling system packed in a full-blown gaming-centric design. The combination of these things makes the Asus' ROG Strix Scar series gaming laptops excellent for high-end gaming.
These laptops usually come in two different variants, the ROG Strix Scar 15 and Scar 17, but Asus has announced a Special Edition of the ROG Strix Scar 17 this year, which features Intel's latest and the most powerful laptop CPU—the Intel Core i9-12900HX and Nvidia RTX 3080 Ti Laptop GPU.
Advertisement
While there are plenty of gaming laptops with the RTX 3080 Ti in the market, the ROG Strix Scar 17 SE is one of the few laptops that pack the most powerful laptop CPU and the most powerful laptop GPU!
Of course, these flagship-grade specs mean it will be a very expensive laptop, which is about $4000, by the way!
So, does it justify the hefty price tag that it carries?
Read our comprehensive review of the 2022 Asus ROG Strix Scar 17 SE to find out.
Price And Configuration
The Asus ROG Strix Scar 17 SE is one of the most expensive Asus laptops this year, costing over $3,840, and it would also very well be among the most expensive gaming laptops of 2022. Still, it's more affordable than the other premium high-end gaming laptops like Razer Blade 17 and Alienware x17 R2 while also being more powerful than them.
For the asking price, the Scar 17 SE offers the flagship 16-core Intel Core i9-12900HX CPU and RTX 3080 Ti Laptop GPU with 16GB DDR6 VRAM paired with the 32GB of DDR5 RAM and 4TB of PCIe Gen4-based SSD storage.
Asus is allowing buyers to opt for the RTX 3070 Ti GPU for a slightly less price, but there's no other display option for Scar 17 SE other than a 17.3-inch QHD display with a 240Hz refresh rate.
Overall, it's an expensive but also a very well specced laptop. From the specs, the ROG Strix Scar 17 SE seems to offer everything that one could ask for on a high-end and premium gaming laptop, but that's only half the story. Read to know how that translates to real world usage below.
Detailed specs of the model we reviewed:
Model Number
G733CX-LL021X
Processor
12th Gen Intel Core i9-12950HX 16 Cores – 8P + 8E (30MB Cache, 3.6 GHz – 5.0 GHz)
RAM
32GB LPDDR5 4800MHz (Upgradeable up to 64GB)
Storage
4TB PCIe Gen4 NVMe SSD (RAID 0)
Graphics
Nvidia GeForce RTX 3080 Ti GPU with 16GB DDR6 Memory (150 – 175W TGP)
Display
17.3-inch WQHD 240Hz Refresh Rate 3ms Anti-Glare Display w/ Dolby Vision HDR and Advanced Optimus (100% DCI-P3)
Ports
1 x Thunderbolt 4 (w/ DisplayPort)
1 x USB 3.2 Gen 2 Type-C w/ DisplayPort and Power delivery support (w/ Nvidia G-Sync)
2 x USB 3.2 Gen 1 Type-A
1 x HDMI 2.1
1 x Ethernet
1 x 3.5mm Headphone/Microphone Jack
Operating System
Windows 11 Pro
Battery life
Up to 5 hours and 3 minutes (as tested)
Weight & Dimensions
6.6 Pound
15.55 x 11.10 x 1.1-inches
Design
If you have seen or used a regular 2022-edition of the ROG Strix Scar 17, the ROG Strix Scar 17 SE looks just like that, at least externally. The laptop has a metal lid, which offers plenty of rigidity to the display, and there is also a semi-transparent design that gives us a glimpse at the actual internals of the ROG Strix Scar 17 SE.
One can identify the ROG Strix Scar 17 SE from a distance, thanks to the massive RGB-lit ROG logo. The laptop also has a subtle cipher on the lid, which comes to life when you shine UV light on it using the UV torch included inside the box. It's a cool way to impress others and very innovative on the Asus part.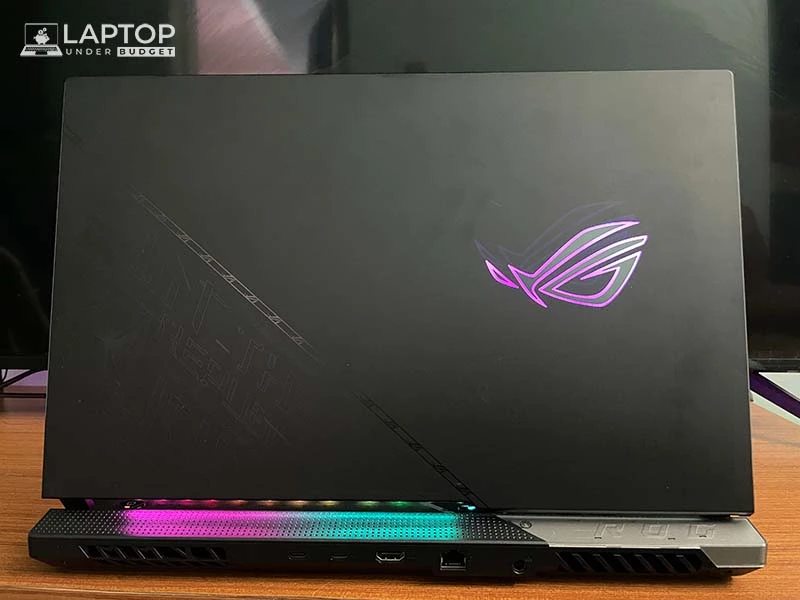 Along with a UV light torch, you also get a few more goodies with the laptop, such as wired headphones, an external web camera, and a backpack to carry the laptop wherever you go. Though at 6.83 pounds, it's not the most travel-friendly laptop, it's still lighter than the MSI Titan GT77—its direct competitor.
Overall the ROG Strix Scar 17 SE is a solidly built laptop that is heavy but rigid, and its design and material choices make it look and feel like a premium machine.
But it's not a laptop that'll be comfortable to travel with daily. It has large dimensions and is a bulky device, but if you would only be traveling with your laptop occasionally, it's a highly capable laptop that can even put some expensive PCs to shame with its performance.
Ports and Slots
The Asus ROG Strix Scar 17 has plenty of I/O options, but we were expecting a bit more (SD card slot).
It comes with two USB 3.2 Gen 1 Type-A ports, a USB 3.2 Gen 2 Type-C port with DisplayPort support, a Thunderbolt 4 port, an HDMI 2.1 and Ethernet, and a 3.5mm audio jack. Most of these ports are located on the back of the laptop, while the two USB Type-A ports and 3.5mm audio jack are on the left of the laptop for hassle-free connectivity for quick file transfers.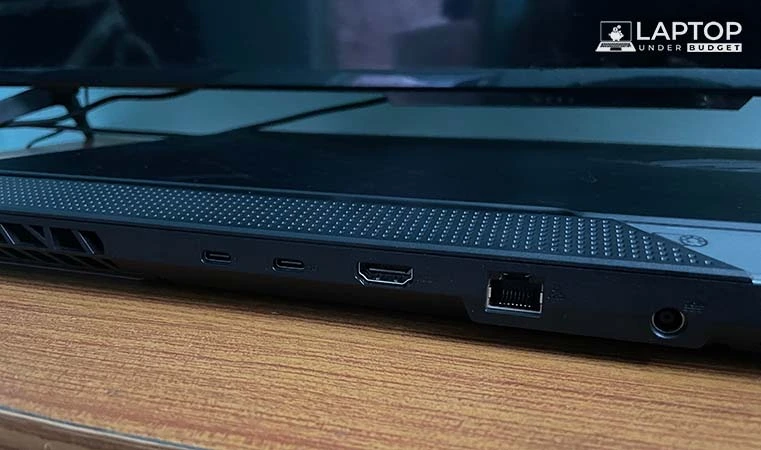 The laptop does have a dedicated charging port on the back, but it also supports 100W USB-PD charging via USB-C. But like with any laptop, you will get the best performance by connecting the 330W charger that comes with it in the box.
The laptop also supports all the latest wireless connectivity standards, like Bluetooth 5.2 and Wi-Fi 6E.
So, besides the SD card slot, the connectivity options on the Scar 17 SE are excellent.
Display
The ROG Strix Scar 17 SE has a massive 17.3-inch IPS-grade display with QHD (2560 x 1440) resolution and an anti-glare finish. The display also offers 100 percent DCI-P3 color coverage, making ROG Strix Scar 17 SE not just an excellent laptop for gaming but also for content creation.
The display also supports Dolby Vision, and the panel offers a 3ms response time making it capable of competitive gaming.
The bezels around the screen are thin on three sides, but it has a huge chin, and it also does not have a built-in web camera, which is yet another drawback of the ROG Strix Scar 17 SE.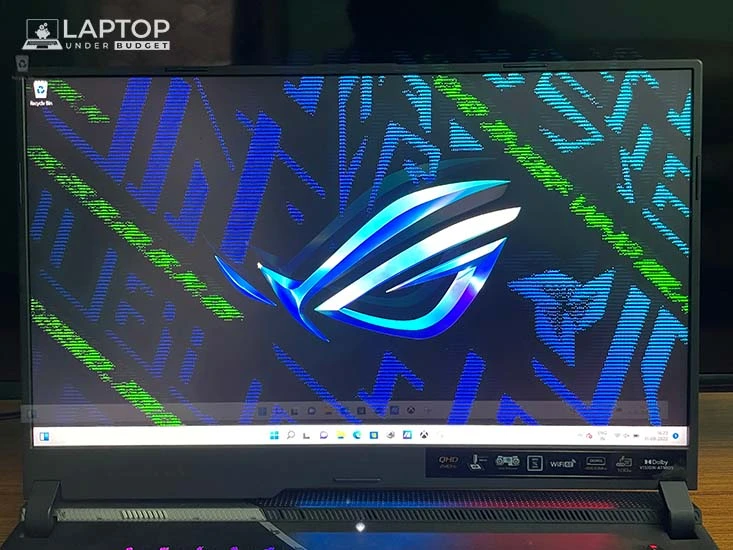 Overall, the display on the ROG Strix Scar 17 SE is both bright and vivid and can serve well for gamers, streamers, and binge watchers. Also, the QHD resolution and 240Hz refresh rate make it a good machine for tasks other than gaming.
Even if you are a professional content creator, you'll be pleased by the display of this laptop. Additionally, features like anti-glare coating also ensure that the laptop cuts down light reflection for a convenient viewing experience.
Keyboard and Trackpad
The ROG Strix Scar 17 SE has a well-spaced keyboard with support for per-key RGB lighting. The keys offer plenty of travel, 2mm to be precise, making it an excellent keyboard for both gaming and work. It also has a full layout and features a numpad and dedicated media control keys with a mute microphone button, offering all the essential controls conveniently at your fingertips.
As this is a 17-inch laptop, there's plenty of room to fit the full-size keyboard, and its keys are also slightly on the larger side, so you will never hit a wrong key, especially during a critical gaming session.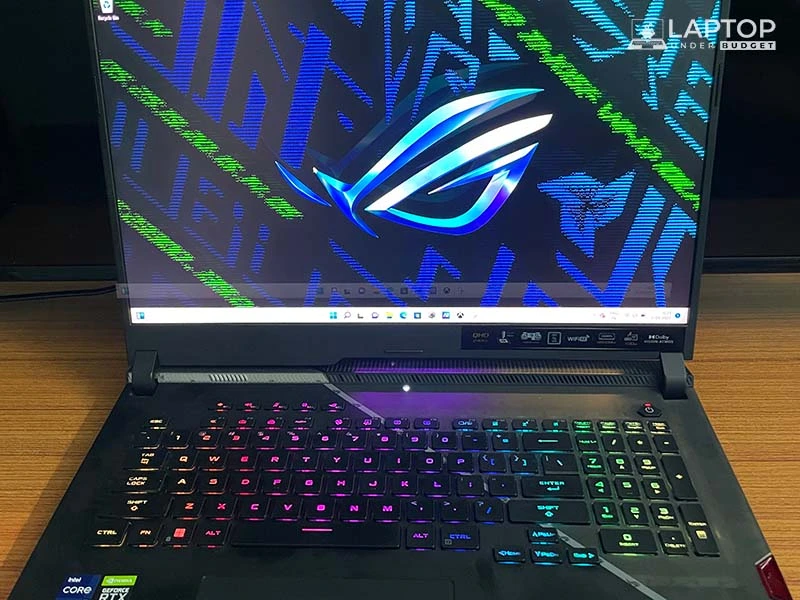 There is also a large trackpad that works perfectly. However, just like any gaming laptop, you'll need an external wired/wireless mouse to get the most out of the ROG Strix Scar 17 SE, especially while playing modern AAA titles.
During our gaming test, we really enjoyed using the Scar 17 SE's keyboard. Also, we would like to laud Asus for this laptop's excellent thermal management system. Unlike most gaming laptops, where the WASD keys get warm while gaming, the WASD keys on the ROG Strix Scar 17 SE remained cool to touch even after an hour of continuous gaming. (more on the thermals later).
Audio
The ROG Strix Scar 17 SE features a quad-speaker system, and it is better than other gaming laptops we have tested in recent times, but it is still nowhere near as loud and clear as the speaker setup on the latest MacBook Pro.
It is powered by Dolby Atmos and has Smart Amp that claims to increase the volume. Well, they do not get extraordinarily louder, but we did notice that they do not distort even at high volume, which is a good thing. During our audio test, the two dedicated woofers delivered decent bass and output well-balanced audio with two tweeters. Dolby Atmos also did a great job at sound separation.
Related: The Best Laptops for Music Production & Recording
But, the speaker's placement is on the bottom at a place that can be easily blocked when using the laptop from the lap, but most people will anyway use this gigantic laptop by keeping it on the table, so that's not a huge issue.
Overall, the audio output does not seem lacking. There's enough bass and treble, and Dolby Atmos also does a great job at sound separation. It's just that the speakers are not as punchy as some of the other laptops we've tested.
Performance – Day to Day Usage and Gaming
As discussed earlier, the Asus ROG Strix 17 SE is powered by the Intel Core i9-12900HX CPU, which is currently the most powerful gaming laptop CPU in the world. This is an Intel7-based 10nm 16-core processor with a hybrid CPU architecture consisting of eight performance cores and eight efficient cores, just like the desktop chip.
What distinguishes the Intel Core i9-12900HX from the regular Intel Core i9-12900H CPU is the TDP of 65W and a max turbo power of 157W. The powerful CPU is paired with the NVIDIA GeForce RTX 3080 Ti Laptop GPU, which brings massive 16GB GDDR6 video memory to the table at a maximum TGP of 175W, making the GPU of this laptop also the most powerful of any gaming laptop we've tested so far.
This powerhouse of a CPU and GPU is paired to the 32GB of fast DDR5 RAM and 4TB of PCIe Gen4 SSD storage running in RAID 0. The storage should be more than enough to store a game library consisting of ten or more modern AAA titles, and RAM is also more than sufficient for gaming and other intensive workloads.
It's a highly specced out machine, but how does that translate to real-world performance? Let's find out.
CPU Performance
We ran several CPU-centric benchmarks on the Intel Core i9-12900HX powered ROG Strix Scar 17 SE laptop. As per the results, the single-core performance of the ROG Strix Scar 17 SE is on par with the Core i9-12900H laptop. Where the ROG Strix Scar 17 SE's extra TDP really shines is in the multi-core performance, which actually delivers comparable numbers to the mid-range desktop gaming PC.
On Geekbench 5 CPU benchmark, the laptop posted 1825 points and 14150 points on single-core and multi-core CPU performance. Similarly, on CPU-Z, the laptop posted 722 and 8518 points on single-thread and multi-thread CPU performance. On the Cinebench R23 CPU rendering benchmark, the laptop posted 1560 points on single-core performance and 17860 points on multi-core CPU performance.
Do note that the Intel Core i9-12900HX is also one of the first laptop CPUs to support PCIe Gen 5 (for storage). This makes the laptop future-proof, as adding a PCIe Gen5 SSD in the future should vastly improve the performance of the ROG Strix Scar 17 SE.
GPU Performance
The real-world graphics performance of the RTX 3080 Ti Laptop powered ROG Strix Scar 17 SE matches the company's claims. The laptop posted 13260 points on the 3D Mark Time Spy benchmark, which is the highest score that we have seen on a gaming laptop. Not just that, the 3D Mark benchmark also confirms that the laptop can easily handle games like Battlefield V and can deliver over 150 FPS at 1080p resolution and the highest graphics settings.
What's even more interesting are the thermal figures of the ROG Strix Scar 17 SE. Despite having two coolers (one for CPU and GPU), the peak temperatures of CPU and GPU, even under peak load, are well within the acceptable range. One of the primary reasons for that is likely the usage of the liquid thermal compound that claims to keep these components cool by 15 degrees.
Gaming Performance
The ROG Strix Scar 17 SE is a clear winner when it comes to gaming, and it has given us the highest possible average frame rate on some of the most demanding modern AAA titles like GTA 5, Shadow of the Tomb Raider, Far Cry 6, and even Cyberpunk 2077.
On GTA 5 at 1440p and 1080p resolution and higher graphics settings, we got an average frame rate of 168 and 176, respectively. Similarly, in the Shadow of the Tomb Raider, the laptop offered an average frame rate of 130 and 102 fps at 1080p and 1440p resolution, respectively.
Lastly, on Cyberpunk 2077, the laptop offered an average of 77 FPS at 1440p resolution and 98 FPS at 1080p resolution. Overall, as per these numbers, the ROG Strix Scar 17 SE is one of the most powerful gaming laptops that one can buy in 2022.
Cooling
As mentioned before, the laptop has a dual-fan cooling solution with a vapor chamber and four vents to circulate air, and it uses Conductonaut Extreme liquid metal on both the CPU and GPU.
The thermal figures compared to the Alienware X15 R2, which by the way, has quad fans, are way better despite having just two fans.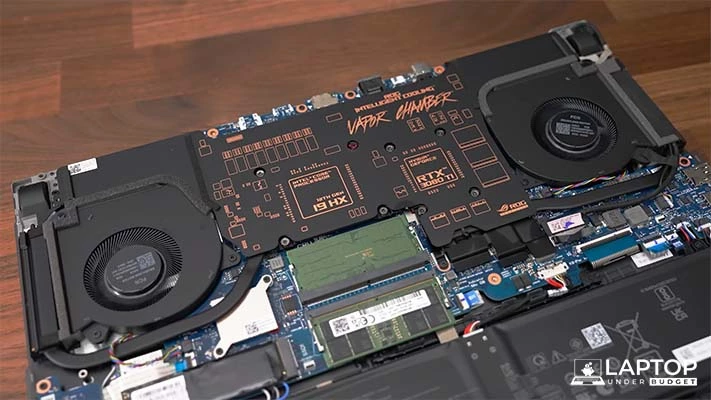 This proves that it is not just the number of fans that makes a great cooling solution, but the type of fans used and how they are designed to deliver a maximum cooling solution helps the laptop deliver peak performance for an extended period.
During our test, we were impressed by how cool the laptop was running, even at peak performance levels. Also, while gaming, we noticed that its keyboard deck never gets hot to uncomfortable levels.
This powerful cooling solution on ROG Strix Scar 17 SE will allow gamers to stream worry-free for hours using this laptop. Also, for content creators rendering hours-long videos on this laptop will not be an issue.
Overall, the cooling system on the Asus ROG Strix Scar 17 SE is excellent, and it helps its hardware to deliver sustained peak performance for long periods without any issues.
Upgradability
As the laptop already offers 4TB of storage, there is no empty SSD slot on the laptop, and the same goes for the RAM. The device comes equipped with two 16GB DDR5 RAM sticks (total 32GB RAM), and the maximum laptop can support is up to 64GB (2 x 32GB SODIMM DDR5 RAM sticks).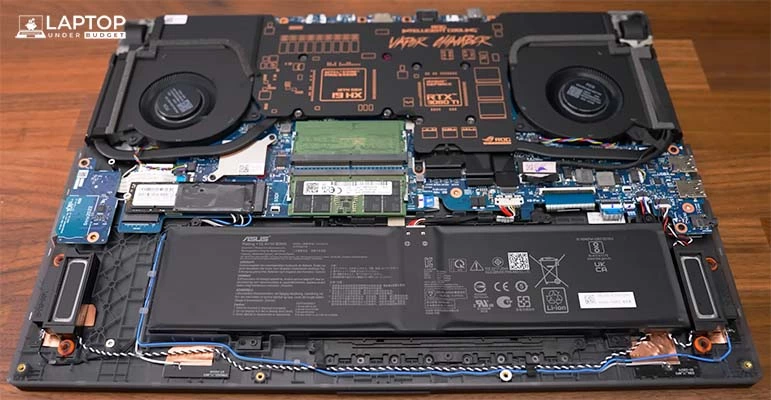 On the storage front, there are two slots, one of which supports PCIe Gen5 technology, allowing users to upgrade to the faster Gen5 drives in the future.
Like most laptops, the CPU and the GPU are soldered to the motherboard, but the Wi-Fi card and battery are replaceable.
Battery Life
The ROG Strix Scar 17 SE is equipped with a 90Whr battery and comes with a colossal 330W power adapter, which is required to power the power-hungry CPU and GPU on this laptop.
Although the battery charging speed is pretty fast, it's not recommended to game on battery on a gaming laptop.
But if you still decide to do so, the laptop will usually last for 60 to 80 minutes while gaming. Under general usage, the laptop will last for around 4.5 hours to 5 hours on a single charge.
If you want a laptop that can last all day long, then the ROG Strix Scar 17 SE is definitely not that laptop. It is a purely performance-oriented machine, and like with any such laptop, it also has to compromise battery life.
Conclusion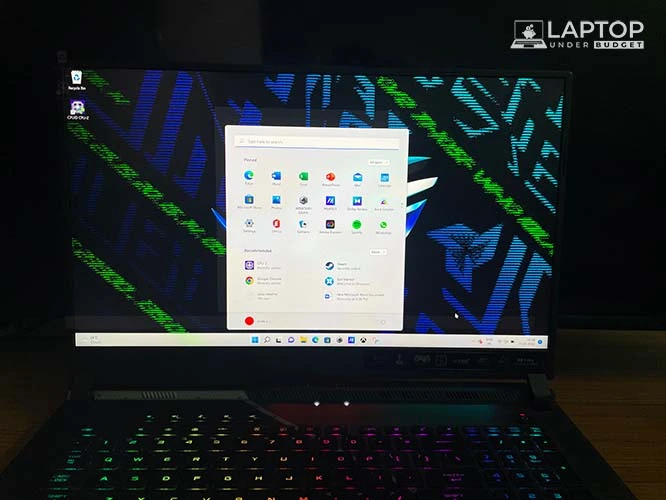 With a retail price that is pretty close to $4000, the ROG Strix Scar 17 SE is not for everyone. It is for those who want absolute cutting-edge technology and top-tier performance in a laptop form factor. While you can build a far more powerful PC for less than the retail price of the ROG Strix Scar 17 SE, you won't be able to carry around that machine as easily as the Scar 17 SE.
Overall, it's an excellent performing device with great thermals and a highly recommended laptop from us to professional gamers, streamers, and content creators.
Asus ROG Strix Scar 17 SE Gaming Laptop
$3,499
Design & Build Quality
4.8/5
Keyboard & Touchpad
4.5/5
Pros
Superb performance
Runs cool under heavy load
Great build quality & design with customizable RGB lights
Amazing display for gaming and content creation
Quad speakers with decent quality audio output
Good connectivity options
Well priced
Cons
No SD card reader
No webcam
Very large and heavy
Average battery life
Advertisement