The 18-inch laptops are all the rage in 2023. All of a sudden, at CES this year we saw many manufacturers launch their all new 18-inch laptops. But aren't the 17-inch laptops too big and bulky already? What's the need for an even larger and heavier 18-inch laptop?
Well, stick with us, as in this guide, we'll discuss everything about 18-inch laptops, who should buy them (and who shouldn't), and what are the best 18-inch laptops available in the market right now.
Advertisement
FUN FACT:
Did you know that the first 18-inch laptop was launched in 2008?
It might seem so that the 18-inch is the newly introduced size for laptops recently. You'll be surprised to know that 18-inch laptops have been around since 2008! The first 18-inch laptop was launched by Acer, and there were also 18-inch laptops available from HP and even an 18-inch gaming laptop from Alienware launched around 2011.
So, what happened to them after that?
Well, they were discontinued because they were too thick and heavy. The 2011 released Alienware M18x gaming laptop was more than 2 inches thick and weighed 17 pounds with its mammoth 4 pounds charging brick! So, it was just a "foldable desktop."
Fast forward to 2023, we have made enough advancements in the computer hardware space to have 18-inch laptops back. And this time, they are of course more powerful but at the same time a lot more manageable as well in terms of weight.
The 2023's best 18-inch laptops are around 1 inch thin and weigh about 9 pounds. That is still heavy compared to other laptop sizes but completely manageable for occasional travels by putting it in the backpack.
However, what you lose in terms of portability, you gain in terms of performance. So, the 18-inch laptops being the biggest laptops, often house the most powerful CPUs and GPUs.
With that said, it's pretty clear now who should buy 18-inch laptops and who should not. If you want the best possible performance on a laptop, then 18-inch laptops are the right choice for you, and if you want a portable, thin and lightweight laptop, then they are not.
While portability and performance are the key factors to decide on if 18-inch laptops are right for you or not, below we have mentioned all the other reasons why you should or shouldn't buy an 18-inch laptop for yourself. Go through them, as they'll help you further in making the right choice.
Reasons to buy 18-inch laptops
Houses the most powerful Intel and AMD HX series CPU and flagship Nvidia RTX GPU.
Offers a large 18-inch display with a lot of screen real estate to work, play or create.
Large chassis means efficient cooling and hence 18-inch laptops can sustain boost clock speeds of powerful CPUs & GPUs for longer time.
You get a lot of ports for connectivity.
Comfortable typing experience with full size keyboard as you get a lot of palm rest area and decently large trackpad as well.
Better upgradeability options compared to smaller sized laptops.
Reasons to avoid 18-inch laptops
Could make long travels cumbersome even in a backpack as you'll be lugging almost 12 pounds of weight (with charger) on your back.
Too large to use from a lap. Unless it's for a few minutes of work, you'll need to put it on a table.
Loud and noisy fans. Since 18-inch laptops house powerful hardware they also have powerful cooling system, which under load make a lot of noise.
Shorter battery life compared to smaller-sized laptops. Since 18-inch laptops have power-hungry CPU and GPU and a large 18-inch display to power, even their large 99 Whr battery pack would last for only a few hours at best.
Based on all the above-mentioned reasons and your requirements, you can decide whether 18-inch laptops are the right size laptops for you or not. If you have decided to go with them, then below are the top 18-inch laptops we recommend buying right now. Go through them one by one and read our reviews to find the one that suits best to your needs.
The Best 18-inch Laptops Right Now
1. Razer Blade 18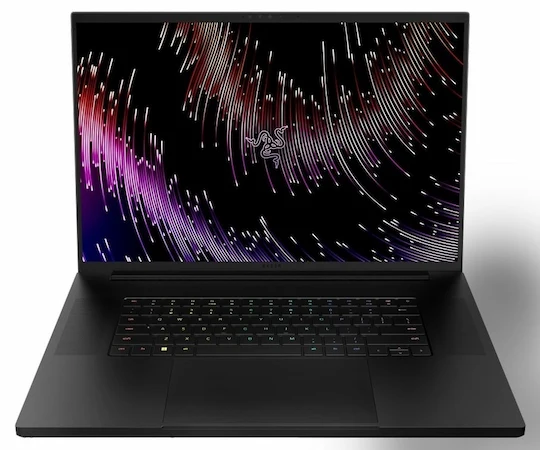 SPECIFICATIONS:
Processor: 13th Gen Intel Core i9-13950HX (24 Cores, up to 5.5 GHz)
Graphics: Up to Nvidia GeForce RTX 4090 (16GB DDR6)
RAM: Up to 64GB DDR5
Storage: Up to 2TB Gen4 SSD
Display: 18-inch IPS QHD+ (16:10) 240 Hz
Weight: TBA
BEST PRICE RETAILERS:
Razer, as we all know, is a brand that focuses on thin and light gaming laptops. Accordingly, their all-new Razer Blade 18 is also one of the thinnest 18-inch laptops you can buy. However, it's still pretty hefty and in no way a thin and light portable gaming laptop. Yet, the build quality and design are still solid and very premium feeling with a CNC-milled aluminum chassis and smooth black finish.
While Razer Blade 18 looks mostly similar from the exterior to the other Razer Blade laptops, pop the lid open, and you'll notice many new changes. Like the all-new 18-inch QHD+ display with a 240Hz refresh rate, which for the first time in the Razer Blade's history, comes with a 16:10 aspect ratio. Also, you wouldn't fail to notice its gigantic trackpad, which is also one of the biggest you'll see any laptop offering. Though the keyboard's layout and design are still mostly similar, the speaker grills are now even fatter as it's housing an all-new 6-speaker THX-powered spatial audio system.
Also, on the sides, you will find almost every port and slot you'd need as a gamer or creator, and it also supports the latest Wi-Fi 6E and Bluetooth for wireless connectivity.
With a starting price of $2,899, the Razer Blade 18, while being premium and thin, is also one of the most expensive 18-inch laptops. However, the build quality and overall feel of this laptop are very premium matching its price tag.
2. Alienware m18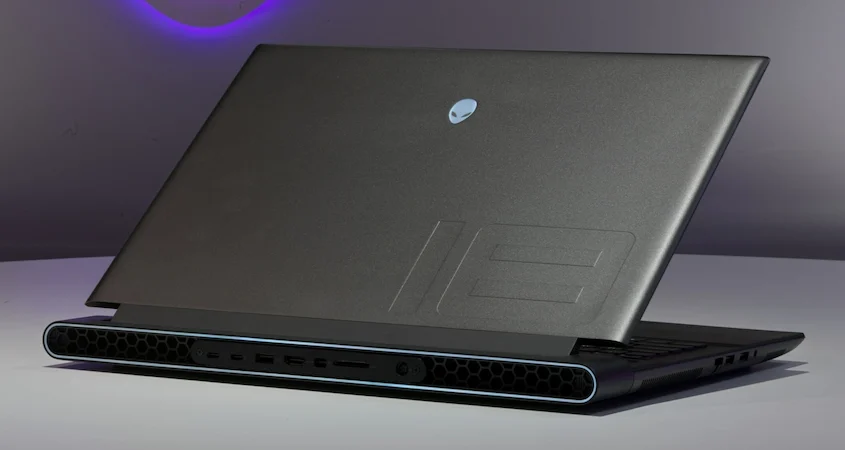 SPECIFICATIONS:
Processor: Up to 13th Gen Intel Core i9-13950HX or AMD Ryzen 9 7945HX
Graphics: Up to Nvidia GeForce RTX 4090 (16GB DDR6) or next-gen AMD GPU
RAM: Up to 64GB DDR5
Storage: Up to 9TB SSD
Display: 18-inch FHD+ 480Hz or QHD+ 165Hz
Weight: TBA
While Razer focuses on thin and light gaming laptops that perform fast and at the same time stay silent, Alienware gaming laptops focus on delivering the best possible performance without any such constraints. So Alienware m18 is neither thin nor, with its hunched back design housing ports and cooling vents of its powerful cooling system, a lightweight gaming laptop.
However, performance-wise, it is a top-notch device as it is powered by the latest and most powerful Intel's 13th Gen HX series of processors and up to the latest Nvidia RTX 4090 GPU with 64GB of DDR5 RAM and a colossal 9TB of SSD storage!
Moreover, there's also Alienware m18 AMD Advantage Edition available, which, as the name suggests, houses AMD's most powerful HX series processors and also the latest AMD mobile GPUs.
With the vapor chamber cooling system, four fans, and large air vents on the side, back, and bottom of the laptop, there's no doubt that this gaming laptop is for those gamers and creators who want uncompromised performance from their laptops.
However, as mentioned earlier, the powerful performance does come with the compromise on portability, and the Alienware m18 is one of the largest 18″ gaming laptops in terms of dimensions (16.15″ x 12.59″ x 1.05″) and one of the highest weighing as well.
Nonetheless, with such high-end performing hardware paired with the large 18-inch display, a large trackpad, and an optional cherry MX keyboard, the m18 is a monstrous gaming laptop that can beat even expensive custom build PCs. And at the starting price of $2,099 for lower-end configurations, it's also relatively affordable to get hold of if you are watching the budget.
3. Asus ROG Strix Scar 18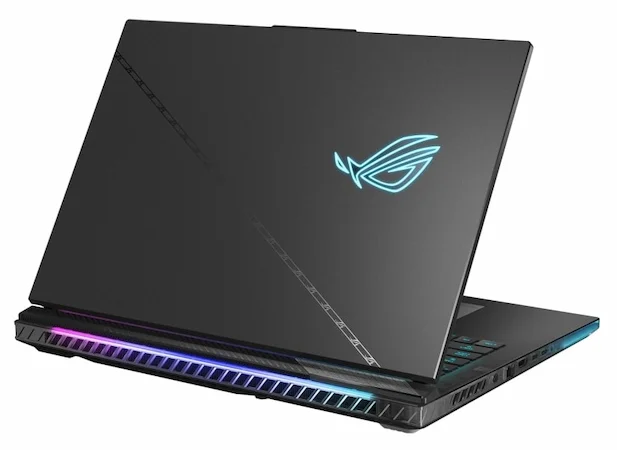 SPECIFICATIONS:
Processor: Up to Intel Core i9-13980HX (24 Cores, 2.2 – 5.5 GHz)
Graphics: Up to Nvidia GeForce RTX 4090 GPU with 16GB DDR6 VRAM
RAM: Up to 64GB DDR5
Storage: Up to 4TB Gen4 SSD
Display: 18-inch Nebula QHD 240Hz IPS display w/ 100% DCI-P3 or FHD 165Hz w/ 100% sRGB
Weight: 6.8 lbs
The Asus ROG Strix Scar 18 is yet another very powerful 18-inch gaming laptop launched this year that houses all the flagship grade specs.
However, what's noteworthy about this laptop is its design. Unlike other manufacturers who just mocked the design of their smaller laptops to make their larger 18-inch versions, Asus has re-engineered the chassis from the ground up.
Like on the new Strix Scar 18, you will find that the back part, which used to house the ports in previous Strix Scar laptops, is now a large exhaust vent for its cooling system. Moreover, Asus has also made sure that the overall footprint of the laptop remains the same as a Strix Scar 17. To achieve that, Asus significantly reduced the bezels around its 18″ display.
Speaking of the display, the Strix Scar 18, also for the first time in the history of ROG Strix Scar laptops, comes with a 16:10 aspect ratio display. You also get two very high-quality display panel options: a Nebula QHD 240Hz panel with 100% DCI-P3 color or an FHD IPS 165Hz with 100% sRGB color coverage.
Internally, as well, the Strix Scar 18 has an all-new Asus Intelligent cooling system with a tri-fan setup, and it also uses liquid metal on both the CPU and GPU.
All these design and hardware changes translate into its flagship 13th generation Intel Core HX series processor and RTX 40 series GPU to run at their highest TDPs for extended periods while also being relatively lightweight than other 18-inch laptops.
That said, the Strix Scar 18 weighs just 6.8 pounds, which is pretty lightweight for a laptop of this size. And, because its overall footprint is also very similar to a 17-inch machine, it will be relatively easier to travel with this 18″ laptop in a backpack.
So, if you want to buy an 18-inch laptop that is lightweight as well as has the best performing specs you can possibly get on a laptop, the Asus ROG Strix Scar 18 should be your choice.
ALTERNATIVE CHOICE: Asus ROG Strix G18 – Budget Option
Asus ROG Strix G18 is another excellent 18-inch laptop from Asus and is a worth considering option especially if you want to save some money. It offers almost similar features as the above mentioned Scar 18 gaming laptop, however, for hardware it tops out at RTX 4080 and maximum 32GB RAM support and 1TB of SSD storage. Though it still offers the flagship Intel Core i9-13980HX 24 core processor and same high quality QHD+ and FHD+ high refresh rate display options.
So if you don't need the power of the flagship RTX 4090 GPU, then the Strix G18 is equally good option at less price.
4. Acer Predator Helios 300 18″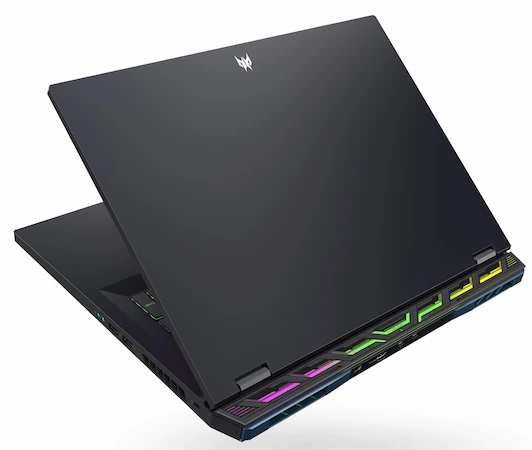 The Acer Predator Helios 18 is also a completely redesigned laptop just like the Asus ROG Strix Scar 18 and at the starting price of $1,699 it is one of the most affordable 18-inch laptops.
Though you won't get the flagship level specs at that price but still competent and powerful enough to get you through almost anything. If you are interested in the top-specced variant, then the Predator Helios 18 tops out at 13th Gen Intel Core i9-13900HX processor and RTX 4080 GPU, which would probably cost around $3000. That's quite expensive but for the price you also get an 18-inch 250Hz mini-LED display with eye popping 1000 nits of brightness and 100% DCI-P3 color coverage.
It is also a very premium feeling laptop in hands as it's built from all-metal, and it has got a customizable RGB lights on the front and on the back of the laptop. What I personally like about the updated design of the Predator Helios 18 is it has got a minimal and understated gaming laptop look so you can easily pass this laptop at work with its RGB lights turned off.
Apart from great design, powerful performance and excellent display, the Predator Helios 18 also has all the ports you will need, and its cooling system is also very powerful with dual AeroBlade fans and liquid metal thermal compound for both its CPU and GPU. So thermally also it is capable enough to optimally run the high-end specs.
With the beautiful customizable mini-LED RGB backlighting on keyboard, large trackpad and a long list of connectivity options, Acer has packed the new Predator Helios 18 to the brim with great features, however, its 7.1 pounds of weight is quite a lot so if portability is on your mind, this is not the right choice.
But if you want to buy an 18-inch laptop that has a high-end CPU and GPU paired to a mini-LED screen, then Acer Predator Helios 18 is the only 18-inch laptop to have that!
Conclusion
These are the best 18-inch laptops available right now. As discussed in the beginning, the 18-inch laptops are for the people who do not want their laptops to be portable but powerful enough to replace their desktops that confine them to be at single place all the time.
Still if you want your 18-inch laptop to be a little portable so that you can move around with it when needed, then Razer Blade 18 and Asus ROG Strix Scar 18 are among the lightest 18-inch laptops available. They weigh less than 7 pounds and still offer the specs that deliver the best performance that you can get on a laptop.
Though if performance is what you are after, we'd recommend buying the Alienware m18. It is the thickest and heaviest among all 18-inch laptops but also the most powerful one.
Lastly if you think that the 18-inch laptops are too big for you, then you can also check out our buying guides to the best 17-inch laptops or the best 16-inch laptops, where also you'll get to see some pretty powerful laptops.
Advertisement