Laptops under $100? Do they really exist? The answer is YES!
We have found some good refurbished laptops that you can snag for the price as low as $100. But are those dirt-cheap laptops really worth buying? If yes, which are the best laptops under $100 right now? Let's find out.
Advertisement
We generally do not recommend refurbished laptops in any laptop buying guides here at Laptop Under Budget, but when you are shopping for a laptop under $100, your choices mostly default to refurbished laptops. Also, you'll have to settle with pretty old laptop models, especially if you are looking for a Windows laptop — not to mention those old models will also run the older version of Windows (XP, Vista, or Windows 7) instead of the latest Windows 10. While that's not a huge problem since most apps and software are backward compatible, however, that may not always be the case. Some of your regularly used apps or some of its functions might not run on the old windows machines available under $100.
You can also consider installing Linux on them. Linux generally runs
better on older hardware
, so you'll be able to get more done on these ultra-cheap laptops using any of the lightweight Linux distros as your primary operating system. However, pulling off that DIY is not everyone's cup of tea.
Generally, Chromebooks are the best option when shopping for a budget laptop. It runs on a Chrome OS, a cloud-based Chrome browser-like operating system that does not require much power to run smoothly. While it doesn't support as many apps or any specialized software as Windows machines, you can run Android apps on most of them.
So, if you want to buy a relatively hassle-free laptop, the one that gets you started with your job without making any extra efforts, then Chromebooks are probably your best bet in this price range. Plus, they also feel fast with everyday tasks compared to Windows laptops.
But, are these ultra-cheap laptops under $100 right for you? And, should you really buy them?
Well, definitely not if you are looking for a laptop to play games or perform complex editing jobs. You'll need a much high-end machine for it.
But let's say you want a laptop for just basic use like checking emails and social media, editing word documents, or streaming videos, then the refurbished laptops available under $100 are definitely worth checking out for you.
But, if you can afford it, buying a new laptop would still be the wiser choice. For not a lot of extra money, you can get a new laptop for yourself — free from all the risks that are usually associated with buying a refurbished product. Not to mention the new laptop would also come with new generation hardware and have better features overall.
Recommended: Top 10 Best Budget Laptops Under $200
But let's say you want to buy your grandparents a laptop who will use it for just basic tasks, or you are buying your kid their first laptop to learn how to use a computer. For such requirements, cheap laptops under $100 are perfect options.
Best Refurbished & Used Laptops Under 100 Dollars – Top Picks
After sifting a lot of refurbished laptop retailers' websites and considering a total of 15 refurbished laptop models and picking the top 8 based on in-depth research, reviews on the internet, and our expert analysis, we think the Samsung Chromebook 3 is the best cheap laptop you can buy for under $100 right now. It offers relatively new-gen hardware in an ultraportable form-factor with a great keyboard, a decent amount of ports, and long battery life. It's also a slightly more robust feeling laptop with most office and web-based tasks compared to other laptops on our list. If you want a Windows notebook, then EVOO 11″ laptop is the one you should get. It's from the new manufacturer, but the features and specs that it offers for the price are remarkable. Moreover, it's among the very few laptops under $100 that comes with the latest Windows 10 operating system.
You can read more on what we like and dislike about our top picks, and check out our other recommendations below. Don't forget to check the return policy and warranty information before you make the purchase.
1. Dell Latitude D630 14.1 Inch Notebook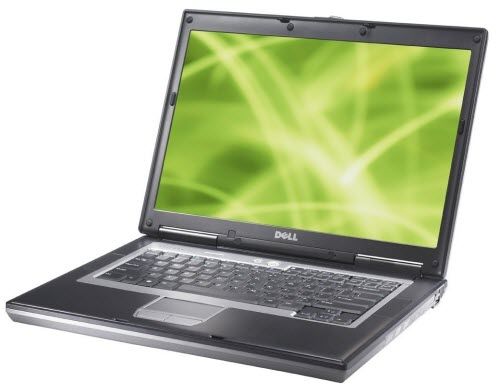 This laptop is a testimonial for Dell that it has been the reliable laptop brand for more than a decade now. The D630 14″ laptop was launched back in 2007, and still, it stands among the best cheap laptops under 100 dollars. That's amazing!
As you can see in the image, the laptop's build quality is excellent, and toughness is everywhere you see on this Dell laptop. Laptops back in the days use to be very thick, and this Dell notebook is also no different. While that thickness does make the device bulky, overall, but it opens up room for more ports, and this laptop actually has a ton of them! From DVD drive, standard USB ports, and an Ethernet jack to even HDMI, vintage VGA ports, and a few more. It has every port you could imagine. However, some of those ports are present on the back of the laptop, which makes it a bit inconvenient to plug -in and -out the peripherals.
Opening up the lid reveals the display, but there's "no trace of a webcam" on it. Access to high-speed internet and video conferencing was still a dream at the time this laptop was launched. However, the display is relatively brighter than other notebooks of its time. You'll be able to work comfortably outdoors under the shade or in a highly lit room with this laptop.
The keyboard, however, is not the most comfortable you'll lay your hands on. It misses out on a dedicated Numpad despite being a notebook targeted towards business users. And, if you've typed on a chiclet-style keyboard before, then you'll also find its layout to be slightly cramped. It's serviceable, though, and I think you'll get used to it with time. If you are a sucker for a good keyboard you should probably look at refurbished ThinkPads. The keyboard on ThinkPads were (and still pretty much are) the epitome of the best laptop keyboards. The trackpad on the D630 is also the same story. It has separate left and right-click buttons, but the actual tracking area is so small, it starts feeling uncomfortable after using it for a while. In my opinion, using the mouse will deliver a much better experience.
Inside, there is a dual-core Intel Core 2 Duo processor, accompanied by 2GB RAM, and for storage, it provides faster than normal, 7200 RPM 80GB hard disk drive. It can handle normal word processing and basic web browsing tasks like checking emails, reading news, or streaming videos, but for anything more than that, this laptop would start showing signs of lag. If you want to extract a little more power out of it, you can upgrade its RAM up to 4GB (its maximum capacity). However, finding a DDR2 RAM module is just as hard as finding a good cheap laptop under $100.
Overall, though, the Dell Latitude D630 is a pretty nice laptop for basic home and business uses.
Hardware Specifications of Dell Latitude D630 Notebook
Processor
Intel Core 2 Duo T7500 Dual-Core 2.2 GHz Processor
RAM
2GB DDR2 RAM (Supports up to 4GB)
Storage
80GB Hard Drive (7200 RPM)
Graphics
Intel Integrated Graphics Media Accelerator X3100
Display
14.1-Inch Screen, 1280 x 800 pixels
Operating System
Windows 7 Professional
Battery Life
3 hours
Weight
5.8 lbs
2. Apple MacBook 13 Mid-2007 (MB062LL/A)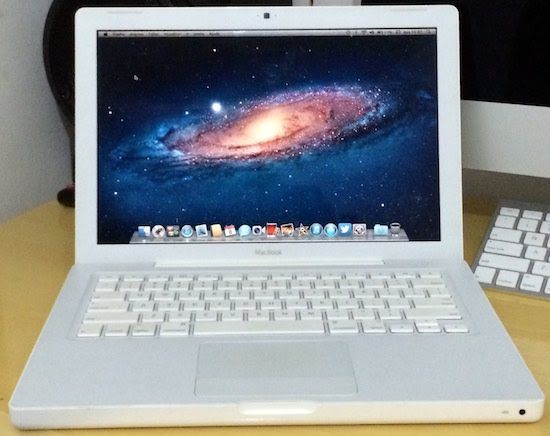 Who doesn't want a MacBook for under $100? Well, you might not be able to buy the latest MacBook with this budget, but a refurbished 2007 MacBook, you surely can.
Being such an old machine, it is still one of the best-looking laptops you can buy for under $100. It features a polycarbonate chassis finished in white color, and its lid has an Apple logo that lights up when you start the computer. The overall stance that this laptop delivers is still highly premium and catches a lot of eyeballs.
Its 13.3-inch display is glossy, and it also does not get bright enough, so while using this laptop outdoors and in highly lit areas, you'll see a lot of reflections. However, if you work mostly indoors, you'll really enjoy working on this laptop. Firstly, its 3:4 aspect ratio is perfect for productivity tasks, and its vividness also makes it an apt notebook to binge-watch Netflix shows.
The keyboard is also one of the best you'll find on a laptop at this price range. It's non-backlit, but the layout is very similar to the new MacBook models, and its keys also feel mostly the same, just it has more travel, and that is always a good thing.
There's no denying the fact that MacBooks have the best trackpad on laptops right now. However, you'll be surprised to know that the trackpad on this mid-2007 MacBook was also way ahead of its time. While most Windows laptops back in the days use to come with a scroll bar on the trackpad, the trackpad on this MacBook supports gesture-based two-finger scroll — a feature that probably every laptop trackpad these days has by default.
As far as the performance of the laptop is concerned, it has an Intel Core 2 Duo processor inside with 2GB RAM and a 120GB hard drive. You'll be able to use this laptop for all sorts of productivity tasks, media consumption, and you can even play a few flash-based games on it. There's not much we can speak about the battery life of refurbished laptops, but a good condition one can make this MacBook last for as much as 4 hours.
With plenty of ports and WiFi and Bluetooth support, this MacBook overall is an excellent productivity machine under $100.
Hardware Specifications of Apple MacBook 13 (MB062LL/A)
Processor
Intel Core 2 Duo T7400 2.16 GHz Processor
RAM
2GB DDR2 RAM
Storage
120GB Hard Drive, 5400 RPM
Graphics
Intel GMA 950 Integrated Graphics
Display
13.3-Inch Widescreen TFT Glossy Screen (1280 by 800)
Operating System
Mac OS X Lion 10.7.5
Battery Life
4 hours
Weight
5.2 lbs
3. Dell Latitude D830 Laptop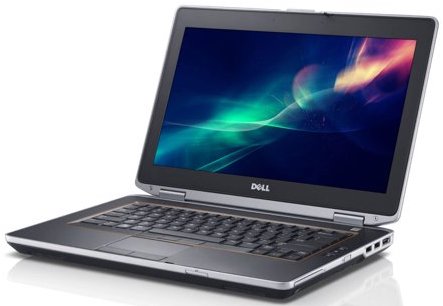 You could probably tell how reliable Dell laptops are by seeing another Dell latitude laptop on this list. The Latitude is a business line of notebooks from Dell (similar to Lenovo ThinkPad), and they generally have better build quality than Inspiron series laptops. This particular model, the D830, is a slightly bigger, better built, and more powerful laptop than the previously mentioned D630 on our list.
To start, it's a 15-inch device with a top and bottom cover made from magnesium alloy and an inner surface made from plastic. The build quality feels like a tank, and there's no noticeable flex on this laptop anywhere. While the keyboard and trackpad feel mostly the same as D630, the display is slightly bigger at 15.4-inches. The display panel in terms of color reproduction and brightness also seems to be the same, though. Not the best you can get in a laptop for the price but serviceable.
Inside, the laptop houses the same Intel Core 2 Duo processor as the previously mentioned D630, but here the processor is accompanied by double the RAM, and it also has a more roomy 160GB HDD. Still, you can't expect this laptop to do wonders when it comes to speed. The laptop will happily run all the basic everyday jobs, but anything that taxes its hardware will slow or freeze this computer.
Connectivity is not a problem on the Latitude D830 as you get a host of ports and slots on both the sides and on the back of the laptop. Plus, it even has Wi-Fi and Bluetooth for wireless connectivity options. However, you'll not find a webcam or built-in microphone on this laptop as well. So, if those are the must-have things for you, then you should probably move on to the next laptop on the list.
So, the Dell Latitude D830 is another great option to consider if you are looking for a Windows laptop in the $100 price range. However, do mind that it runs a very old Windows XP operating system, and it's a very bulky notebook weighing just a little bit less than 6 pounds.
Overall, I think this is the best laptop for Linux fanatics. Its Core 2 Duo processor and 4GB RAM is the perfect hardware combo, in my opinion, to use any lightweight Linux distro as a primary OS on it.
Hardware Specifications of Dell Latitude D830 Laptop
Processor
Intel Core 2 Duo T7500 Dual Core 2.2 GHz Processor
RAM
4GB DDR2 RAM
Storage
160GB Hard Drive, 5400 RPM
Graphics
Intel GMA X3100
Display
15.4-Inch HD Screen, 1280 x 800 pixels
Operating System
Windows XP Professional
Battery Life
2.5 hours
Weight
5.9 lbs
4. EVOO TEV-C-116 11″ Laptop
Best Windows Netbook
If you are ready to shed up to $150, then this EVOO 11.6″ laptop is a much better choice than other Windows laptops mentioned on our list. Firstly, let's talk about the brand because I know many of you have never heard of it. That's true because it's a relatively new laptop manufacturing company, but its parent company is THX —a brand owned by Sony. Still, If I had more money to buy the laptop, I wouldn't choose EVOO as my next laptop. But, if you are on a shoestring budget and you just want a fast feeling and comparatively modern-looking Windows laptop, then this laptop is definitely worth considering.
So, right off the bat, you can tell that this is a much thinner and lighter notebook which is way more portable than those previously mentioned Dell Latitude laptops. It weighs just 3.5 pounds which makes it a great computer for those who travel a lot. Its 11-inch display is also one of the best you will find on a laptop in this price range. While most 11 inch laptops screen support HD (1366 by 768) resolution, this EVOO notebook features a full HD (1920 by 1080) screen. As a result, the display looks extremely sharp. While its peak brightness isn't much to use it comfortably in all lighting conditions and its viewing angles are also slightly off, but when you see it from the front, the display actually looks good, and you'll love watching movies on this laptop since its built-in speakers are also pretty loud. Don't expect it to sound crystal clear at high volumes, though.
As far as performance is concerned, this EVOO notebook has a comparatively newer gen CPU inside. It is powered by an Intel Celeron N4000 processor, which is the processor you'll find in most NEW budget laptops that costs around and under $300. While you can't expect its performance to be leaps and bounds ahead, but it is capable enough to run the latest Windows 10 operating system, and with that, you'll also be able to run the latest version of apps you use every day.
So overall, this EVOO 11″ notebook is a very good contender in this price segment. It's a pretty good package overall for not a lot of money, and we've seen it selling for less than $100 many times, so if you can find one in stock on eBay or any other website, you can actually score a great deal on this cheap netbook. However, before purchasing it (or any other laptop on this list), make sure to check the return policy and warranty information properly.
Hardware Specifications of EVOO TEV-C-116 11″ Laptop
Processor
Intel Celeron N4000 Dual-Core 1.1 GHz Processor (Turbo up to 2.6 GHz)
RAM
4GB DDR3 RAM (Non-Upgradable)
Storage
32GB eMMC
Graphics
Intel UHD Graphics 600
Display
11.6-Inch Full HD LCD Display
Operating System
Windows 10 (S mode)
Battery Life
Up to 9 hours
Weight
3.0 lbs
5. Lenovo ThinkPad Yoga 11e Chromebook
Best For Students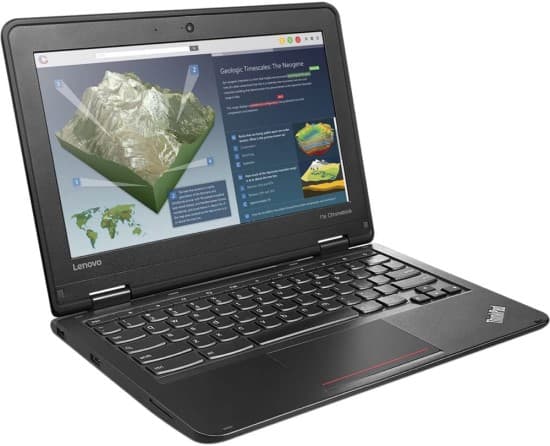 Lenovo's ThinkPad series of laptops has been popular among corporate users and professionals for years mainly because of its security features and reliability. However, the Lenovo ThinkPad Yoga 11e was not targeted towards business people. It was the company's a little weird but wildly successful attempt to create a ThinkPad for school students. It was also the first time Lenovo launched a "ThinkPad Chromebook", and it made complete sense. Chrome OS is a perfect operating system for school goers, and we all know and love the ThinkPad chassis' tank-like rigidity. Plus, Lenovo also threw in a spill-resistant keyboard and made it a Yoga device by adding a touchscreen display and 360-degree rotatable hinges.
It was a perfect device in all the ways, and although it was a bit expensive than the competition, it sold well. But, should you buy one right now?
Well, its Intel Celeron N2930 is quite an old CPU, and although it is paired with a decent 4GB RAM, the storage space that it provides is just 16GB! But, it does come with an SD card slot, so you can use it to extend its storage further or use an external hard drive or Google Drive.
If you are looking for the most powerful laptop under $100, then this is not the one, but you'll still be able to do basic tasks on this machine without any problems. It's still good enough for school kids – its primary target audience, and if you are a writer then you'll enjoy typing on this laptop for long hours as it comes with the same classic ThinkPad keyboard that everybody loves. Plus, its battery life is also pretty long, with up to 9 hours of backup on a single charge.
Hardware Specifications of Lenovo ThinkPad Yoga 11e Chromebook
Processor
Intel Celeron N2930 Quad Core 1.8GHz Processor (Turbo up to 2.1 GHz)
RAM
4GB DDR3 RAM
Storage
16GB SSD
Graphics
Intel HD Graphics
Display
11.6-Inch IPS LED-backlit touchscreen, 1366 x 768 pixels
Operating System
Chrome OS
Battery Life
Up to 9 hours
Weight
3.3 lbs
6. Samsung Chromebook 3
Our Top Pick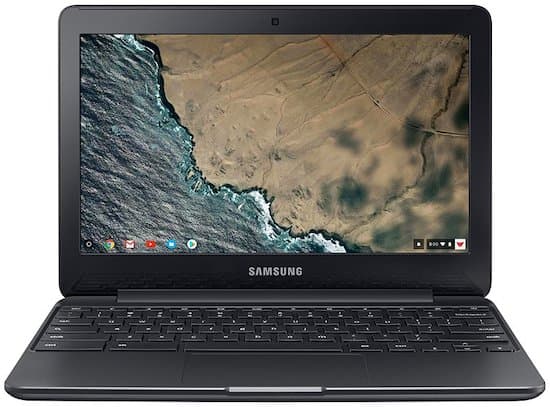 We all try and prefer to buy the most recent laptop model with the newest specs possible while buying the refurbished laptop. The Samsung Chromebook 3 is probably the most recent laptop you can buy for under $100 right now. Accordingly, it comes with a design that looks on par with the newest Chromebooks of 2021, and the CPU inside of it is also probably the most recent one you can get in a laptop for the price.
However, that does not mean you'll be able to game or perform demanding tasks on this Chromebook. The new generation hardware in a refurbished Chromebook like this means that it will be able to handle all the basic everyday tasks a little more efficiently, and therefore it'll also deliver a slightly better battery backup. So, don't be in a misconception that the performance of this Chromebook would be leaps and bounds ahead compared to other laptops present here.
From a design perspective, I really like this Chromebook. Although the Samsung Chromebook 4 is already out and selling like hotcakes, I still prefer the design and the black color option that this old Samsung Chromebook 3 provides. It just makes it look slightly more premium, in my opinion. Touching its textured lid and smooth keyboard deck gives out an expensive laptop vibe. The laptop's form factor is also pretty small since it's an 11-inch laptop, and it also weighs just two and a half pounds, making it one of the most portable devices on the list.
We also love its keyboard's curved keys and its tactility, and its trackpad is also smooth and accurate. However, its keyboard layout is slightly odd. The backspace key is right below the power button, so you might accidentally hit the power button and turn off your device while in the middle of typing an important email or a chat conversation. We also don't like its speakers. The sound that it produces even at peak volume levels is quite low. Not to mention, it also distorts at high volumes. Besides that, the Samsung Chromebook 3 is a pretty solid device. It has a decent amount of ports, and it even has a microSD card slot to increase its low onboard storage. Plus, it offers fast WiFi and Bluetooth connectivity options as well.
The best thing of all, the Samsung Chromebook 3 will receive all the Chrome OS security and features updates until June 2022, so it will be a fit device to use for the next few years. Most laptops present on this list no longer receive updates, so this is one of those few rare gems.
So, the Samsung Chromebook 3 has a lot going for it, and that's why we think it is the best cheap laptop you can buy for under $100 right now.
Hardware Specifications of Samsung Chromebook 3
Processor
Intel Celeron N3060 1.6 GHz Dual-Core Processor (Turbo up to 2.4 GHz)
RAM
4GB LPDDR3 1600 MHz RAM
Storage
16GB eMMC
Graphics
Intel HD 400 integrated
Display
11.6-Inch HD LED with Anti-Reflective Coating (1366 x 768)
Operating System
Chrome OS
Battery Life
Up to 11 hours
Weight
2.5 lbs
7. HP Chromebook 14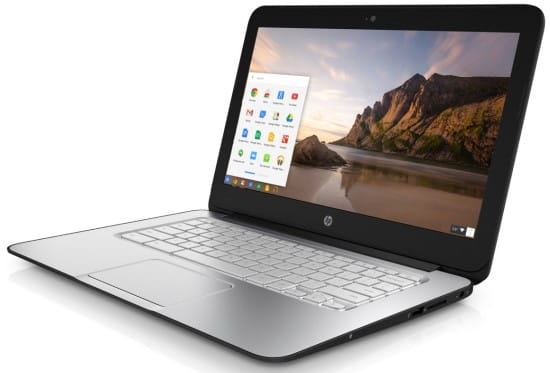 The HP Chromebook 14 is not the most powerful Chromebook available under $100, nor it has the most appealing looking design, but if you prefer working on a bigger display, then this HP Chromebook has a 14-inch display compared to the 11-inches that most cheap Chromebooks in this price range provide.
However, the extra real estate comes with a lot of compromises. To start, the hardware, just like most laptops on the list is very old and only capable of basic tasks. Plus, it has reached the end of the road to receive further Chrome OS updates, so it'll be running an old version of Chrome OS when it reaches you.
Apart from that, its design is also a kind of mixed bag. I hate it because it looks and feels chunkier than its competitors, but depending upon your taste, your views could be different. The build-quality in contrary feels pretty strong. Although, it's made out of plastic, there's no visible flex in its chassis. It's also fairly portable device to take on trips if you prefer to travel light. The keyboard on the laptop is also very comfortable and it would suit the requirements of even prolific writers. Since, this is a 14-inch device, it has more room to accommodate its keyboard and trackpad. The keys are perfectly distanced and you get enough space to rest your palms while typing so if you have big hands there's no claustrophobic feeling which is generally felt on 11-inch laptops.
It even offers all the essential ports and slots. But, it comes with a full-size SD card reader, so when you'll insert a memory card to increase its storage capacity, the card would slightly stick out.
However, considering its price tag of just $90, I think it's still a great value. You can buy this laptop for seniors in your home because the big screen will help them to read the text on the screen easily.
Hardware Specifications of HP Chromebook 14
Processor
Intel Celeron N2955U Dual-Core 1.4 GHz Processor
RAM
4GB DDR3L SDRAM
Storage
16GB eMMC
Graphics
Intel HD integrated graphics
Display
14-Inch HD WLED Glossy TN Screen (1366 x 768)
Operating System
Chrome OS
Battery Life
Up to 8 hours
Weight
4.0 lbs
8. HP Stream 11
Buy New Instead!
If you're a student and looking for a laptop to take to classroom, then the HP Stream 11 is perfect laptop for you. It is an 11-inch lightweight Windows netbook which offers perfect balance of performance and battery backup for normal everyday tasks.
The laptop sports a modern design unlike other models in this list and although, it is made completely from plastic, it is strong enough to resist normal wears and tears. As far as performance goes, this laptop comes with Intel Celeron processor with up to 2.4 GHz burst frequency and 4GB of RAM which can handle routine office and web based tasks. But, it offers just 32GB of eMMC storage which might force users to carry an external hard drive along with them or use cloud storages to save their files and folders.
Thankfully, it doesn't compromise in any connectivity options and comes with fast (802.11ac) WiFi and Bluetooth. Moreover, it also comes with all the required ports and slots including an SD card slot which can be used to increase its inbuilt storage.
Despite its few problems, the HP Stream 11 is one of the best cheap laptops you can under $200 right now. If you can extend your budget we highly recommend you to get this laptop over all other laptops mentioned above. It is portable and packs enough power for basic computing making it right choice for students and businesspeople who are looking for a cheap laptop that lasts them for next 3-4 years.
Hardware Specifications of HP Stream 11
Processor
Intel Celeron Dual Core N4000 Processor 1.1 GHz (Turbo up to 2.4 GHz)
RAM
4GB DDR3L RAM
Storage
32GB eMMC
Graphics
Intel HD Graphics
Display
11.6-inch diagonal HD anti-glare display with 1366 x 768 Resolution
Operating System
Windows 10 Home
Battery Life
Up to 10 Hours
Weight
2.3 lbs
Other laptops to consider if any of the laptops above become unavailable or cost more –
That's all from us. These are the best laptops you can buy for under $100 right now.
Again, these ultra-cheap laptops are not the right choice for advanced users, but if you want a laptop for routine internet-based or office-related tasks, then by buying one of these laptops you could help reduce e-waste on our planet earth.
Though, don't get taken away by it completely, and make sure to buy the laptop from trusted retailers that offer a reasonable return policy and some sort of warranty. Otherwise, you may end up wasting your money.
We hope that this budget laptop buying guide helps you to buy the best cheap laptop under $100 for yourself. Feel free to ask any question that you may have in the comments below.
Advertisement