The Predator lineup is to Acer what the TUF Gaming lineup is to Asus. They pack just enough for them to pass off as decent gaming laptops, but for the best experience, it'll entice you to upgrade to the more premium lineups. The 2021 refresh of the Acer Predator 300 Helios does the same, but the good news is, this time, it's a much better proposition with the Nvidia RTX 3060 under the hood.
Now, I don't know if it's for the Nvidia Ampere graphics or the ongoing chip shortage, but the 2021 Acer Predator Helios 300 is now $200 more expensive than before. However, it still has one of the best price to performance ratios than any other budget gaming laptop this year. The thing is, gaming laptops, in general, have become more expensive this year, and there's nothing that we can really do but talk about them in our reviews.
Advertisement
Nevertheless, for about $1300, the Acer Predator Helios packs a high refresh rate display, a pretty powerful Intel H45 processor, and enough RAM and storage to run and store multiple games on your PC. But the biggest upgrade is the Nvidia RTX 3060, and this is one of the few laptops that actually make the most of this underrated mobile GPU. Overall, it should be a good proposition, right? Well, there are a few niggling compromises that would turn this otherwise good deal sour.
The previous Helios 300 had design faults which, users complained, led to thermal throttling and battery life drain. Have those been fixed? There are certainly some design changes done, but do they address the persisting issue, or are simply facelifts meant to entice. Read our review to find out more —
Price and Configurations
The Acer Predator Helios 300 comes in multiple configurations. The absolute base config actually features the 10th Gen Intel Core i7-10750H, but the rest of the variants sport the newest 11th Gen H45 Intel Core i7-11800H, a powerful processor with eight cores and 16 threads. The difference is primarily in the display and graphics. You can choose between 15.6-inch or 17.3-inch screens (which is massive) with either Full HD or QHD resolution and up to 240Hz refresh rate.
Similarly, both the 15.6-inch and 17.3-inch variants are furnished with a choice of either the Nvidia RTX 3060 or the RTX 3070. Then, of course, are the usual choices in RAM and storage with the option of pairing up to 32GB RAM and 1TB SSD.
That's certainly a lot of options for the end-user, and looking at all the variants, you might get confused. But after looking at the options and reviewing the RTX 3060 variant, we may have found a winner.
Specs as reviewed:
Model Number
PH315-54-760S
Processor
Intel Core i7-11800H Octa-Core (24MB Cache, 2.3GHz – 4.6GHz)
RAM
16GB DDR4 3200MHz in Dual Channel
Storage
512GB PCIe Gen 4 SSD
Graphics
Nvidia GeForce RTX 3060 GPU with 6GB DDR6 Memory (105 – 115W TGP)
Display
15.6-inch Full HD IPS 144Hz Refresh Rate Display (300-nits)
Ports
1x USB 3.2 Gen 2 Type-C Thunderbolt 4 (USB charging)
1x USB 3.2 Gen 2 Type-A
2x USB 3.2 Gen 1 Type-A
1x HDMI
1x Ethernet RJ45
1x Mini DisplayPort
3.5mm Headphone/Microphone Jack
Operating System
Windows 10 Home (Free upgrade to Windows 11)
Battery life
4:30
Weight & Dimensions
5.07 Pound
14.31 x 10.04 x 0.9-inches
Design
The Acer Predator Helios 300 takes away any doubt that this belongs to the Predator series. The design is very similar to other Predator laptops, especially the lid design, and can be identified as an Acer gaming laptop from miles afar. It's not the most outrageous-looking gaming laptop (that crown still rests with Alienware), but there's plenty of design flourishes that are dead giveaways of what this machine is meant for.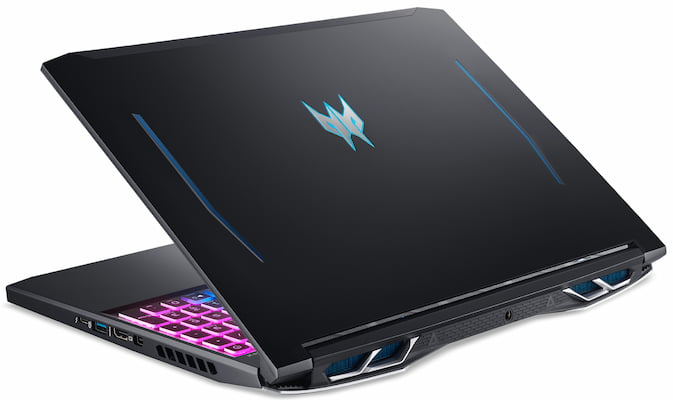 Acer has also cut down on the Predator branding, which was plastered all across in the Helios 300's previous avatar. This time, the Predator name only comes under the display, which is a lot more modest, to say the least. Also, while it may feel like an all-metal-built laptop, there's copious use of plastic in the body. Only the dark black lid is made of sandblasted aluminum with a glowing Predator logo. The palm rest and keyboard deck, also in a dark black finish, and the bottom cover is made out of plastic. This choice of material fails to impress at this price, especially when you can pick up other metal-bodied gaming laptops at this price.
It's also on the heavier side. At 4.85 pounds, the Acer Predator Helios 300 will be a task to carry around, but the weight is actually at par with what most 15.6-inch gaming laptops have to make do. It's also not the slimmest gaming laptop around at 0.9-inches.
The Predator Helios 300 has a large footprint, yes, but that's kind of a good thing for gaming setups that require a lot of room to disperse the heat. Also, despite its plastic build, Acer has strengthened it, rendering very little chassis and lid flex. You can open the lid one-handed, which is a good thing, but certain things point to a lack of attention to detail.
That includes sharp corners in the chassis and gaps in between the chassis and the edge. Add to that a bulky giant-like structure, and the Helios 300 isn't much of a looker. But it sure does perform quite well.
Ports and Slots
My complaints around the build and design vanished when I looked at the I/O panel. They're all arranged on the two sides of the laptop, with the backside only housing the DC-in port for charging. This way, the power cable won't come in the way of gaming, but cluttering the two sides with ports would make that single design choice counterproductive.
On the left, you get an ethernet RJ45 port, two USB 3.2 Gen 1 Type-A ports, the 3.5mm combo audio jack, and a Kensington lock slot. On the right, it features another USB 3.2 Gen 1 Type-A port, a USB 3.2 Gen 2 Type-C port, which doubles up as a USB 4/Thunderbolt 4 port, DisplayPort, and USB PD charging.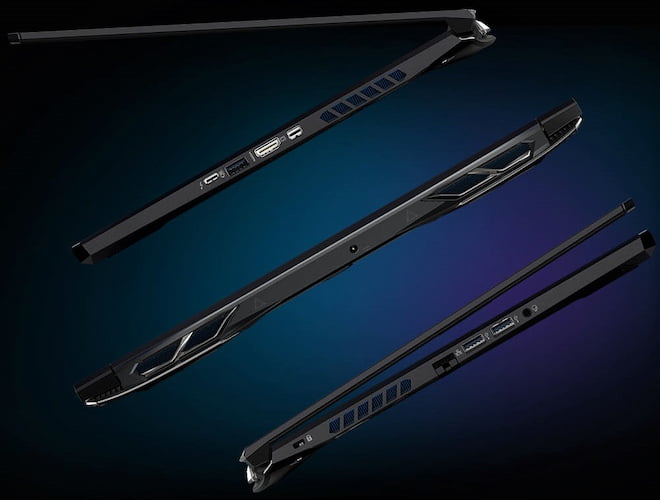 So, as far as the choice of ports goes, Acer hasn't left anything behind. The extensive selection can be leveraged to use this as a creative workstation. But the positioning can be a problem. Like Lenovo's Legion 5 15, it'd be more prudent to transfer the main I/O panel over to the backside where the accessories won't clutter the desk and come in the way of using the laptop.
Display
Like we mentioned before, you can configure the Acer Predator Helios 300 with a QHD or a Full HD display, with up to 240Hz refresh rate, at both 15.6 and 17.3-inches. However, in this variant that we are reviewing, you get a 144Hz Full HD 15.6-inch display, which is good enough for gaming on the RTX 3060 and watching videos and editing content. Anything higher, and the GPU will struggle to make the most of it. The laptop also boasts of 3ms response times, which comes useful in competitive gaming.
It's an IPS LED-backlit display with a 16:9 aspect ratio with thick bezels on each side. On usage, the 144Hz refresh rate makes using the laptop plenty smooth. Scrolling inside a file or a web page simply flows, and I don't know about you, but I certainly feel more productive with a high-refresh-rate display.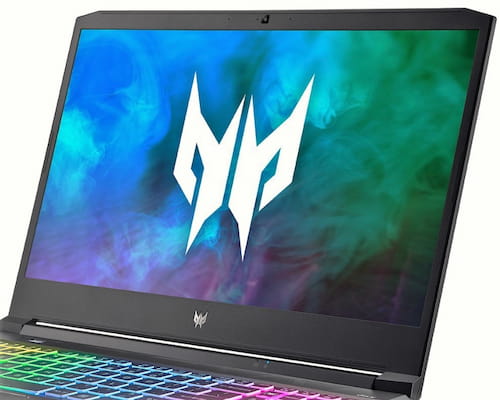 The panel is great for gaming and content consumption. Not quite so for post-production of images since the colors are not 100% accurate. But for everyday use, this is a fantastic panel. The brightness goes up to 300 nits which is decent for gaming laptops. In some scenes, it performed better than the Asus TUF Dash F15 and the Razer Blade 15.
I played the latest Spiderman: Far From Home trailer on the Helios 300, and the red suit of the superhero popped out. There's also very little ghosting in fast-moving frames. This comes in handy when playing fast-paced games like Valorant and Apex: Legends. Visually striking games like Assassin's Creed: Valhalla and dark toned-games like Death Stranding look fantastic on this display. While you'll struggle to hit triple-digit frame rates in these AAA titles, the brightness and color fidelity of the display offers plenty of goodness to enjoy gaming on this laptop.
Keyboard and Trackpad
Coming to the keyboard, the Acer Predator Helios 300 features a four-zone RGB keyboard. The colors are controlled using Acer's PredatorSense app, and you can specify hex codes to each red, green, blue color for the keyboard, creating a personalized effect for each zone. I had mapped the WASD sector with red, the middle GH keys with green, and the number pad with a dark shade of blue, and it looked fantastic. Then again, this stops just short of offering per-key RGB control.
There is also a dedicated hotkey to tune the performance profile. The keys themselves are well-spaced, and it's a full-sized keyboard and includes a number pad. This would be helpful for those who like to use the keyboard to play FIFA or Microsoft Flight Simulator. Frankly, no 15.6-inch gaming laptop is complete without a number pad, and I'm glad Acer made space for one.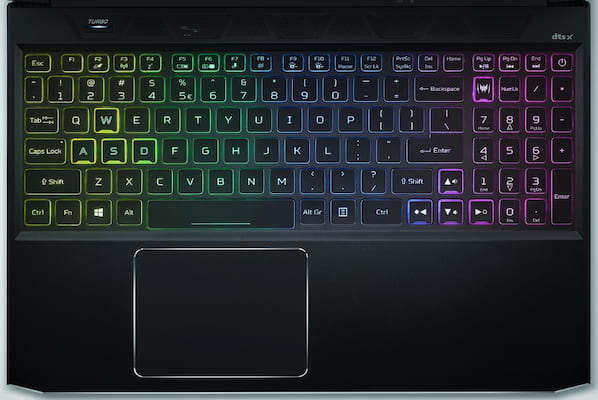 The keys on the keyboard won't give you the satisfaction of a mechanical keyboard, but it packs plenty of punch, offering decent travel and excellent feedback with every press. You can hit a fast typing speed from the get-go, as there's a lot of room for the fingers to flex and sturdy and spacious palm rest. For gaming, the travel is deep enough to tell you the keys are pressed. Acer has also put double borders around the WASD and arrow keys to make them appear more prominent. It also offers full-sized arrow keys, which gamers would appreciate.
The trackpad is sized appropriately for a 15-inch laptop and features a buttonless design, which means the entire surface is clickable. Despite being made of plastic, it offers smooth controls and is easy to use. However, the clicks are a bit stiff, which, while preventing accidental touches, also makes you put extra effort while working. The trackpad does support Windows Precision drivers, so you can handle Windows 10 with two-finger scrolling and the likes.
Audio
In its bid to pack more hardware than your brain can absorb and stuff the spec-sheet, it's the experience of using the Acer Predator Helios 300 that suffers. Take, for example, the audio. On paper, the bottom-firing speakers look impressive with DTS: X Ultra tuning that claims to offer 360-degree surround sound through a pair of headphones or speakers, but in reality, it's totally different.
The twin bottom-firing speakers on the Predator Helios 300 aren't the best and probably the worst you'll get on a gaming laptop. Higher pitches turn into a shrill while vocals don't carry enough weight, and percussions are almost inaudible with other layers of music on top. It's not like there's not much volume, but the speakers are tuned so badly that higher the volume, the worse the quality gets. I listened to "Don't Stop me Now" by Queen, and the vocals sounded shrill and unusually high pitched, especially when the electric guitar kicked in, and I could hardly hear the drums.
Even while playing games, the audio becomes a pain point. The laptop tends to highlight ambient noises in the games more than the dialogues and voices. Needless to say, it's best to either plug a pair of headphones or turn on subtitles while gaming or watching a movie.
There is, however, the DTS: X Ultra app that lets you set presets for games, movies, music, and voice, and switching to one will change the type of sound you hear, but it doesn't make the quality of the sound any better.
Performance – Day to Day Usage & Gaming
To recap, the 2021 Acer Predator Helios 300 features the Intel Core i7-11800H processor across all variants but one, and considering the two extra cores and four threads, and the 10nm SuperFin architecture Intel employed this year, it's a significant upgrade from the 10th Gen Intel Core i7 from last year. However, it's still no match for AMD's latest Zen3 Ryzen 7 and Ryzen 9 processor gaming laptops in multi-threaded performance. But gaming, in general, is a single-threaded activity, and there, the H45 Intel chips just hit it out of the park. In a lot of ways, you'll be grateful for Acer sticking to Intel for the Predator Helios 300 lineup. It's slightly expensive, yes, but you still get the best gaming performance that the Team Blue fans adore.
Paired with the Intel Core i7-11800H is the Nvidia GeForce RTX 3060 with 6GB VRAM, along with 16GB DDR4 RAM and 512GB PCIe M.2 SSD. But it's not because of the Intel H45 processor we're recommending this laptop. It's one of the few laptops launched this year that uses the RTX 3060 at its full 130W TGP, which should deliver more performance than other RTX 3060-powered gaming laptops. Does it do so?
Let's take a look at how the laptop performed in our tests —
CPU Performance
First up, the processor. The Intel Core i7-11800H on the Predator Helios is a powerful chip for single-threaded performance. We started testing with the resource-intensive Cinebench R23 benchmarking software that measures 3D rendering capabilities. Here, the Helios Predator 300 scored 1510 points on single-core and 13632 on multi-core, which is impressive. On Geekbench 5, the CPU scored 1461 on single-core and 8332 on multi-core performance. The numbers are significantly higher than the six-core 10th Gen Intel Core i7 from last year. Compared to its AMD Ryzen counterparts, the Predator Helios 300 scores higher on single-threaded tasks but fails to match the Zen3 cores in multi-core tasks.
Interesting to note is that the Intel Core i7-11800H enables PCIe 4.0 storage, so you can swap out the bundled SSD for a faster one. The Intel chip also supports high-speed Thunderbolt 4 and USB 4.0, which you can use to connect two 4K monitors or transfer data at 3000Mbps.
In the real world, the CPU is mighty fast for the daily tasks of browsing the web, working on Office apps, and the likes. There's enough RAM buffer to keep dozens of Chrome tabs open. The CPU is also good enough to edit 4K videos on Adobe Premiere Pro and take out heavy RAW exports on Lightroom. Although we haven't tested it ourselves, there are Amazon reviews of the laptop claiming good AutoCAD performance as well, so there's lots of scope for professional work on the Predator Helios 300. But, you'll probably get better performance from a similarly specced Ryzen offering.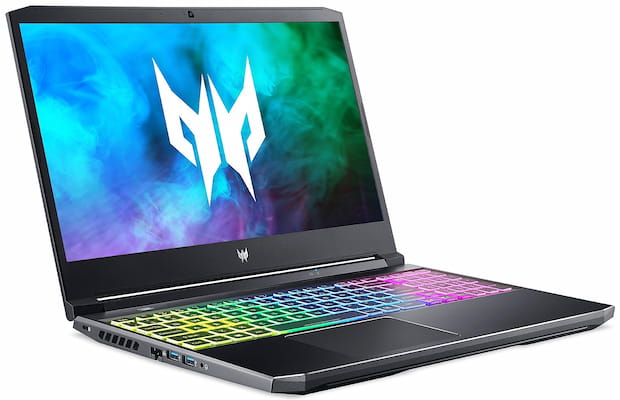 GPU Performance
Last year's Predator Helios 300 came with the Nvidia RTX 2060 Max-Q in the base variant, so the RTX 3060 on this variant is a significant upgrade that allows a lot of room for cranking up the graphics in games. Now there are a handful of budget gaming laptops featuring the RTX 3060 this year, but none of them quite offer what Nvidia claims on its marketing material, mainly because the RTX 3060 on other laptops are underpowered and don't operate at their maximum TGP. The RTX 3060 is rated for 115W TGP, and the Predator Helios 300 is configured to hit 105W, putting those Ampere cores to good use. The result?
The RTX 3060 in Acer Predator Helios 300 just smashes the competition and achieves performance almost similar to the RTX 3070 mobile.
Yep. On 3DMark TimeSpy, which measures DirectX 12 performance, it scored 7986 points which is close to the 100W RTX 3070 on the Asus ROG Zephyrus G15. On 3DMark Fire Strike, which observes 4K DirectX 11 performance, the Helios 300 similarly reached close to the RTX 3070 with 21077 points, where the Zephyrus G15 scored 21705.
Now, does this advantage carry over to the games?
Gaming Performance
It all boils down to this, and for all intents and purposes, the Acer Predator Helios 300 is an excellent gaming machine. The full-powered RTX 3060 is the secret sauce, but the Intel Core i7's superior single-core performance pushes games to achieve high frame rates at maxed-out graphics. We played a few popular AAA titles, and safe to say, if not for the horrible audio, this would have been the best gaming laptop to buy at this price.
Metro Exodus on DirectX 12 and Ultra Preset (RTX off) hit 58FPS, while Red Dead Redemption 2 at Ultra graphics scored 87 FPS on average. Similarly, the highly intensive Cyberpunk 2077 ran at 52 FPS while three-year-old Battlefield V hit 109 FPS.
Now, there's a tiny Turbo button on the keyboard, which, when pressed, maxes out the fan speeds allowing more headroom for the CPU and GPU to crank up. Doing so will drown out whatever audio you could still hear but will improve frame rates by 10-15 FPS.
Competitive games like CS:GO, on the other hand, manage to make full use of the 144Hz display, running at well over 200FPS at High graphics. Enabling the 3ms response times improves in-game flexes a lot, but you sacrifice on ghosting.
Cooling
The Core i7 and the RTX 3060 offer excellent performance, but the downside of Intel offering high performance is high power consumption. So the hardware inside the Predator Helios 300 kind of forces you to use the laptop on the Extreme profile with all fans blazing. If you're gaming at anything under the Extreme profile, you're going to encounter thermal throttling sooner or later. But when the Turbo button is pressed, the Helios 300 does a great job of keeping temperatures in check.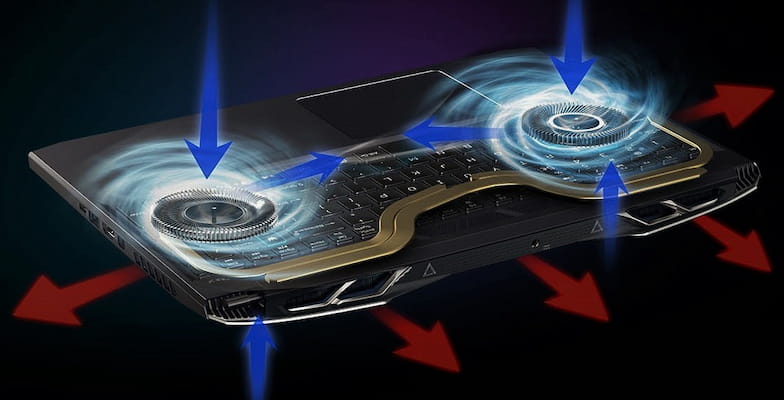 The CPU averaged around 80-90 degrees while the GPU hovered around 60-65 degrees, which are excellent. This comes in handy even when working on creative and technical tasks that require sustained performance for longer.
Upgradeability
Another thing that makes the Helios Predator 300 an excellent laptop for long-term use is how accommodating it is when it comes to upgrading RAM and storage. It unusually supports three internal storage drives that include two M.2 SSD slots and a 2.5-inch HDD bay. Only one is occupied out of the box in this variant, so you can easily max out the storage if you have to store a lot of project files. Furthermore, despite sporting SO-DIMM RAM slots, which keep the memory soldered to the board, Acer makes it possible to upgrade the two DDR slots post-purchase. Out of the box, there are two 8GB sticks, but you can go up to 64GB in dual channel.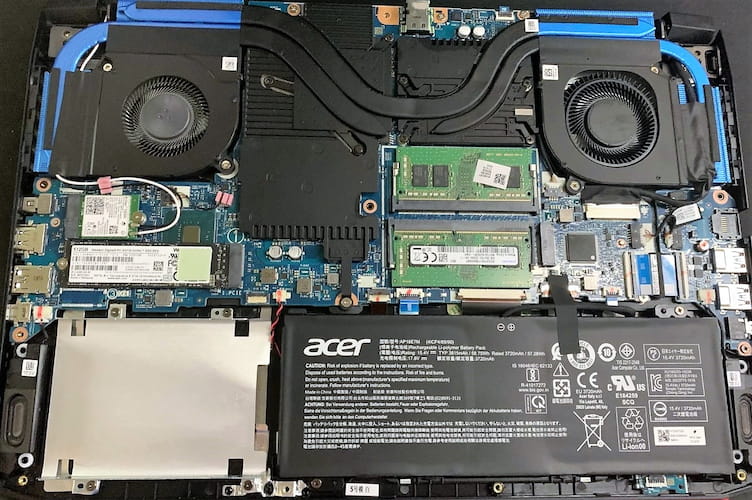 Imagine how many more years you can squeeze out of this laptop with that much room to upgrade.
Battery Life
The downside of having high-performance hardware, as I mentioned earlier, is that it guzzles more power, which leads to faster battery drain. Gaming laptops anyway aren't a champion of battery life, but even with the efficiency gains of 10nm SuperFin architecture, the Predator Helios 300 isn't able to last long. In our usage, the laptop only managed to last around 4 hours 30 minutes, which is much shorter than what gaming laptops usually last. Of course, this doesn't include gaming, for which you would anyway plug in the power cable, but with general use, content consumption, and web browsing, the laptop just guzzles too much power to become a road warrior.
Conclusion
The Acer Predator Helios 300 offers excellent bang for the buck, packing not just the latest gen hardware but also offering enough room for future upgrades. It's a large, bulky machine, mind you and you will not like to carry this outside in a backpack. But at home, with the power cable plugged and perched on a desktop, the Predator Helios 300 just purrs. The higher power limit translates to a real-time improvement in gaming and creative workloads, and an excellent display complements it. The keyboard is also quite comfortable to use, and you get a massive choice of ports. But where you're going to compromise is the audio quality, which is just horrible, and the portability because no one likes to tug around a 5-pound laptop in their bag. At this price, however, there are very few gaming laptops that will offer what the Acer Predator Helios 300 does.
Acer Predator Helios 300 (PH315-54-760S)
$1,299
Design & Build Quality
4.5/5
Keyboard & Touchpad
4.5/5
Pros
Good build quality
Extensive ports selection
Great display for gaming with high refresh rate
Comfortable keyboard with satisfying typing experience
Outstanding performance for gaming and other intensive workloads
Powerful cooling system
Upgradeable RAM, Storage & Wi-Fi card
Cons
Design needs makeover
Display lacks color accuracy
Bad audio from speakers
Fans get very loud under heavy load
Advertisement