As a realtor, having the right laptop makes all the difference in running your busy real estate business efficiently. With so many options and features to consider, picking the best laptop for realtors can be overwhelming. You need a laptop that can keep up with your dynamic work needs – anything less just slows you down.
As a tech writer and laptop expert with over 5 years of experience reviewing hundreds of laptops and understanding the unique needs of real estate professionals, I've done the research for you and narrowed down the top laptops for realtors based on key factors like performance, portability, display, battery life, and other vital features.
Advertisement
This comprehensive guide provides tailored guidance to make your laptop search smooth, focused, and frustration-free. You'll discover laptop recommendations at varied budgets to suit your real estate business needs. Learn what to look for through an in-depth buying guide written specifically for realtors. Even get answers to common laptop questions agents have.
The information equips you to zero in on the absolute best laptop for your real estate goals and priorities. Let's dive in to shortcut your research and uncover the ideal notebook to drive your realtor success.
Best Laptop for Realtors – Reviews & Comparisons
1. Microsoft Surface Pro 9
Best Overall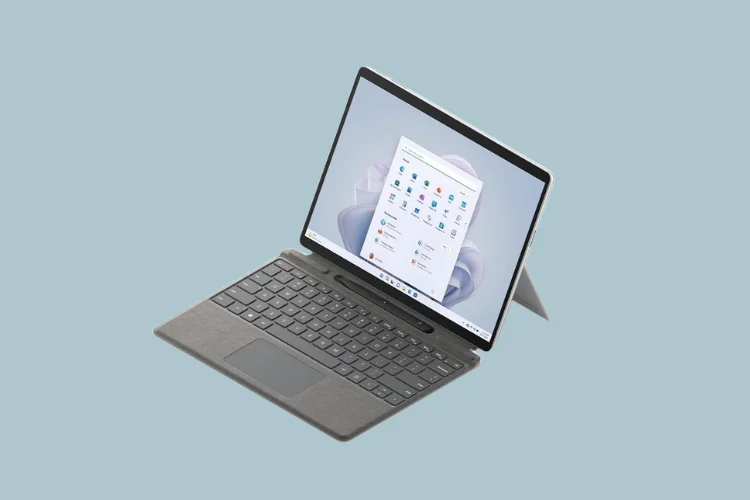 SPECIFICATIONS:
Processor: 12th Generation Intel Core i5-1235U (10 Cores, up to 4.4 GHz)
Graphics: Intel Iris Xe integrated
RAM: 8GB LPDDR5
Storage: 256GB SSD
Display: 13-inch 120Hz Touchscreen with Gorilla Glass 5 protection (2880 x 1920, 100% sRGB, Dolby Vision IQ)
Weight: 3.2 lb
BEST PRICE RETAILERS:
PROS:
Extremely portable 2-in-1 design
Premium aluminum build quality
Gorgeous 13″ touch display with 2K resolution
120Hz screen refresh rate for fluid visuals
Long 10+ hour battery life to work remotely
Keyboard cover & Surface Pen for laptop & writing modes
Fast performance from 12th Gen Intel Core i5 CPU
Dual Thunderbolt 4 ports for quick connections
CONS:
Keyboard cover and Surface Pen cost additional extra
No headphone jack
The Microsoft Surface Pro 9 is our top pick for realtors wanting the best balance of performance, portability, and useful features in a laptop-tablet combo.
This 2-in-1 device works great as both a tablet and a laptop. The signature Type Cover keyboard and Surface Pen (sold separately) transform it into a versatile tool for working on the go.
It is also available with ARM based SQ3 processor with LTE support, but we recommend the Intel-based model for its speedy 12th Gen Core i5 processor and 8GB RAM that handles real estate multitasking with ease. The bright, vibrant 13" touch display looks amazing, showing off home listings with 2K resolution and a 120Hz refresh rate.
At just 1.94 pounds, the slim aluminum body is lightweight for carrying around all day to showings and open houses. Battery life runs 11+ hours for full workdays without plugging in. Dual Thunderbolt 4 ports allow fast connections to accessories and external displays back in your home office.
Lacking an HDMI port and headphone jack limits some functionality. But the Surface Pro 9 still provides an ideal mix of performance, portability, and premium design that makes light work of a realtor's busy schedule. It's a versatile 2-in-1 that eliminates the need for both a separate laptop and tablet.
2. MacBook Air 15
The Best MacBook for Realtors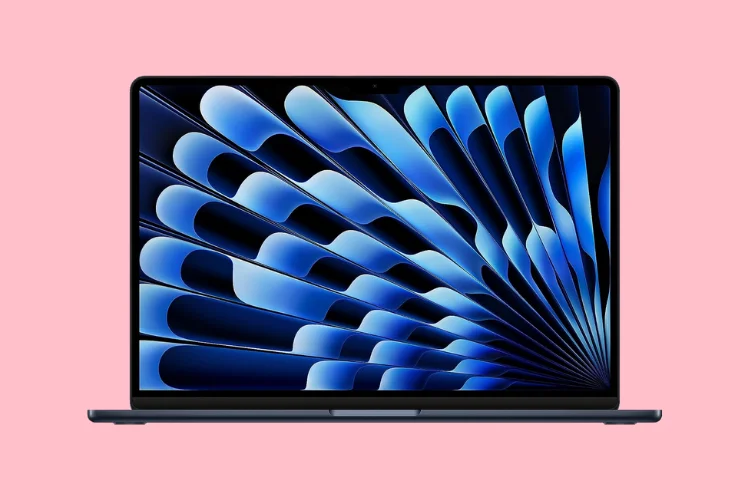 SPECIFICATIONS:
Processor: Apple M2 8 Core CPU
Graphics: M2 10 Core GPU
RAM: 8GB Unified Memory
Storage: 256GB SSD
Display: 15.3-inch Liquid Retina (IPS LED-backlit) with True Tone (2880 x 1864, 500 nits, 100% DCI-P3)
Weight: 3.3 lb
BEST PRICE RETAILERS:
PROS:
Incredibly lightweight and portable at just 3.3 lbs
Powerful M2 chip delivers seamless real estate multitasking
Massive 18-hour battery life to work unplugged
Stunning 15.3" Retina display with 500 nits brightness
Six-speaker sound system produces amazing audio
1080p webcam great for video calls and conferencing
Two Thunderbolt/USB 4 ports offer fast connections
CONS:
Limited to just two Thunderbolt ports so requires adapter for HDMI monitor connections
For realtors who prefer MacBooks, the new MacBook Air 15 hits the sweet spot between performance, portability, and screen size.
The slim, 3.3-pound aluminum chassis makes it barely noticeable when carried for a full day of showings. The Apple M2 chip delivers blazing-fast speed and efficiency for real estate multitasking. You'll also get nearly a full workday of use with the 18-hour battery life.
The 15.3-inch Liquid Retina display is excellent for showcasing listings and media without being cumbersome. While it lacks a high refresh rate, the sharp 2880×1864 resolution looks stunning with 500 nits of brightness.
Video calls come through clearly with the sharp 1080p webcam. And the impressive six-speaker sound system provides room-filling audio for everything from music to video conferences.
Connectivity includes two Thunderbolt/USB 4 ports for speedy connections and charging. Although an HDMI adapter is needed for mirroring to external displays.
With a larger screen than a MacBook Air 13 but more portability than a MacBook Pro 16, the MacBook Air 15 warrants a close look from multitasking realtors.
3. HP Spectre x360 14
Best 2 in 1 Pick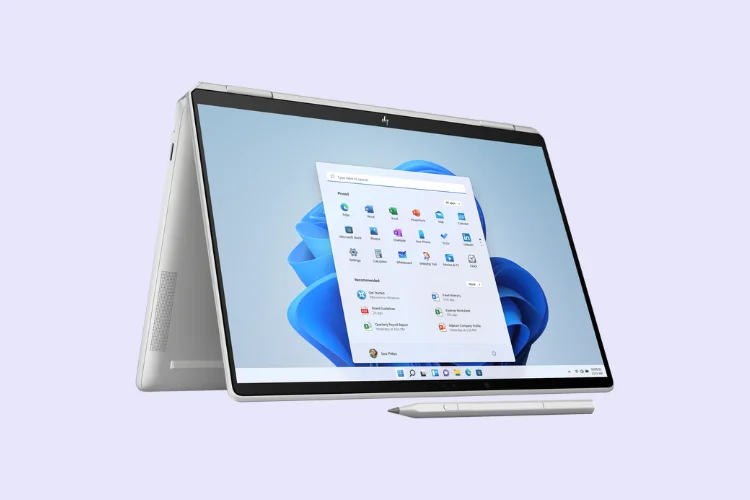 SPECIFICATIONS:
Processor: 13th Generation Intel Core i5-1335U (10 Cores, up to 4.6 GHz)
Graphics: Intel Iris Xe integrated
RAM: 16GB LPDDR5
Storage: 512GB Gen4 SSD
Display: 13.5-inch 3:2 (1920 x 1280) Touchscreen IPS (400 nits)
Weight: 3 lb
BEST PRICE RETAILERS:
PROS:
Stylish gem cut and lightweight 2-in-1 design
Vibrant 13.5" touchscreen with stylus included in the box
Fast performance from the latest 13th Gen Intel processor
Comfortable backlit keyboard and large trackpad
Excellent 5MP Webcam with kill switch for privacy
Value pricing
CONS:
Fingerprint prone aluminum exterior
Requires HDMI adapter for external displays
The HP Spectre x360 14 distinguishes itself as a sleek, versatile 2-in-1, perfect for real estate agents who are often on the go.
Weighing just 3 pounds, this lightweight convertible seamlessly transitions between laptop and tablet modes for showing homes or taking notes. The stylish gem-cut design, with angled corners and edges, delivers standout looks in either mode while the durable aluminum chassis ensures it can take everyday bumps.
Performance comes from a 13th Gen Intel Core i5 processor and 16GB LPDDR5 RAM, handling all real estate tasks and heavy multitasking smoothly. The 13.5-inch bold and beautiful touch screen impresses with its rather unique 3:2 aspect ratio and seamless stylus support for sketching or on-screen interaction.
An excellent keyboard and extra-wide trackpad provide comfortable control while typing emails or creating listing presentations. Immersive Bang & Olufsen speakers deliver powerful, clear audio for video calls and media playback. Convenient Thunderbolt 4 ports allow fast connections to external displays and accessories.
The Spectre x360 14 also packs useful extras like a webcam kill switch for privacy and a microSD card reader. While you'll need an HDMI adapter for external monitor connections, the Spectre still offers excellent wired and wireless connectivity.
With over 9 hours of battery life and weighing under 3.5 pounds, the Spectre x360 14 has the portability for non-stop real estate showings and open houses. For realtors who need a sleek, capable 2-in-1, this versatile convertible deserves a close look.
4. Dell XPS 13 Plus
Best Premium Pick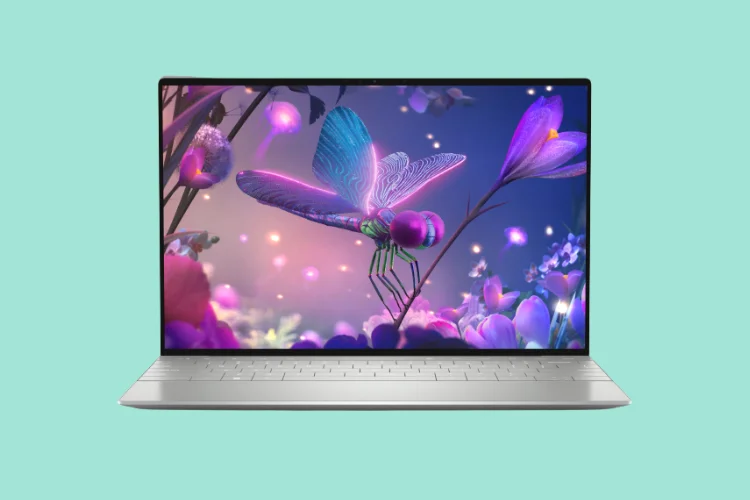 SPECIFICATIONS:
Processor: Intel Core i7-1360P 12 Cores (up to 5 GHz)
Graphics: Intel Iris Xe Integrated
RAM: 16GB LPDDR5
Storage: 512GB Gen4 SSD
Display: 13.4-inch FHD+ (1920 x 1200) Touchscreen (500 nits)
Weight: 2.7 lb
BEST PRICE RETAILERS:
PROS:
Sleek, premium and futuristic design that stands out
Snappy Windows performance with all latest hardware
Nearly bezel-less InfinityEdge touchscreen
Edge-to-edge backlit keyboard with no border trackpad on keyboard deck
Immersive dual stereo speakers
CONS:
Limited connectivity
Expensive compared to rivals
The Dell XPS 13 Plus is a sleek, premium option for realtors who want a lightweight Windows laptop that leaves an impression.
Weighing just 2.7 pounds, the incredibly thin and portable chassis is effortless to take anywhere for on-the-go real estate work. Its futuristic aesthetic features nearly invisible bezels around the InfinityEdge display and edge-to-edge backlit keyboard, creating a captivating, unibody look. Despite the streamlined design, it still delivers ample performance thanks to a 13th Gen Intel Core i7-1360P processor and 16GB RAM that powers through intensive workloads.
The 13.4-inch touch display impresses with 500-nit brightness and 1920×1200 pixel resolution, bringing listings and presentations to life. Convenient ExpressCharge lets you boost up to 80% battery in just one hour, which is helpful for running between showings.
The capacitive touch functions along the top row replace physical function keys for quickly adjusting settings. And dual stereo speakers flanking the keyboard provide robust, immersive audio for calls or media.
Connectivity is limited to two Thunderbolt 4 ports so an adapter hub may be required for HDMI or USB-A accessories. But with its combination of premium aesthetics, portable form factor, responsive performance, and fast charging, the Dell XPS 13 Plus is worthy of consideration for realtors who want a stylish productivity partner that stands out from the crowd. Just be prepared to pack some dongles in your bag.
5. Lenovo IdeaPad 3i 15
Best Budget Pick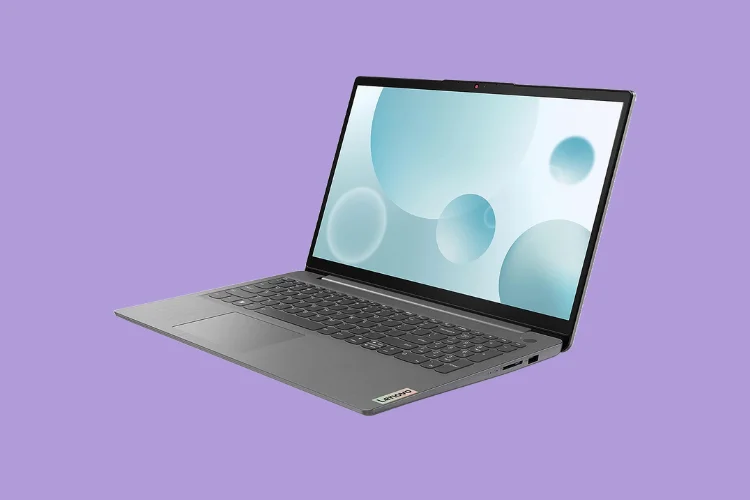 SPECIFICATIONS:
Processor: 12th Gen Intel Core i5-1235U (10 Cores, up to 4.4 GHz)
Graphics: Intel Irix Xe integrated
RAM: 8GB DDR4
Storage: 256GB SSD
Display: 15.6-inch Full HD IPS anti-glare (300 nits)
Weight: 3.7 lb
BEST PRICE RETAILERS:
PROS:
Great mainstream performance
Full port selection including HDMI
Comfortable, responsive backlit keyboard
Lightweight design at 3.6 lbs
Budget-friendly pricing under $600
CONS:
Below average webcam
Plastic build feels less premium
The Lenovo IdeaPad 3i 15 is a budget-friendly choice that still delivers solid performance for real estate pros.
Priced under $600, this mainstream laptop packs impressive value. The Intel Core i5-1235U processor and 8GB DDR4 RAM reliably handle real estate multitasking, documents, browsing and more. The 256GB SSD offers ample storage space for photos, videos and other docs.
The 15.6-inch 1920 x 1080 IPS screen provides good clarity for showcasing listings. While peak brightness tops out at 300 nits, the anti-glare panel works well indoors. Sturdy plastic construction gives the IdeaPad 3i durability while remaining lightweight at 3.7 pounds.
An excellent selection of ports includes two USB-A, HDMI, USB-C, an SD card reader and a headphone jack. No dongles needed! The spacious backlit keyboard with numpad allows comfortable typing to breeze through emails and forms. The responsive trackpad also enhances usability.
Battery life lasts around 8 hours for remote workdays away from an outlet. And Dolby Audio tuning enhances the stereo speakers. While the 720p webcam results in soft video quality, the IdeaPad 3i 15 still delivers an excellent computing experience at a fraction of the price of premium options. For budget-minded realtors, it deserves a close look.
6. HP Pavilion Aero 13
Best Value for Money Pick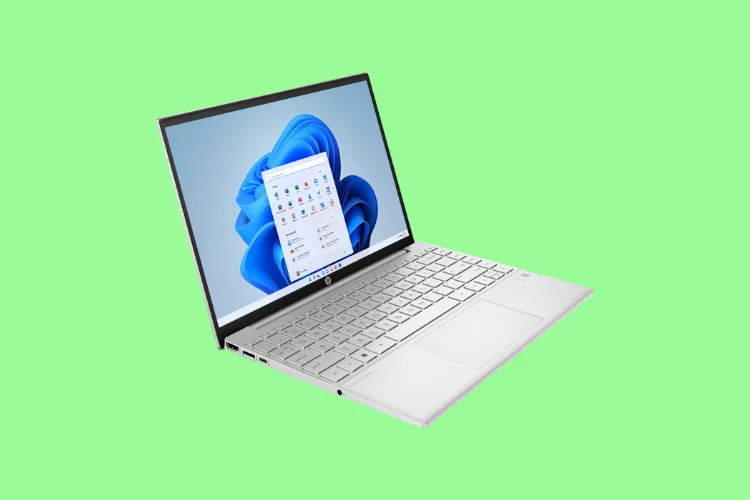 SPECIFICATIONS:
Processor: AMD Ryzen 5 7535U (6 Cores, up to 4.5 GHz)
Graphics: AMD Radeon integrated
RAM: 8GB LPDDR5
Storage: 256GB NVMe SSD
Display: 13.3-inch Full HD+ (1920 x 1200) IPS anti-glare 400 nits brightness
Weight: 2.2 lb
BEST PRICE RETAILERS:
PROS:
Latest AMD Ryzen processor delivers great performance and draws very less power
Good port selection including HDMI
Vivid anti-glare 400 nit display with 100% sRGB color accuracy
Lightweight 2.2 lb aluminum body
Backlit keyboard & glass touchpad
CONS:
Keyboard layout might take time getting used to
720p webcam shows washed out colors
The HP Pavilion Aero 13 delivers an ideal blend of performance, portability and value for real estate professionals on a budget.
Weighing just 2.2 pounds, the Aero 13 is durable aluminum built 13-inch ultrabook that is easy to take anywhere without weighing you down. Battery life is excellent, potentially lasting up to 10 hours for full days away from an outlet. The Ryzen 5 7355U processor and 8GB of RAM provide smooth responsiveness with real estate apps, web browsing and basic daily tasks.
The 13.3-inch 1920×1200 pixel anti-glare display looks sharp indoors and out with 100% sRGB color gamut coverage and 400 nits brightness. It brings visuals to life without being overkill for realty work. Despite the compact size, a good selection of ports includes HDMI, dual USB-A, USB-C and a headphone jack for broad accessory compatibility.
The keyboard's layout may take adjusting to, but it enables efficient typing for emails and forms. The glass trackpad enhances usability, while loud stereo speakers provide immersive audio for media and calls. At under $900, the Pavilion Aero 13 delivers better specs and battery than many premium ultrabooks. For realtors seeking great value without breaking the bank, it hits the sweet spot.
7. Lenovo ThinkPad X1 Carbon Gen 11
The Most Durable Pick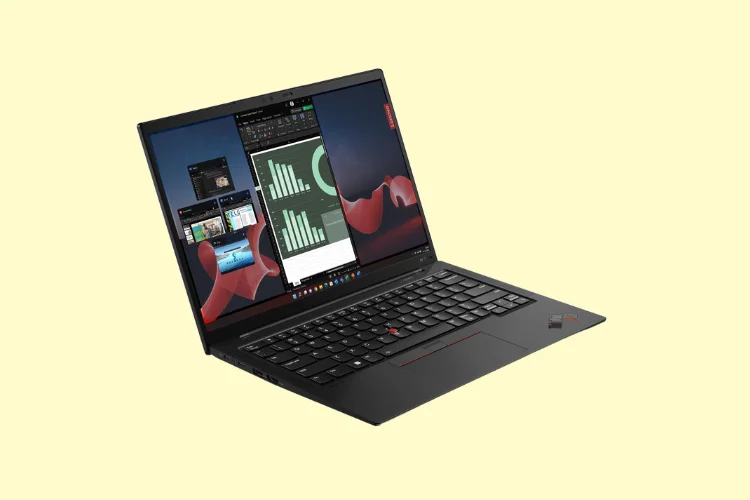 SPECIFICATIONS:
Processor: 13th Generation Intel Core i5-1335U (10 Cores, up to 4.6 GHz)
Graphics: Intel Iris Xe integrated
RAM: 16GB LPDDR5
Storage: 512GB SSD
Display: 14-inch WUXGA 1920 x 1200 IPS LED-backlit Anti-Glare (400 nits, 100% sRGB)
Weight: 2.4 lb
BEST PRICE RETAILERS:
PROS:
Military-grade tested durability and premium lightweight design
Long battery life
Comfortable keyboard with deep travel
Extensive ports selection – Thunderbolt 4, HDMI 2.1 and also 2 USB-A ports
Potent processor with enough RAM and storage for all sorts of real estate business related computing
Bright and vivid 14 display
CONS:
Expensive compared to some ultrabooks
The rugged yet lightweight Lenovo ThinkPad X1 Carbon is built to withstand the demands of mobile real estate work.
Tested against military-grade durability standards, the X1 Carbon's magnesium and carbon fiber construction survives shocks, vibrations, and extreme temperatures that would cripple other laptops. Yet it retains a professional, premium aesthetic at just 2.4 pounds.
With a potent 13th Gen Intel Core i5 processor and 16GB RAM, the X1 Carbon powers through intensive realty apps and multitasking without breaking a sweat. The vivid 14″ 1920×1200 IPS display renders listings beautifully while still being portable enough for nonstop showings.
Convenient Thunderbolt 4 ports allow fast connections to accessories and external displays in your home office. A rarity for an ultrabook, full-size HDMI 2.1, 2 USB-A and 2 USB-C Thunderbolt 4 ports provide expanded connectivity options without dongles.
An exceptionally comfortable keyboard makes typing documents and emails effortless, while the responsive trackpad enhances navigation. And immersive quad speakers deliver impressive audio for calls and media.
Combine 10+ hours of battery life with military-tested durability, and the Lenovo ThinkPad X1 Carbon provides real estate agents the resilience to keep working in the toughest environments while still traveling light. When you need a laptop as hardworking as you are, this is it.
8. Acer Swift X
Best For Real Estate Photography & Editing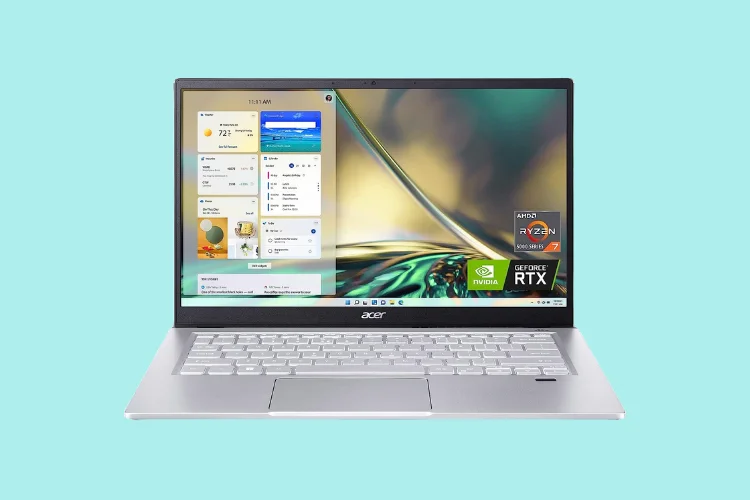 SPECIFICATIONS:
Processor: AMD Ryzen 7 5825U 8 Cores (up to 4.5 GHz)
Graphics: Nvidia GeForce RTX 3050 Ti GPU with 4GB DDR6 VRAM
RAM: 16GB LPDDR4X
Storage: 512GB SSD
Display: 14-inch Full HD IPS (100% sRGB, 300 nits)
Weight: 3 lb
BEST PRICE RETAILERS:
PROS:
Octa core AMD Ryzen processor and dedicated RTX 3050 Ti GPU handles creative work well
Lightweight aluminum chassis
14-inch display is highly color-accurate
Good ports selection
Affordably priced under $1000
CONS:
Display's peak brightness is 300 nits only
Keyboard keys don't travel deep for satisfying typing
The Acer Swift X is our recommended laptop for real estate agents who need a lightweight notebook that is able to handle photo and video editing.
Inside its portable 3.1 pound aluminum chassis lies capable, creative performance from a powerful Ryzen 7 5825U octa-core CPU and RTX 3050 Ti GPU with 4GB dedicated graphics memory. These powerful specs can handle all your real estate image and video production needs easily.
Its 14-inch Full HD IPS display reproduces photos in crisp detail and accurate color, covering 100% sRGB. While the 300 nit brightness only suits indoor use, the screen is still great for editing and processing listings media.
A generous 512GB SSD comes standard for storing huge amounts of real estate photos and videos smoothly. Its backlit keyboard's keys do not travel deep enough to my liking, which impacts typing comfort. But the touchpad provides precise control for creative work and its fingerprint reader is also quick with Windows logins.
The Swift X also packs a decent port selection, including HDMI and USB Type-A. The lone USB-C port lacks ideal Thunderbolt support but can still handle fast data transfers. At under $1000, the Acer Swift X delivers exceptional creative performance for realtors without breaking the bank. For agents and brokers who want to leverage the power of social media by publishing photos and videos to attract potential clients, it deserves a close look.
9. Acer Chromebook Spin 714
Best Chromebook Pick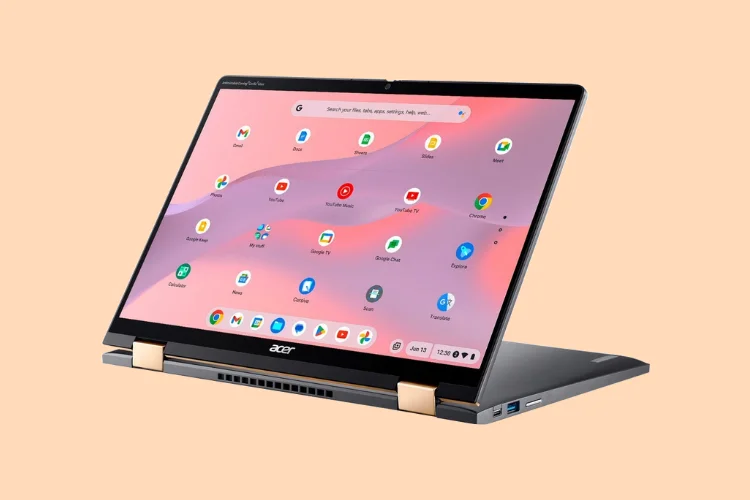 SPECIFICATIONS:
Processor: 13th Gen Intel Core i5-1335U (10 Cores, up to 4.6 GHz)
Graphics: Intel Iris Xe integrated
RAM: 8GB LPDDR4X
Storage: 256GB SSD
Display: 14-inch IPS Full HD+ touchscreen (340 nits, 100% sRGB)
Weight: 3 lb
BEST PRICE RETAILERS:
PROS:
Svelte & durable aluminum design
Hardware runs lightweight Chrome OS and apps on it fluidly smooth
Responsive and beautiful 14-inch touchscreen
Great selection of ports
Full day battery life
CONS:
Display's brightness is slightly limiting but anti-glare coating helps
Keyboard has shallow travel
Chrome OS has limited functionality compared to Windows
The premium Acer Chromebook Spin 714 provides an excellent Chrome OS experience for real estate agents seeking lightweight productivity.
Encased in a durable aluminum exterior, this 2-in-1 convertible weighs just 3.1 pounds for easy portability between meetings and showings. The powerful Intel Core i5 processor and 8GB RAM deliver snappy performance for multitasking with listing management software, documents, and other apps.
The 14-inch 1920×1200 touchscreen display is also beautiful, with 100% sRGB color accuracy indoors. At 340 nits brightness, outdoor visibility is limited but workable with the anti-glare panel. An ample 256GB SSD offers substantial storage capacity for Chromebooks.
You get a well-rounded selection of ports, including dual Thunderbolt 4, USB Type-A, HDMI, and a headphone jack. The keyboard may feel cramped with shallow travel. But the glass trackpad provides smooth and responsive navigation.
With machined aluminum construction, a bright 14″ screen, and over 10 hours of battery life, the Acer Chromebook Spin 714 provides an excellent balance of build, portability, and features for realtors who can work within Chrome OS limitations. It delivers a premium Chromebook experience without the budget plastics.
Now that we've covered laptop recommendations tailored for real estate professionals let's look at key factors to consider when picking out the perfect realty laptop.
The Laptop Buying Guide for Realtors and Real Estate Agents
As a tech writer, I've evaluated hundreds of laptops across brands, models, and specs. I also understand the unique technology needs of real estate professionals. This guide draws on my expertise to recommend the ideal laptop features for realtors and agents based on how you use laptops in your daily work.
Performance: Handling the multitasking demands of real estate requires abundant processing muscle and RAM. Prioritize laptops with the latest 13th Gen Intel Core i5 or i7, or 7000 series AMD Ryzen 5 and Ryzen 7 processor and at least 16GB RAM. This provides the smooth, uninterrupted experience you need when hopping between apps and browsers.
Storage: With all the home photos, videos, documents and files you amass, ample SSD storage is a must. Look for 512GB or greater SSD options to store your growing libraries and media. Some laptops also allow expanding storage.
Connectivity: Reliable wireless connectivity ensures you stay productive wherever your work takes you. Select laptops featuring the latest Wi-Fi 6 and Bluetooth 5 standards for top speeds and connectivity with other devices. LTE options also bring cellular connectivity.
Portability: Real estate demands extreme portability to work on-site or at home offices. Ultraportable laptops under 3.5 lbs with slim profiles keep weight down. Battery life of 10+ hours gives you flexibility when away from outlets.
Display Quality: Vivid, high-resolution displays create immersive presentations for your clients. Prioritize 1080p or 4K screens at least 14″ in size, touch screens for convenient navigation, and excellent color reproduction and brightness.
Durability: Your laptop will be on the move daily to home showings and networking events. Models made of aluminum or carbon fiber withstand the demands of frequent use. Extended warranties bring added protection.
Choosing the Right Operating System for Realty Laptop
When selecting a real estate laptop, one key decision is which operating system best fits your workflow and needs:
Windows: The most ubiquitous OS with wide app compatibility and affordable price points. Great for realtors who rely on Windows-only software and want the ability to choose from a wide range of laptop brands and models. Key downsides are a higher risk of viruses and a more complex interface.
MacOS: Brings seamless integration for iPhone users and arguably simpler interface. Great for realtors who value design and client presentations and are already invested in the Apple ecosystem. But more expensive and limits hardware flexibility.
Chrome OS: Excellent for realtors who just need a browser-focused workflow contingent on internet connectivity. Secure, affordable devices with long battery life. However, functionality is limited outside of web apps, and Android app support needs to be more consistent.
Consider your budget, required software/apps, and comfort with different interfaces to decide the best OS for your realty role. For many, Windows provides the best balance of app support and affordability.
Laptops vs Tablets for Real Estate Agents
Laptops offer more power and multitasking capabilities for intensive real estate tasks like handling large MLS databases, analysis, and presentations with dedicated keyboards. Tablets provide superior portability and touchscreens but may require add-ons for keyboard and mouse needs.
For realtors constantly on the move showing homes, tablets like the iPad Pro can provide a great supplemental mobile device while having a primary laptop back at the office for administrative work. Evaluate your mobility needs and software requirements to decide if a tablet warrants consideration in addition to your laptop.
Conclusion
Finding the perfect laptop tailored to your real estate needs can be challenging with so many options to choose from. In curating laptop recommendations for realtors, we focused on portability, battery life, and performance features that make a real difference in your day-to-day work.
The Microsoft Surface Pro 9 topped our list with its lightweight detachable design and power for seamless productivity on the go. For Mac users, the MacBook Air 15 balances a larger screen with ultraportability. And realtors who need to edit photography and video for listings would thrive with the Acer Swift X and its graphics capabilities.
Ultimately, the right real estate laptop depends on your budget, brand preference, and any specialized needs around software, portability or media creation. Use this guide as a starting point, then zero in on models with the specs, capabilities and price-points that best fit your realty role. The laptop out there that streamlines your business is waiting to be found!
Related Guides:
Advertisement