While gaming PCs still remain the absolute best option for serious and hardcore gamers, gaming laptops have improved tremendously over the years and narrowed the gap between PCs and laptops in terms of performance and overall gaming experience. With so many options now available in the $2500 and under budget range, you may feel overwhelmed by the sheer number of gaming laptops on the market.
As PC gaming enthusiasts with over a decade of experience reviewing and recommending gaming laptops, we've explored today's gaming laptop offerings in depth. We've assessed different models and hand-picked the best gaming laptops under $2500 based on critical performance benchmarks and real-world testing data.
Advertisement
In this definitive guide, we'll share our top recommendations to fit both casual and competitive gamers' needs and budgets. We'll also provide an in-depth buying guide exploring key factors like GPU, CPU, display, battery life, and more so you can find your perfect gaming laptop with confidence. Let's dive in!
Best Gaming Laptops Under $2500 – Reviews & Comparisons
1. Asus ROG Strix G16
Best Overall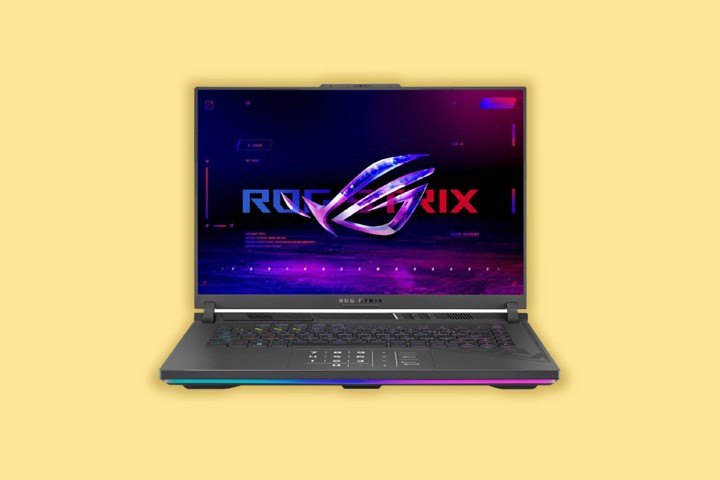 SPECIFICATIONS:
Processor: Intel Core i9-13980HX 24 Cores (8P + 16E, Turbo up to 5.6 GHz, 36MB Cache)
Graphics: Nvidia GeForce RTX 4070 (8GB DDR6 memory)
RAM: 32GB DDR5
Storage: 1TB PCIe SSD
Display: 16-inch 240Hz QHD+ IPS Anti-Glare (Up to 500 nits, 100% sRGB)
Weight: 5.5 lb
BEST PRICE RETAILERS:
PROS:
Strong gaming performance (Core i9 & RTX 4070)
Ample 32GB RAM and 1TB SSD
Powerful thermal system for cooling
High-refresh, color-accurate 240Hz display
Very good and durable build quality
Good RGB implementation
Good battery life for a gaming laptop
CONS:
RTX 4080 would have been better
Chunky and relatively thick design
The Asus ROG Strix G16 strikes an ideal balance of performance, features, and value for under $2500. With its premium yet understated aesthetic, capable internals, and surprisingly long battery life, it is the best laptop you can get in this price range right now.
Clad in aluminum and plastic, the sleek Strix G16 still retains a durable, premium feel thanks to its sturdy metal lid and hinge. While on the chunkier side with 1.2-inch thickness, its 5.5-pound weight is respectable for a 16-inch gaming machine. The minimalist gray colored lid brandished only with a subtle ROG logo allows this laptop to maintain a lower profile without aggressive gamer styling.
It's available with an Full HD+ 165Hz display as well, but you'll want to choose the variant with a 16-inch, 240Hz QHD+ display for the best visual experience. While not boasting mini-LED backlighting or HDR as its pricier sibling Asus ROG Strix Scar 16, the G16's screen provides vivid colors covering 100% of sRGB and ample brightness, reaching 500 nits for gaming anywhere.
Outfitted with Intel's flagship i9-13980HX CPU, an Nvidia RTX 4070 GPU, 32GB of DDR5 RAM, and a 1TB SSD, the Strix G16 packs a serious punch for both gaming and creative workloads. While just shy of top-tier RTX 4080 graphics, the 4070 still delivers high FPS 1440p gaming at maxed settings. Also with both the latest 13th Gen Intel CPU and RTX 40-series GPU, this laptop remains future-proof and ready for upcoming AAA titles.
Its backlit keyboard allows per-key RGB customization for style points, while the large glass touchpad provides a smooth and accurate pointing experience. Two bottom-firing speakers pump out surprisingly loud, full audio. Port selection, including HDMI, Ethernet, USB-A, and Thunderbolt 4 Type-C, also checks all the boxes for connectivity required in the gaming laptop.
With capable performance, a vivid display, and a subtle premium design, the Asus ROG Strix G16 stands tall as a versatile, high-end laptop ready for both work and play. For under $2500, it hits the sweet spot across both features and power.
2. HP Omen 17
The Best GPU at This Budget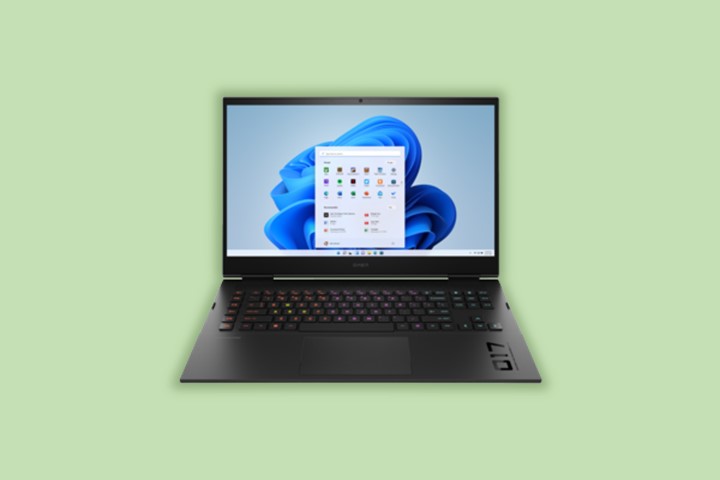 SPECIFICATIONS:
Processor: Intel Core i7-13700HX 14 Cores (8P + 8E, Turbo up to 5 GHz, 30MB Cache)
Graphics: Nvidia GeForce RTX 4090 (16GB DDR6 graphics memory)
RAM: 16GB DDR5
Storage: 512GB PCIe SSD
Display: 17-inch 240Hz QHD (Max 300 nits brightness)
Weight: 6.2 lb
BEST PRICE RETAILERS:
PROS:
Exceptional GPU (NVIDIA RTX 4090)
Clean design makes it suitable for work
Large and immersive 17.3-inch high refresh rate display
Customizable per-key RGB lighting
Diverse port selection
CONS:
Display could be brighter
Hinge is not very sturdy
The HP Omen 17 packs a punch with Nvidia's flagship RTX 4090 GPU, the most powerful graphics card available in a laptop today. For gamers wanting no compromises on FPS and visuals, the Omen 17 is the best 17-inch gaming laptop under $2500 delivering top-notch gaming performance.
Encased in a professional, minimalist chassis, the Omen 17 avoids ostentatious gamer aesthetics. Only a subtle logo adorns the plastic lid, while the aluminum interior keeps a low profile. Despite its large dimensions and hefty 6.2 pound weight, the laptop's clean, uniform design won't attract unwanted attention in professional settings. One downside, though, is its matte exterior easily collects fingerprints and requires constant cleaning.
The 17.3-inch QHD display with 240Hz refresh rate is buttery smooth, perfect for appreciating the RTX 4090's capabilities. Visuals of latest AAA games at high frame rates look beautiful on it, thanks to the vibrant IPS panel. At 300 nits brightness, it may not be ideal for outdoor use, but you won't be moving with your 17-inch gaming laptop around frequently anyway. However, the display lid does have a bit of wobble due to loose hinges, so opening and positioning the screen takes some care.
Complementing the top-tier RTX 4090 GPU is Intel's 13th Gen Core i7-13700HX CPU. While not quite the flagship i9, the i7 still provides reliable power for gaming without bottlenecking the 4090. And its 16GB of DDR5 RAM and a 512GB SSD storage round out the specs well for the price, with an option to upgrade both if required.
Its RGB backlit keyboard allows per-key customization and is responsive with key presses. One oddity is the column of macro keys along the left side, which are prone to accidental presses when pressing shift, tab or control key. The touchpad, on the other hand, glides smoothly, although the clicks feel a bit soft. And its speakers are also average at best.
But the Omen 17 does offer a diverse port selection with HDMI, mini DisplayPort, Ethernet, multiple USB Type-As, and Type-C with Thunderbolt, delivering solid connectivity. There's also an SD card reader, which is convenient for media workflows.
Overall, the HP Omen 17 can't be beaten for its uncompromising power. The RTX 4090 GPU for under $2500 is just unbelievable. No wonder why HP laptops are known as value kings in the market.
3. Razor Blade 14
The Most Compact & Lightweight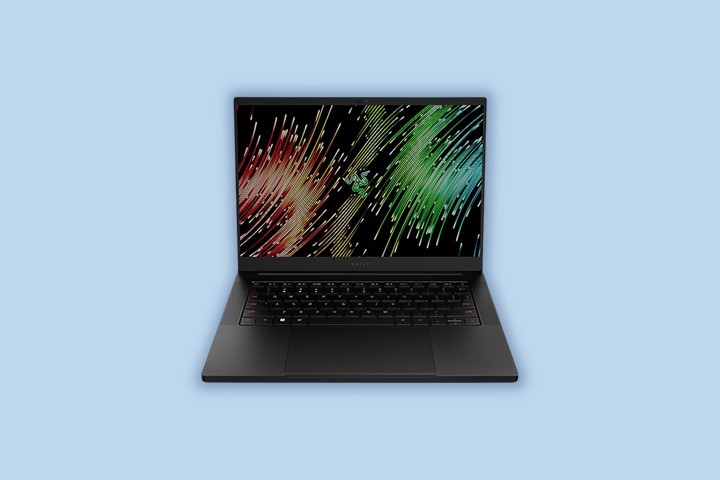 SPECIFICATIONS:
Processor: AMD Ryzen 9 7940HS 8 Cores (Up to 5.2 GHz)
Graphics: Nvidia GeForce RTX 4060 (8GB GDDR6 memory)
RAM: 16GB DDR5 (5600MHz, Upgradable to 64GB)
Storage: 1TB SSD (Expandable up to 4TB)
Display: 14-inch 240Hz 16:10 QHD+ (Up to 500 nits, 100% DCI-P3)
Weight: 4 lb
BEST PRICE RETAILERS:
PROS:
Powerful processor and graphics in a portable package
Durable all-aluminum build with subtle design
Excellent 16:10 14-inch display that's great for both work and play
Tactile keyboard with great key travel & responsive and spacious touchpad
Good battery life
Impressive speakers
CONS:
Expensive for the specs that it offers for the price
The remarkably portable Razer Blade 14 packs a punch in a compact, durable aluminum chassis weighing just 4 pounds. Don't let its slim size fool you – this lightweight powerhouse breezes through demanding games and creative workloads.
Unlike many gaming laptops, the Blade 14 opts for an all-metal build that feels sturdy yet effortlessly mobile. Its understated look avoids aggressive gamer styling, save for the glowing green Razer logo. With a larger 16:10 aspect ratio display, it feels more expansive than typical 14-inch laptops.
That 14-inch IPS screen also impresses with a sharp 2560 x 1600 resolution and smooth 240Hz refresh rate. It's also a highly color-accurate panel covering 100% of DCI-P3 for immersive gaming and content creation. Its bright 500-nit peak brightness enables outdoor use, but it has a glossy panel, meaning you might have to deal with glare sometimes.
Its AMD Ryzen 9 7940HS processor and RTX 4060 GPU provide reliable performance for AAA gaming and general multitasking. While not the most powerful for the price, the processor is highly efficient and aids battery life considerably. With 16GB DDR5 RAM and a roomy 1TB SSD storage, you'll have room for plenty of games and media.
Despite its small size, the Razer Blade 14 retains a comfortable keyboard with satisfying travel. The large clicky touchpad also defies the compact form factor. Audio quality remains strong with loud, crisp speakers that put many larger gaming laptops to shame.
Connectivity is also impressive for a 14-inch laptop. It offers HDMI, two USB-A, two USB-C, a headphone jack, and a charging port. I would have liked to see an SD card reader, but the port selection covers the essentials quite well.
All in all, for such a highly portable machine, the Blade 14 nails the fundamentals. So, if you crave serious gaming power in a supremely portable form factor, the all-aluminum built Razer Blade 14 should be your choice. It proves size and weight need not limit performance.
4. Lenovo Legion Pro 7i 16
Best Premium Pick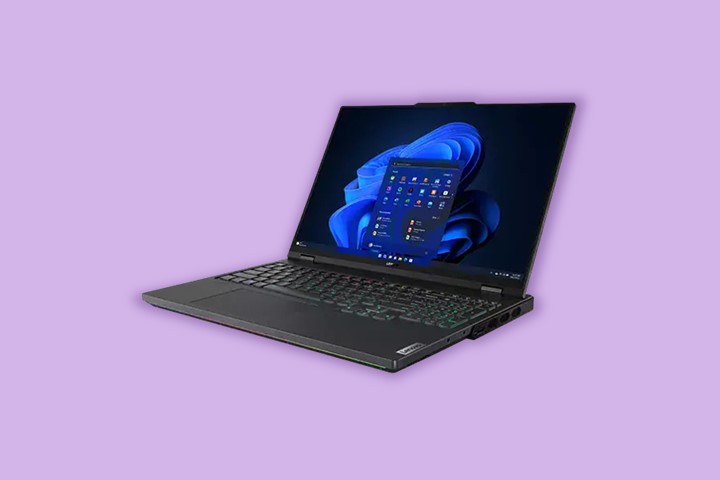 SPECIFICATIONS:
Processor: Intel Core i9-13900HX 24 Cores (8P + 16E, Up to 5.4 GHz Turbo, 36MB Cache)
Graphics: Nvidia GeForce RTX 4080 (12GB GDDR6 memory)
RAM: 16GB DDR5 (5200MHz)
Storage: 512GB SSD
Display: 16-inch IPS (2560 x 1600 pixels, up to 500 nits)
Weight: 6.1 lb
BEST PRICE RETAILERS:
PROS:
Clean and professional design
Great display with Nvidia G-Sync
High quality keyboard delivers great typing experience
Powerful RTX 4080 GPU for gaming at higher frame rates
Strong, durable build
CONS:
Battery-life is below average
Has less features compared to its predecessor
While the above mentioned Razer Blade 14 is also a highly premium gaming notebook, but if you are looking for the gaming notebook that is not only premium looking but also delivers premium gaming experience, then the Lenovo Legion Pro 7i 16 should be your pick. With its sturdy CNC-milled aluminum chassis, large and beautiful 16-inch display, and high-end hardware, it delivers a smooth gaming experience in all the latest games.
Encased in machined aluminum, the Legion Pro 7i exudes a subtle, high-end style with minimal badging. Sturdy construction keeps flex to a minimum, although the lid has some give when pressed. At 6.1 pounds, it sits on the heavier side for a 16-inch laptop yet remains portable enough to be carried in a backpack.
A 16-inch 2560 x 1600 IPS display with a 240Hz refresh rate ensures smooth, immersive gaming, while the 16:10 aspect ratio makes it feel expansive. The games come alive on the bright 500 nit screen, and G-Sync support prevents stuttering and tearing. Outdoor use is also feasible thanks to the solid peak brightness.
Internals like Intel's Core i9-13900HX CPU and RTX 4080 graphics card require some compromises – namely, the reduced battery life on such a pixel-dense high refresh rate panel. But performance remains undisputed, with a decent 16GB DDR5 RAM and a speedy 512GB Gen4 SSD.
Despite some changes from last year's model, the Pro 7i retains an excellent keyboard with satisfying key travel and a good-sized, responsive touchpad. But a slight disappointment is the fingerprint reader which used to be in previous models is now removed. Though its audio quality still stands out with loud, crisp speakers.
I/O options check all the boxes with multiple USB-A, USB Type-C, HDMI, Ethernet, and more located on the sides and rear for better cable management. One loss is the SD card reader, which is no longer present in this generation.
That said, for people who value both performance and design, the Legion Pro 7i 16 overall provides a great balance of power in a premium-built portable chassis with mostly restrained looks, making it the best laptop to take to both boardrooms and gaming battlestations!
5. MSI Raider GE68HX
With The Best RGB Lights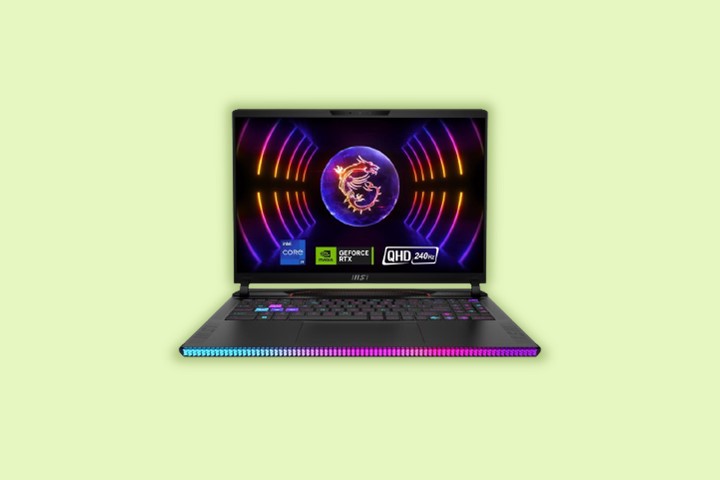 SPECIFICATIONS:
Processor: 13th Gen Intel Core i9-13980HX (8 performance cores + 16 efficiency cores, 5.6 GHz Max Turbo)
Graphics: Nvidia GeForce RTX 4070 (8GB graphics memory)
RAM: 32GB DDR5 (16GB soldered + 16GB on slot)
Storage: 512 GB PCIe Gen4 SSD
Display: 16-inch 240Hz QHD+ (Up to 500 nits, 100% DCI-P3 coverage)
Weight: 6 lb
BEST PRICE RETAILERS:
PROS:
Bright display for outdoor usage
Double the amount of RAM and storage most competitors provide
Great RGB on the keyboard and Mystic Light panel
Diverse port selection with DisplayPort and Thunderbolt support
RGB addicts rejoice – the MSI Raider GE68HX offers vibrant, customizable RGBs inside and out. Beyond its dazzling "Mystic Light" (as MSI calls it) exterior, it also packs some of the most capable specs you'd find in a gaming laptop in this price range.
Aggressive gamer aesthetics take center stage on this gaming laptop, from the RGB MSI logo on the lid to rear gold and red accents. It's also a completely metal-built laptop, weighing 6 pounds, which is respectably portable for a performance-focused 16-inch gaming notebook.
Like most other gaming laptops, the 16-inch QHD+ display's 16:10 aspect ratio provides extra vertical space perfect for gaming and productivity. The colors really pop on it thanks to 100% DCI-P3 coverage, while a zippy 240Hz refresh rate ensures smooth gameplay. At 500 nits max brightness, the display is also decent for outdoor use.
Its internals offer silky smooth gaming experience with the flagship Intel Core i9-13980HX CPU and RTX 4070 GPU with 12GB dedicated graphics memory. It also offers a whopping 32GB of DDR5 RAM that outmatches most configurations, and so does its generous 2TB SSD – providing ample room for game libraries and media files.
The per key RGB backlighting brings the Raider GE68HX's flashy style to its responsive tactile keyboard, while translucent WASD keys further up the gamer aesthetic. The touchpad on it is now centered providing a more natural experience than the left-aligned on its predecessor—MSI GE76 Raider. However, its audio output is a bit muffled by the speakers so loudness is lacking.
On other hand, the Raider GE68HX checks all the boxes for connectivity with HDMI, Ethernet, USB Type-A, and three USB-C ports with DisplayPort and Thunderbolt capabilities for external displays. Moreover, there's also an SD card reader to conveniently transfer data from memory cards.
Overall, in addition to strong gaming performance, the MSI Raider GE68HX excels at RGB flair inside and out. Visually mesmerizing with rapid frame rates, it is one of the best gaming laptops under $2500 that would satisfy gamers who like to put up an RGB show while gaming.
6. Acer Predator Helios 16
The Best Value For Money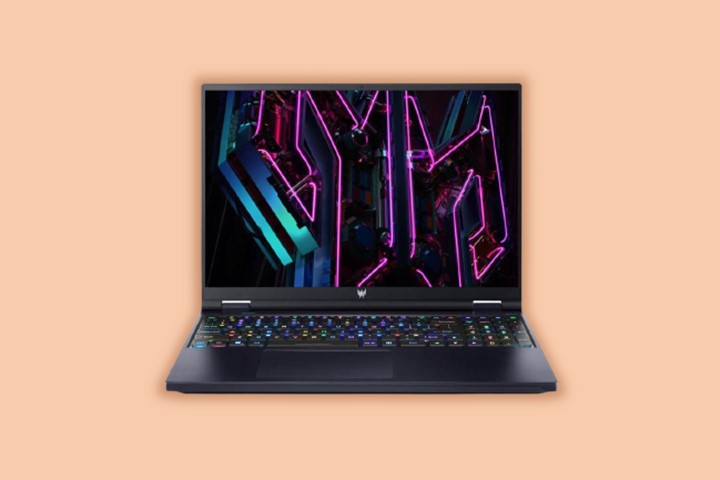 SPECIFICATIONS:
Processor: 13th Gen Intel Core i9-13900HX (24 Cores, Up to 5.4 GHz)
Graphics: Nvidia GeForce RTX 4080 (165W TGP, 12GB graphics memory)
RAM: 32GB DDR5
Storage: 1TB PCIe NVMe SSD
Display: 16-inch QHD+ IPS (240Hz, Up to 500 nits)
Weight: 5.7 lb
BEST PRICE RETAILERS:
PROS:
Excellent value for the price
Comes with HX series Intel Core i9 and Max-P RTX 4080
Superb QHD high refresh rate display with Nvidia G-Sync
Slim and simple design with gaming appeal
Full-size keyboard with number pad and customizable RGB
The Acer Predator Helios 16 delivers exceptional value, packing premium features into an affordable package. Casual and professional gamers alike will appreciate the overall package that it offers without breaking the bank.
Starting from the design, with a minimal plastic chassis and an aluminum lid, the Helios 16's gaming DNA emerges mainly through RGB lighting on the rear and the predator logo on the lid, which is also not a big say like Asus ROG machines. While it's not the most premium looking gaming laptop, it has clean aesthetics and weighs a reasonable 5.7 pounds for its size.
As the name suggests, the Acer Predator Helios 16 has a 16-inch screen size, and it impresses with its sharp 2560 x 1600 resolution and smooth 240Hz variable refresh rate enabled by Nvidia G-Sync support. Thin bezels surround its display panel, allowing for an immersive viewing experience. The display would also drive confidence when doing professional editing work, thanks to its 100% DCI-P3 color coverage, and the display's 500 nit peak brightness is also sufficient to use it anywhere.
Inside, it packs serious power for the price with Intel's Core i9-13900HX CPU and one of the most powerful graphics cards you can get in a laptop under $2500 – RTX 4080. Smooth, high frame rate gaming with ray tracing enabled is easily possible on the Acer Predator Helios 16 with these high-end specs. Moreover, it has 32GB of DDR5 RAM and 1TB SSD storage to cover both your multitasking and storage needs efficaciously.
It provides a satisfying keyboard with a number pad, allowing for comfortable gaming, and it is per-key RGB customizable using the CreatorSense software. There's also a decently sized, responsive touchpad that sits left-aligned. For audio, it has two stereo speakers that deliver good clarity, although its loud cooling fans can be distracting while gaming, so we recommend using headphones.
There's also a diverse selection of ports on it, including two USB-C ports one of which supports Thunderbolt 4, three USB Type-A ports, HDMI 2.1, RJ45, and more. One mild inconvenience is both its USB-C ports are located at the rear rather than the sides, making them a littler harder to reach.
But for people looking for the best bang for the buck, the feature-packed Acer Predator Helios 16 represents a top value. With its vivid display, ample power, and comfortable keyboard, it satisfies the needs of both casual and competitive gamers.
7. Alienware M18
The Best Desktop Replacement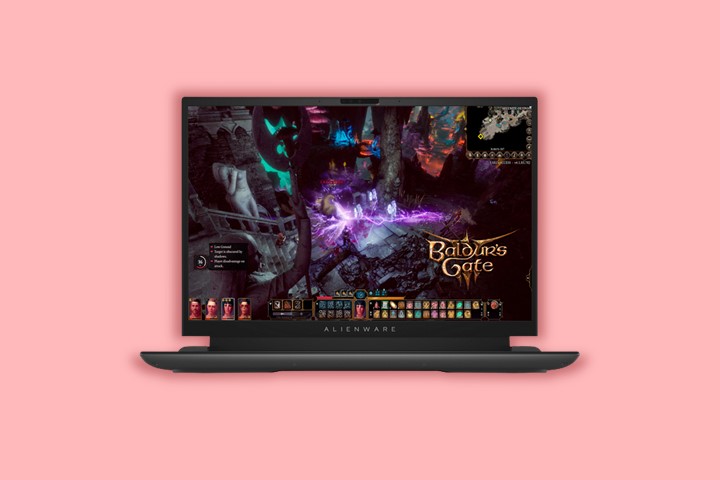 SPECIFICATIONS:
Processor: Intel Core i9-13900HX (24 cores, 32 threads, Up to 5.40 GHz Turbo, 36 MB cache)
Graphics: Nvidia GeForce RTX 4080 (12GB GDDR6 memory)
RAM: 32GB DDR5 (5200 MHz)
Storage: 1TB M.2 PCIe SSD
Display: 18-inch 480Hz FHD+ (Up to 300 nits)
Weight: 8.9 lb
BEST PRICE RETAILERS:
PROS:
Outstanding 480Hz 18-inch display for esports
Unique and visually appealing gaming aesthetic
Beautiful looking customizable RGB lighting
High gaming performance rivaling desktop rigs
Lots of ports and connectivity options
CONS:
Very heavy
Speakers are not so good
The uniquely designed Alienware M18 provides top-tier power for gamers who want a desktop-like experience. With its high-refresh 18-inch display and solid internal specs, this hefty gaming laptop offers unmatched speed.
The recognizable Alienware design language shines through the M18's angled body, honeycomb-like back vents, and light-up logos. Extensive customizable rear and keyboard RGB lighting also further adds to the aesthetic. If we talk about the build quality, it is also one of the best you get on a gaming laptop. It has a metal lid, while the chassis uses high-quality plastic with zero-bending. But it weighs 9 pounds, that too without the charger, so the focus here undoubtedly is on performance rather than portability.
At the center of the M18 is its massive 18-inch 480Hz FHD+ IPS screen, allowing extraordinarily smooth gameplay, so much so that it can even satisfy professional e-sports players. The Full HD+ panel also comes with Nvidia G-Sync support to further smoothen out the frames and it's also a vibrant panel with 100% DCI-P3 color coverage. But its peak brightness of 300 nits is a bit low to use in brightly lit environments.
There's also a QHD+ 165Hz display option on the M18 if you prefer a higher resolution than a refresh rate. But, going with that display option makes the M18 more expensive than $2500.
On its under $2500 costing variant, you get the M18 with Intel's high-end i9-13900HX CPU and RTX 4080 graphics card. With the CPU boost clock reaching 5.4GHz and the GPU having 12GB dedicated VRAM, running the new demanding games at high settings is a cakewalk for this laptop. It also comes with 32GB RAM and a high-speed 1TB SSD to provide additional support.
Its spacious keyboard has good key travel but a slightly soft press for my liking. The adequately sized clicky touchpad also sits in an unconventional off-center position, defying its premium design. Moreover, its speakers are also subpar compared to some competing models.
But the M18 lacks nothing ports wise. It has HDMI 2.1, mini DisplayPort, four USB-As, two USB-Cs with Thunderbolt 4 / USB 4 support, Ethernet, and an SD card slot.
In short, the Alienware M18 is one of the best laptops you can get under $2500 if you are into competitive e-sports gaming. It offers top-tier parts and large 18″ display with mind-boggling 480Hz refresh rate for a desktop-like gaming experience.
8. Dell G16 Gaming Laptop
The Best Budget Pick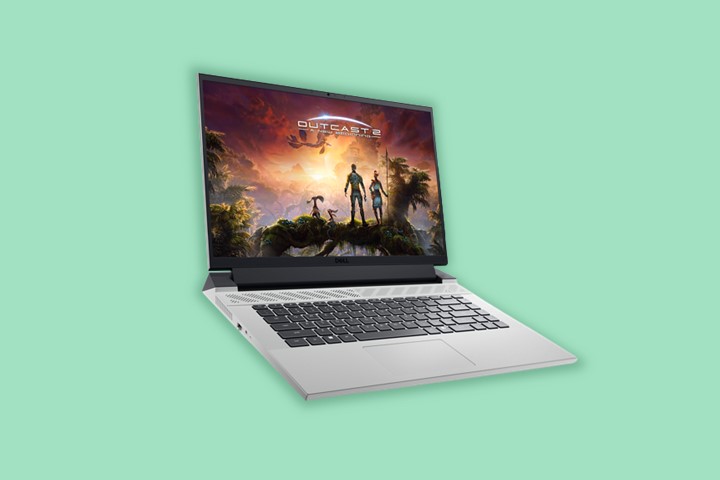 SPECIFICATIONS:
Processor: Intel Core i9-13900HX with 24 Cores and 5.4GHz Max Turbo Frequency
Graphics: Nvidia RTX 4070 (8GB graphics)
RAM: 32GB DDR5 (4800MHz)
Storage: 1 TB SSD
Display: 16-inch QHD+ 240Hz (Up to 300 nits)
Weight: 6 lb
BEST PRICE RETAILERS:
PROS:
Great performing specs for the price
Durable metallic build and premium and professional looking design
Beautiful QHD display with high refresh rate for smooth gaming
Looks premium and professional
Loud and clear speakers
Ample connectivity options and good placement of ports
CONS:
Single-zone RGB backlighting
Display is not suitable for outdoor usage
The affordably priced Dell G16 is a top choice for budget-focused gamers wanting strong 1080p gaming performance without breaking the bank. Its understated design houses capable components to rival pricier models.
Dell opted for a clean, minimalist look devoid of flashy RGB. Its chiseled chassis is well-made with durable plastic and aluminum lid, and it comes in both white and black – a refreshing alternative to the typical all-black gamer aesthetic. But at 6 pounds, it sits heavier than other competing 16-inch gaming laptops.
Its 16-inch QHD+ display is crisp, and its 240Hz refresh rate enables fluid frames during intense gameplay. The display is also excellent in terms of colors, but its brightness is low at 300 nits. Luckily, it has an anti-glare coating that helps fight glare when used in bright rooms.
Where G16 does not make any compromises is performance. Hardware like Intel's Core i9-13900HX CPU and RTX 4070 GPU can tackle modern AAA titles at high settings in 1080p. Furthermore, the high-end CPU and GPU are paired to an ample 32GB RAM and 1TB SSD storage, which are surprisingly good for the asking price.
Its keyboard's layout provides ample room for gaming comfortably and subtle highlighting of the WASD keys adds flair without overdoing it. However, it does not have a per-key customizable RGB keyboard. Instead, it offers a single-zone customization, which is okay. Its trackpad is also small for my liking, but usability-wise, it's alright. And you'll anyways use the mouse when gaming.
Connectivity-wise, the G16 offers a wide array of wired and wireless options. Port placement is also great for cable management. Options include triple USB Type-A ports, Ethernet, USB-C with Thunderbolt 4, and HDMI 2.1 for wired connectivity and the Wi-Fi 6 support and Bluetooth back wireless. It does not have the latest Wi-Fi 6E support that most of the gaming laptops on our list have, but that's again not a deal breaker.
All in all, the Dell G16 has almost everything you'd expect in a high-end gaming laptop (except the premium price tag).
If you don't want to blow up all of your $2500 budget, then you are not missing out much with this Dell G16 gaming laptop that would save you almost $500 from your budget!
Finding Your Perfect Gaming Laptop Under $2500
Purchasing a new gaming laptop is thrilling, but with endless options available in the market, it can be headache-inducing to find the right match. Don't worry – this comprehensive buying guide will walk you through the laptop attributes that matter most for an incredible gaming experience under a $2500 budget.
Start by Considering Your Needs
Rather than getting lost in the specs, first reflect on how you game. Are you a casual gamer who enjoys AAA titles and wants portable power for gaming anywhere? Or are you a competitive esports player needing a blazing fast setup? Do you plan to stream or create gaming content?
By determining your habits and must-have features upfront, you can zero in on the perfect laptop for your needs and lifestyle. If you'll be traveling often, portability may be key. If you play games competitively, maximizing frame rates might be crucial. Keep your specific priorities in mind as you assess different models.
Prioritize Processing and Graphics Capabilities
At the core of any great gaming laptop is sheer horsepower – this comes from its GPU (graphics processing unit) and CPU (central processing unit).
For the GPU, target NVIDIA RTX 40 series graphics or AMD Radeon RX 7000 graphics. The RTX 4060 or RX 7600M provide killer performance for playing the latest AAA games at high settings. If your budget allows, go higher – but these mid-range options offer superb bang for your buck. Also, don't forget to check the TGP (power limit) of GPU, as two gaming laptops with same GPU can have different power limits and hence difference in graphics performance and FPS in games.
For the CPU, look for 13th Gen Intel Core i7 or 7000-series AMD Ryzen 7 processors and above. Multi-core chips from either brand work great – just ensure you have enough processing muscle for both gaming, live streaming, recording, etc. if you need it.
Don't Skimp on Memory, Display and Build
You'll want a minimum of 16GB of RAM for smooth multitasking and gaming. Upgrading to 32GB or 64GB is great for serious content creation and future-proofing. Also go with DDR5 RAM laptops and not DDR4 ones. DDR5 RAM is the latest and faster than DDR4.
For the display, aim for a high-quality 1080p display with at least 165Hz (or higher) refresh rate in 2023. Also having the support of variable refresh rate tech like Nvidia G-Sync or AMD FreeSync can further smoothen out the experience by preventing screen tearing and stutters by matching the in game frame rate.
For display-type, IPS panels provide better colors and viewing angles but in the $2500 price range you'll also find gaming laptops with mini LED display, which is far more superior than IPS in terms of brightness, color reproduction and contrast. 1440p displays are also pretty common at this price range, which you can get if you want extra visual crispness.
Also, don't forget to inspect chassis build quality, materials, and structural rigidity when evaluating models. All metal or partially metal and partially plastic-built laptops tend to be more durable than all plastic.
Storage and Extras Complete the Package
Look for a gaming laptop that combines a 512GB SSD for the operating system and key games, along with a 1TB or larger HDD for ample game storage. This blended storage approach gives you both speed and capacity.
Finally, don't overlook "quality of life" features. Prioritize effective cooling, a comfortable RGB backlit keyboard, a decent battery life of at least 5 hours, and the connectivity ports you need (HDMI, USB-A, Thunderbolt, Ethernet, etc).
Choosing the Best Gaming Laptop Brand for Your Needs
With your key specs and features checklist in mind, compare models across gaming laptop brands like Asus, MSI, Alienware, Razer, Acer, Dell, HP, and Lenovo.
Focus on finding the right match for your priorities – whether that's maxed out power for competitive esports, sleek and portable exterior for frequent travel, or the best overall blend of performance, display, and features for your budget.
Now that you're armed with a complete checklist of factors to consider, you can feel confident evaluating options and zeroing in on your ideal gaming laptop. Taking the time to reflect on your priorities rather than getting swept up in specs alone will ensure you make the absolute right choice.
Conclusion
The world of gaming laptops is quite complex to navigate through. There are tons of laptops, some of which have an excellent build quality, while others have a subpar build quality. Some laptops have a good price-to-performance ratio, while others don't.
Add to this the fact that people have different preferences, even within the gaming community. Some are fine with a lower resolution display as long as they get a high refresh rate, others prioritize battery life over display quality.
For every kind of consumer we could think of, we tried to imagine ourselves in their position and assessed the laptops available in the market based on the needs and wants of such a consumer. For example, we picked the Razer Blade 14 for those who are always on the go, but still need a decent gaming device.
Similarly, we imagined ourselves being a part of the gaming community that really loves RGB, and chose the MSI Raider GE68HX for its beautiful "Mystic Light" RGB lighting.
We picked our overall best laptop pick, the Asus ROG Strix G16, by carefully assessing the best features that a laptop can possibly give at a budget of $2500, and filtering them based on the features the consumers perceive as the most important.
Let us know which of the above mentioned best gaming laptops under $2500 best meet your needs. We welcome product suggestions and feedback to continuously evolve our recommendations. And feel free to ask our gaming laptop experts or check our other gaming laptops buying guides and reviews to find your perfect match.
Related Guides:
Advertisement